Home » Elder
The Greatest Gift – by Paul Smetana
Submitted by Charlotte on October 5, 2011 – 9:03 pm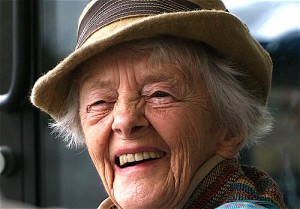 Paul Smetana runs the blog Be Touched By Life.  He draws upon thirty years work experience with people as a community carer in Aged Care to share the insight into the keys of happiness.
In life, we are given many gifts. Truly we are. For the most part, these gifts come in two categories. The ones we know, but have forgotten or have taken for granted, and the other gifts are the ones we know nothing about because of our own and very personal Blind Spots.
Sometimes however, an event will come along, and like an specially lit sky, colouring the day in an unusually highlighted fashion, this event will show you with clarity, all the gifts that have been there all along.  And then there is rejoicing and celebration. The heart opens and a vibrancy of the soul becomes all consuming and gorgeous.
All life in it's every variation, is the gift. Life begetting life, is the gift.  Seeing for the first time, the loveliness of everything in your life, that a moment ago was just this unlit and unworthy thing, is the gift.
That wart, blemish, noise, everything you have judged, decided against, not voted in the affirmative, is … a gift.
But I am not interested here in persuading you with argument or evidence. What I want is for you to experience what I have experienced this very day.
I was driving along, having just seen a client. I should add that I am a community Carer in Aged Care. My job is to help keep frail elderly people at home as long as possible, so as to have them avoid going into a nursing home.  I've been in Aged Care almost 30 years now, and mostly working as a Diversional Therapist, whose job it is, is to provide entertainment and a social life for the older folk who come to live there.
Out of all my experience in Aged Care, I've come to know what it takes to live a remarkable vibrant life.  I've met so many older people awe inspiringly brimming with life; and I've also met those poor souls, whose lives have been anything but.  I've asked them all a million questions, spent lots of time with them, been taught by them. Haunted by them.
These people after all are our Wise Elders, and if we are wise, we will pay attention. So much so, that I have set up a web site devoted to the topic of helping people into a brimming Life. I've called it … BE Touched By Life.
So as I say, my work as a community carer helps keep people out of aged care, for longer. So … back to my story. It was a good gig. We had a great time, and I was kind of buzzing as I was driving along, and then this great welling up feeling of well-being and compassion and gratitude took me over and all of a sudden, I was seeing this moment as the vast gift it was. And in that gift was contained all the other gifts in my life.
The family I was born into, climbing onto the room as a little boy with a box Brownie camera to photograph the harbour. All the advantages that I never saw before today. Every piece of luck, and all the disaster that was really, supreme good fortune, disguised at the time.
My life has been, Is still is, very much a blessing, and is no longer in disguise. And it took this tiny moment of the greatest gift I ever had, to start to notice every other gift. Oh, the joy of it!
So I got to thinking, is there a way that other people can experience Blessing. For what else could you call it?
So I started to notice a strange thing I've been doing lately. I don't really know if it can produce Miracles, but it does so for me … daily.  Perhaps it's just a very personal, impossible to replicate thing, I don't know. But here is what I've been doing, and good Luck with it.
Manifesting with Confirmation!
Let me explain. People have been manifesting forever. The American's "follow their Dream".  Shakti Gawain developed creative visualization. Then there is any book on the Power of Positive Thinking.  They all have something to offer.
Then there is Dreaming. Watching a stream of dreams float by, that have been primed by intention. Any book on Dreams will have some of these techniques available, and the process is an interesting and rewarding experience, but …
The key in my humble opinion is the confirmation bit.  You want confirmed, that the thing you are all sweaty over, IS coming your way, IS being created, so just hold on, and relax. We are always told to relax about these things and it's just about impossible to do, because you really want these things.
To help with getting confirmation, You want to ask for signs. Things that will confirm to you, that what you want is being baked in the ovens of the gods, so to speak. It's my little secret. It's all new, at least to me.
And I've got to say, that when I even just start to think about the confirmation, I am overwhelmed by such deep wonderful feelings, that I could burst.  It could just be me though. Maybe this is a personal me thing. Maybe it's my time? But also, it could be one of those Universal things too.  So remember to ask for what you want, and then ask again for confirmation.
This wonderful Confirmation feeling thing, coupled with having such a good gig with an at home client, really made it clear to me that I have been and are continually, showered with the most amazing gifts.
Life begets life. It really is the Greatest Gift.
Warm regards,
Paul Smetana
GD Star Rating
loading...
GD Star Rating
loading...
The Greatest Gift - by Paul Smetana

,