Home » Maori
Ka Pai! Atamira – Maori in the City 2011 A Huge Success!
Submitted by Charlotte on October 9, 2011 – 8:35 pm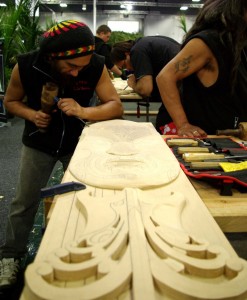 Media Release
For immediate release
9 October, 2011
ATAMIRA – Maori in the City 2011, the largest three day festival celebrating all things Maori finished up today in Auckland with organisers reporting a resounding success, making a firm footprint in the festival circuit for Auckland City.
Event director, Alec Hawke says, "The rugby has meant Atamira – Maori in the City 2011 has attracted a huge number of overseas visitors in addition to the crowds of locals eager to experience this unique event.
"This year's festival has been a fantastic opportunity to share our Maori culture with the world, yesterday we saw record numbers come through the doors and we're planning to build on this success in 2013."
Day three, the final day of ATAMIRA – Maori in the City 2011 showcased a stand out mix of Maori culture, music, dance, sport, film, arts, crafts and food.
The food hall continued to be one of the most popular attractions of the festival with cooking demonstrations from former Warrior Gavin hill and Aunty Umu.
Festival goers dined on traditional Maori kai including; Hangi, Rewana Bread, Boil-up, Hangi pies and the famous Taniwha and Tumeke burgers.
The Hauora Huarahi section, a new addition to the festival brought together by Hapai Tapui Maori Public Health, focused on the future generations of Maori in the City, with interactive demonstrations including Maori lullaby, car seat and child safety workshops.
Live performances from Ardijah, Sons of Zion and House of Shem kept the Main stage busy and the entertainment continued with music from Mikaere Tito, Arihia & Tuha, Maurice Watene and Tama Lunden of Herbs, Affirmation and kapa haka performances from Nga Puna o Waiorea on the Fashion stage.
"Every component of the festival has hit the right spots this weekend, this year's Atamira – Maori in the city has been a great success and we've proud to bring this terrific festival to Auckland City," says Mr Hawke.
A biannual event, ATAMIRA – Maori in the City will return in 2013. The free, three day event was held at ASB Showgrounds, Greenlane and has been hosted by Ngati Whatua o Orakei with principal sponsor Bank of New Zealand and supported by Te Puni Kokiri, Ports of Auckland, Aotearoa Credit Union, ASB Community Trust, University of Auckland, Auckland City and the Lotteries Fund.
GD Star Rating
loading...
GD Star Rating
loading...
Ka Pai! Atamira - Maori in the City 2011 A Huge Success!

,
Tags: Auckland, Maori, Tamaki Makau Rau