Home » Green technology
Solar Energy Helps Power The Greenspace, Hamilton
Submitted by Charlotte on October 18, 2011 – 1:18 pm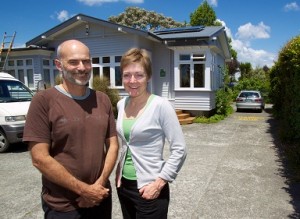 WEL Networks
MEDIA RELEASE
18 October 2011
Solar energy helps power The Greenspace
WEL Network's installation of a solar photovoltaic system has been on trial for over 8 months now by the eco-friendly meeting venue, The Greenspace, in Hamilton. It was chosen last year as one of two sites to participate in the WEL Energy Trust funded project that aims to test the feasibility of distributed generation using small scale solar technology.
The 1.2kW solar photovoltaic system, installed by WEL Networks in December of last year, harnesses the sun's energy to generate green power from solar panels covering 11.4 square metres of roof space on the building. It averages a production of 4.06kWh per day. This is the equivalent energy to provide 104 homes with enough electricity to watch every World Cup Rugby match on a 46" TV.
"Congratulations go to WEL for delivering projects that increase the use of renewable energy and reduce greenhouse gas emissions, like this one," said The Greenspace co-owner, Annie Perkins.
The photovoltaic system being trialled by WEL Networks is a form of distributed generation, or generation of energy close to the point of use.
"At the moment, we use all the power generated from the panels which makes up about 10% of our energy use," said Ms Perkins. "I don't even have to think about it anymore though. The installation and now the use, has been completely seamless."
Malcolm Souness the Energy Management Engineer from WEL Networks said that it was trials like this one that allows WEL to build up its intellectual property as the technology is improving.
Greenspace is one of two solar photovoltaic system installations completed as part of the WEL Networks renewable energy trials. A photovoltaic system installation was installed by WEL on the roof of the Raglan Community House in November of last year. It has generated on average the equivalent energy to recharge a 2012 Toyota Prius Plug in Hybrid once each day (approximately 24km distance without petrol) or up to 4,750km of travel per year.
GD Star Rating
loading...
GD Star Rating
loading...
Solar Energy Helps Power The Greenspace, Hamilton

,
Tags: green energy design