Home » Environment
Psychology for a Better World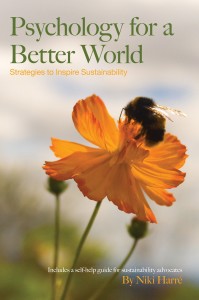 Q & A with Niki Harré, Deputy Head of the Department of Psychology, University of Auckland and Author of the new book Psychology for a Better World
1.  What personally inspired you to write Psychology for a Better World?
I consider myself a sustainability advocate and I am a psychology lecturer. This book brings together those two perspectives. I wanted to share fascinating research on how people, think, feel and behave with those who have the same values as me. I felt that these insights could help people with a vision for positive social change be more effective in their endeavours. I love reading books that give me a new way of looking at the world and inspire me to action, I hoped my book would do this for others.
2.  What's inspired you to release it for free online?
I am employed by the University of Auckland and wrote this book as part of my job. I have no need or desire to earn money for it, all I want is for it to be as accessible as possible. You can't get more accessible than free!
3.  What's one action strategy that people can take to adjust their thinking and subsequently their behavior as we strive to create a healthier society and planet?
To me the key is to think about who you are, where you are positioned in society, and what opportunities that opens up for you. If you are a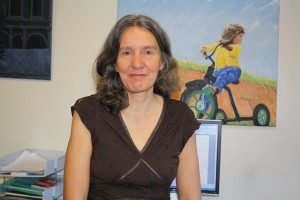 mother, perhaps you can put your children's sandwiches straight in their lunchbox instead of using plastic wrap, if you work for an organisation, perhaps you can investigate Fair Trade tea and coffee for the lunchroom. As citizens, all of us can make submissions when our local councils call for them. Ideally, find something you love doing that also makes the world a better place. Gardening, playing the guitar, organizing a flash mob are some examples. Forget about the naysayers who tell you your actions are pointless. Do what you believe is right.
4.  If you could give one piece of advice to the NZ Government in regards to managing our eco-systems right now, what would it be?
The natural world is a treasure that feeds a rich society. Have the courage to stand for flourishing ecosystems and human wellbeing instead of "the economy". The economy is a human creation that we can, and should, re-create in another form. The injustices of the current system are currently exposed for all to see. Do you want to stand with those who are attempting to create a fairer world that is better for us all, or to stand with those desperate to prop up a way of life that has long passed its use by date?
5.  What do you do at Auckland University and does your book relate to your daily work?
I am an associate professor in psychology – so I lecture and supervise students and do research. I have a fabulous bunch of graduate students who I am working with on projects such as creating a sustainable school and evaluating the youth "Making a Difference" programme. I bring sustainability into my lectures whenever I can. A few of us are currently setting up an eco-group to try and bring about change within our department.
More about Psychology for a Better World from Niki Harré:
Psychology for a Better World is for those who believe it is worth trying to make a world in which both our species and the ecosystems we depend on can flourish. The book is based on the latest research in psychology and is jam packed with action strategies. It offers new ways to think about how people interact in social settings, why we are tempted to stick with what we know, and how the same characteristics that currently keep us hooked into unsustainable practices can be used to move us forward. The final chapter is a guide to help you analyse what you are doing to contribute towards a better world, and how you can be more effective while simultaneously increasing your personal wellbeing.
You can get a pdf of the book for free, or order a hard copy for $15 from this website:
www.psych.auckland.ac.nz/psychologyforabetterworld
You can listen to my interview with Kim Hill on Radio NZ by going to:
http://www.radionz.co.nz/search/results?mode=results&q=niki+harre
I am very happy to do local or virtual talks or workshops, and would be delighted to get feedback on the book. I'd also love to get reviews.
Q & A by Charlotte Squire
GD Star Rating
loading...
GD Star Rating
loading...
Tags: green dreams