Home » Environment
Check Out the New Organic Explorer New Zealand (3rd Edition)
Submitted by Charlotte on October 30, 2011 – 9:11 pm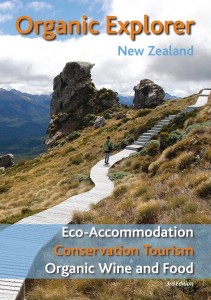 Review by Charlotte Squire
Members of Club Happyzine go in the draw to win a copy.
If you're passionate about organic food and wine, enjoying eco-friendly holidays and maintaining some awareness of the politics of being green here in New Zealand, you're going to love the new Organic Explorer New Zealand Guide.
Written by Leonie Johnsen and Dr Tony Ward, I'm pleased to have this guide on hand as a very detailed and thorough map of the greener services offered through out our kiwi communities. It certainly makes me want to plan a holiday.  I can just imagine taking great pleasure in using this guide to nut out the greenest, most inspiring eco getaway ever.
The thing I most appreciate about The Organic Explorer New Zealand (3rd Edition) is massive amount of detail the authors have obviously gone to great lengths to collate.   The sheer volume amount of information about environmentally sustainable products and services is enough to bring any green consumer up to date with living green in Kiwi communities.
Often when I'm on holiday, or planning a holiday, I just turn to google and hope for the best. As a green consumer, this guide can save you hours of time, and will probably point you in the direction of some lovely services that you simple wouldn't have found online.
So let's go on holiday!  I'm going to randomly flick through the guide and see where it takes us. Right, we're heading to the Bay of Plenty.  First we'll head to State Highway 30, Whakatane, because I intend to pick up some some organic condiments and conserves from the certified organic Exclusively Organic, for my Mother. Later this afternoon we'll check into the five star luxury boutique hotel Le Manoir and dine very slowly and with great gastric gusto at their organic restaurant. The next day, to burn off all the calories we so gleefully consumed, let's head to Opotiki where we'll stop by Motu Trails Cycleway Hire and Shuttle, grab a bike and explore the new Eastern Bay of Plenty cycleway.
As you can see, this is the insider's guide to sustainable living in New Zealand.  Can you image this level of detail, covering every part of New Zealand?  Yes, that's what we're dealing with here.
And that's just the beginning.  All up, this guide features information on organic food certification symbols, public transport, the Treaty of Waitangi, Maori literature, Maori film making, Maori music and the awesome new Maori network of Maori producers of food and natural products – Aunty's garden. You can learn about astronomy, Kiwi birds, our water issues, walking and cycling Aotearoa, farmer's markets, biodynamic wine production, WWOOFing, food and shopping.
To buy a copy, head to Organic Explorer.co.nz
Yes you can win a copy!  All you've gotta do is join Club Happyzine before the 14th November. 
GD Star Rating
loading...
GD Star Rating
loading...
Tags: Eco-friendly, organic