Home » Family
Nelson Cranks Up the Heat With Fun Summer Events
Submitted by Charlotte on November 6, 2011 – 9:41 am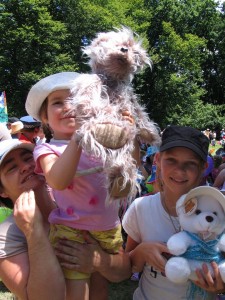 Summer in Nelson cranks up the heat in New Zealand's sunshine capital with a heap of family holiday fun.
The annual Nelson Lantern Spectacular kicks the celebrations off on December 17, with a lantern workshop at the Suter Gallery from 5.30, to equip walkers with a decorative lantern for their walk up the Centre of New Zealand hill from the Botanics playing field at 7pm. Quirky and sometimes spooky surprises await as the walk wends its way up the hill.
On New Year's Eve The Trafalgar Square Countdown will keep revellers entertained in the city centre with music from Smokefreerockquest winners The Peasants, country rock and reggae band Tommy and the Fallen Horses, funked up hip-hop from Master Pilot Sound System and the music made famous by The Doors from The Lizard Kings. Top of Trafalgar Street from 8pm.
Throughout January Street Beat will entertain shoppers and café goers on the city streets with a mix of local music and street theatre.
The Nelson Mail Teddy Bears' Picnic under the lovely trees at Isel Park is set for Sunday 15 January, 12 – 2.30pm. The Teddy Bears are ready for a party and they want the whole family to come too. There'll be fun and games for all, including sand-saucers, sack races, teddy make-overs, food stalls, and so much more…we've bearly begun.
SolarCity Summer Movies
It's the airiest cinema in the region, entry is only a couple of bucks and the movies are Hollywood classics. See a youthful Liz Taylor in National Velvet, sing along with Danny Kaye in The Five Pennies, laugh at the Silent Antics of Harold Lloyd, Charlie Chaplin, Buster Keaton, Laurel & Hardy and more and see the final film appearance of Marilyn Monroe and Clark Gable in the Arthur Miller scripted The Misfits from 1961.
Come early to play giant board games, listen to some fine New Zealand music, share food with your friends and as darkness falls allow the flicker of the screen to transport you. Brings rugs, picnic chairs or even your couch. Wednesday 4 January – Sunday 29 January, 9.00pm – 11.00pm movie starts at dusk, cost – $2 adult, $1 child. Various locations from Tahuna Beach Holiday Park to Tapawera School.
Buskerburgoo – Buskers and Street Theatre
Buskers hit the top of Trafalgar Street from February 2-5 and Go Bad at the Boathouse on February 2 & 3. The champions of the busking kingdom emerge from the streets, squares and hidden corners of the world for Buskerburgoo – it was the porridge served on sailing ships and was a heady mix just like this! Buskers love Nelson and it's reciprocated.
The Summer in Nelson events are produced by the Nelson City Council as a celebration for locals and an added attraction for visitors. Programmes out and website active from early December.
GD Star Rating
loading...
GD Star Rating
loading...