Home » Events
Great Idea: Check Out Golden Bay's 'Secondhand Sunday'
Submitted by Charlotte on November 10, 2011 – 10:52 am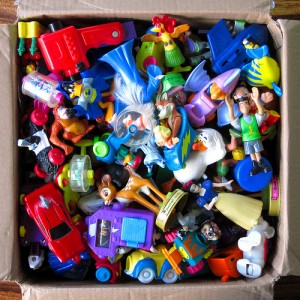 Secondhand Sunday, which is hosted by the Tasman District Council, is a chance for people living in Golden Bay (New Zealand) to give away items that they longer want. This page has details of the event, online registration form and addresses of other participants.
Secondhand Sunday will be held 13 November 2011 between 9.00am and noon.
How Does Secondhand Sunday Work?
Identify items that you no longer want and collect them in readiness for the day. You can put out any items except food and dangerous goods (chemicals, faulty electrical equipment, firearms) and definitely no rubbish.
Registration will increase the chances of your items being collected. Registered properties will be advertised. Register by using the form at the bottom of this page or by email: secondhandsunday@tasman.govt.nz before 4.00pm Thursday 10 November 2011.
Identify a suitable and visible site at the property boundary such as the driveway, or next to the letterbox, where items to be given away are to be placed.
On Sunday 13 November 2011 between 9.00am and noon:

Display the poster on your letterbox or fence (or any obvious place) so people know you have items to give away.
Secondhand Sunday Poster (pdf, 107 KB)
Place items to be given away in your selected area.
Once items have all gone put a note on your box saying "Sorry, all gone".
Be there to keep an eye on what is happening and to meet local fossickers.
By noon remove the sign and pack up anything left over.
Note: You are responsible for any items that are not taken away. (If it is left outside your property you are in breach of bylaws related to dumping).

Goods That Can't Be Put Out
 No food or dangerous goods (chemicals, faulty electrical equipment, firearms or rubbish).
What to Do with Leftover Materials
These can be put out again, given away to others you know or you may wish to consider outlets like the hospice Shop, Trash Palace and the two Reuse shops at Takaka and Collingwood Resource Recycling Centre (both open on a Sunday afternoon). The Golden Bay Weekly runs a free "free/koha" section and there is the Buy Sell Swap website/email run by Albie http://carpool.actrix.co.nz/carpool/buysell.htm . Consider the 5Rs of Reduce, Reuse, Recycle, Recover and lastly Residual waste to landfill.
GD Star Rating
a WordPress rating system
GD Star Rating
a WordPress rating system
Tags: Golden Bay, second hand sunday