Home » Blog
Spring Time In Wellington, a Christchurch 'Refugee' Admires Silverbeet on Lambton Quay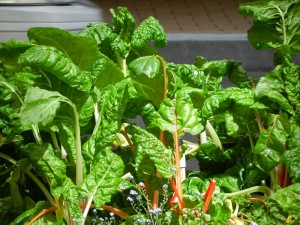 By Joyce Smith
Recently returned from Vancouver where I fled after the February earthquake in Christchurch, I am temporarily living with family in Wellington. Much as I enjoyed my time in Canada, the little nuances, the backyard squirrels, cute raccoons with their bandit masks, wood peckers, chickadees and hummingbirds it is wonderful to be back in my homeland awakening to a morning chorus of blackbird and thrush, and the occasional bell bird. I never realised I would miss cabbage trees and flax. On my second morning back I take a bus into the city.
It is a fresh and breezy Wellington morning, the sky is a startling blue, the harbour cerulean, leafy spring green abounds, blossom's fly and daffodils nod brightly from unexpected corners. The Beehive stares aloofly down from its podium at the old Government Buildings dressed elegantly in a new coat of paint. Along Lambton Quay, blue forget-me-nots border beds of silver beet aka Swiss chard. What on earth is silver beet doing growing down main-street Wellington? Has the council gone very green?  Are they planning a special dinner for the Greek Embassy featuring Spanakopita or hoping to feed the homeless?
As the bus stops an aroma of freshly ground coffee shoots through the open doors and everyone getting off calls a thank you to the driver. I alight precisely outside "Kirkcaldies" where a uniformed 'Doorman' holds the heavy glass door open and sweep through like a celebrity arriving at Harrods or Macys. Immediately a row of shiny cosmetic counters confront me, along with a cacophony of perfume. A line of perfectly made- up assistants greet me adoringly and I am convinced their smiles are not just painted on. I'd like them to pamper me and make me feel beautiful. However I've only come in for a birthday present, a gentleman's leather belt, not exciting.  Climbing the elegant curved stair- case I recall being here at Christmas when there is a lavishly decorated tree and a pianist playing 'Deck the Halls' on the grand piano. I drift among the beautiful things one could fill one's home with, unless you come from Christchurch.
It is early but a foodie smell lures me to the café and I find myself perched on a high stool watching the crowds below on Lambton Quay. Suited men nip to and fro clutching paper bags, beating the lunchtime crowds. I wonder if any of the bags contain tuck shop fare, a cheese and mince pie, a couple of greasy sausage rolls and immediately dismiss the idea. They will be having sushi or chicken and bean sprout salad.
Back on the street I am struck by the busyness and purposefulness. People here appear to have a sense of identity. Browsing more shops I abandon my initial resistance and succumb to conversational chatter the assistants insist on, maybe they really are just being friendly! Cuba Mall and the sun is shining, people, music and delicious smells waft in and out of cafes. A lone-star cowboy accompanies himself on his guitar while the strains of an Irish jig funnel through from Courtenay Place. The mood is vibrant and energetic and I don't think it is just the Rugby World Cup that has everyone buzzing it has to be more than that. There is definitely a 'positiveness' about Wellington.
I'd like to cut across Civic square where office workers will be sunning themselves, nibbling a sandwich, sipping a latte and counting the coloured spots on the City Gallery. I'd like to stride over the decking of the mismatched higgledy piggledy timber bridge, keeping a wary look out for Captain Hook, to Frank Kitts Park, meander passed intriguing sculptures, take a peek at Te Papa and dodging roller-bladers buy a hokey- pokey ice-cream on the promenade in Oriental Bay. But all that will have to wait.
In the meantime I am thinking about silver beet. Throughout the Christchurch winters of childhood my siblings and I grew up on the stuff, piled in a steaming heap on our plates, a knob of melting butter on top; a great source of iron and vitamins A and C, calcium, potassium, thiamine, foliate and zinc. Native to the Mediterranean it also contains lutein an important antioxidant which helps protect eyesight from damage to the UV light, is low in fat, high in fibre and ideal for weight loss. We were skinny healthy, active kids and this was just something edible that grew profusely in our garden. Any visitors with the misfortune of not having it in theirs went home with a large glossy bunch wrapped in newspaper. So easy to grow and apart from a few seedlings cost zilch.
Christchurch has always been known as the garden city and all our neighbours had one and would have fed their families from it. I don't have a vegetable garden but have some interesting herbs.
I missed the mass of white blossom on my plum tree this year and wasn't there to make sure my Black- boy peach was sprayed for leaf curl. But I am lucky, my garden being on a hillside did not suffer from liquefaction, smashed and drunken patios can be fixed, replacing loved roses and trees.
Footnote: While in Canada, Geo net was a permanent fixture on my laptop, I checked the Christchurch news, daily, kept in touch with friends and family who couldn't leave; some who have nowhere to run and those determined to stay and make a difference. I wish I was braver, I feel I deserted a sinking ship. I still have to return to my home, face my demons and continue waiting and waiting for the authorities to decide what is to be done, what can be done and when this might happen and only then dare to hope that repairs and restoration might begin.  Like thousands, I'm looking forward to moving on with my life.
GD Star Rating
loading...
GD Star Rating
loading...
Spring Time In Wellington, a Christchurch 'Refugee' Admires Silverbeet on Lambton Quay

,
Tags: christchurch, wellington