Home » Food
Try the award winning, organic Richmond Plains Sauvignon Blanc 2011 this Christmas
Submitted by Charlotte on December 5, 2011 – 2:12 pm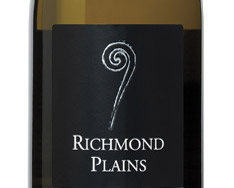 I'm gazing at an empty bottle of Richmond Plains Sauvignon Blanc 2011 wine. There is a certain degree of nostalgia that comes with looking at this empty bottle as drinking it was a fine, fine experience.
This Sauvignon Blanc carries the subtle flavours of citrus, gooseberry, and passionfruit. It has a complex, slightly acidic edge, which slowly unfolds in the mouth, revealing gentle herb and mineral notes. Chilled, it's the perfect, most heavenly drink for a warm summer's evening. And for me, there's the marvelous knowledge that this wine was prepared along bio-dynamic principles and is organically certified. This is one bottle of high integrity wine.
The Richmond Plains vineyard has been around since 1991 and was exclusively organic from day one. It was the first vineyard to be certified as both organic and biodynamic, and this small family owned vineyard was responsible for New Zealand's first ever Sauvignon Blanc, Pinot Noir and Blanc de Noir from certified organic and biodynamic grapes.
And the Richmond Plains team are receiving some serious recognition for their efforts. this particular Richmond Plains Sauvignon Blanc was recently awarded both a Blue-Gold and a Top 100 Gold at the prestigious Sydney International Wine Competition. The Sydney International Wine Competition is Australia's top wine competition. The Top 100 Gold recognises the special quality of the wine as well as selection as one of the best gold medal wines entered in the competition across all classes. The show's huge popularity means entries for this competition are capped at 2,000.
I always delight in discovering a delicious Sauvignon Blanc, but discovering a delicious certified organic Sauvignon Blanc, not to mention an award winning one, takes things to a whole new level. If you haven't tried the Richmond Plains Sauvignon Blanc, you must! I know it'll be in my Christmas hamper this year.
Win two bottles of organic wine: the Richmond Plains Sauvignon Blanc 2011 and the Te Mania Sauvignon Blanc 2011!
All members of Club Happyzine (join now for as little as $1 per week and go in the draw to win free, green products and services each week!) will automatically go in the draw to win a bottle each of these delicious wines
Participate in Car Free Sunday this December 18th and go in the draw to win these organic wines.
GD Star Rating
loading...
GD Star Rating
loading...
Tags: club happyzine, organic, organic wine