Home » Business
Keep it local this Christmas!
Submitted by Charlotte on December 13, 2011 – 1:37 pm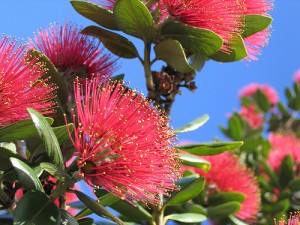 Christmas 2011 Re-Birth of a tradition
This year New Zealanders can give the gift of genuine concern for other New Zealanders. At gift giving time, find something that is produced by New Zealand hands.
It's time to think outside the box. Who says a gift needs to fit in a box, wrapped in overseas produced wrapping paper?
Support local businesses…
EVERYONE gets their hair cut. How about gift certificates from your local hair salon or barber?   Gym membership could be a 'shared with you' experience, if given as a gift.   Small owned shops & car washes would love to sell you a gift certificate or a book of gift certificates.   For the gardeners on your list, some lovely healthy pot plants or plants for the garden.  How about a gift certificate from the local lawnmowing man?   A grateful gift receiver might like their driveway sealed, or lawn mowed for the summer, or games at the local golf course.   There are loads of owner-run restaurants — all offering gift certificates. If your intended isn't the fancy eatery sort, what about a half dozen breakfasts at the local cafe? Remember, folks this isn't about big National chains — this is about supporting your home town with their financial lives on the line to keep their doors open.   How many people could use an oil change for their car, truck or motorcycle, by a local garage?   What about a gift certificate from a local home handyman for some chores to be done around the home?
Thinking about a heartfelt gift for mum? Mum would LOVE the services of a local cleaning lady for a day. Someone's computer could use a tune-up, & someone will KNOW of someone who wants to get his repair business up & running.  OK, you were looking for something more personal.  Local crafts market people spin their own wool & knit them into scarves. They make jewellery, & pottery & beautiful wooden boxes.
Plan your holiday outings at local, owner operated restaurants and leave your server a nice tip. How about going out to see a play or ballet at your hometown theatre?  Musicians need love too, so find a venue showcasing local bands.  If you have bucks to burn, leave the postman, garbage collector or babysitter a nice BIG tip.
Christmas is about caring about New Zealand, encouraging our small businesses to keep plugging away to follow their dreams. When we care about other New Zealanders, we care about our communities and the benefits come back to us in ways we couldn't imagine. Make this your New Zealand Christmas tradition.
The simple gifts with a simple wish for peace and love and joy are all that's needed to celebrate Christmas
GD Star Rating
loading...
GD Star Rating
loading...
Tags: Christmas