Home » Environment
Green Profile: Seema Singh "We cannot separate people from the environment"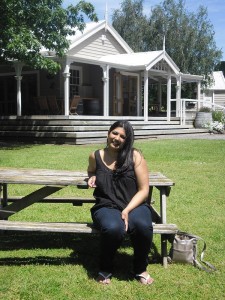 By Seema Singh
Coming to reside in Wellington from Fiji gave me a great opportunity to explore my self beliefs of being an environment enthusiast. My studies at Victoria University introduced me to various literature on environmental degradation, climate change, renewable energy, decolonizing methodologies in the field of environmental research, community based conservation projects and much more.
Now, I have been slowly transitioning my energy into creating my own nursery (not yet named), working with Te Rito Gardens and also doing secretarial duties for Porirua Harbour and Catchment Community Trust (PHACCT). As a Humanities Teacher and the Community Service Coordinator in International School Nadi, Fiji Islands I became very passionate about people's welfare, children's right to education, getting my students to plant trees and so forth so that they became responsible citizens.
In this process of getting my students to develop altruistic attitudes towards their community and environment, I found myself reading many articles about human-induced climate change, deforestation, sedimentation due to new developments, environmental concerns in tourism related infrastructure, displacements, poverty and much more. I would say that this was that moment in my life when I decided to pursue a qualification in the environment discipline. This led me to further my studies in the environmental field at Vic.

Here, in Wellington I feel very privileged to be working with Te Rito Gardens where we give opportunity to the under privileged students/ people to get a horticultural qualification certified by Whitereia Polytechnic so that they can earn an income for themselves and their families.
This qualification is an organic gardening course which runs for 18 weeks and encourages students to learn by doing. I am also the creator and the editor of Te Rito Gardens Newsletter. Another project close to my heart is the Porirua Harbour and Catchment Community Trust which started mid last 2011 and it intends to look into better management of the habour and catchment areas all the way from Grenada North/Newlands to the Porirua Harbour. Even though I am the Secretary, I believe in the vision of the Trust and I see myself working for the Trust as long as I reside in this part of New Zealand. I enjoy the vibrancy of cultures that the Porirua area encompasses and look forward to doing more environmental management projects in this area in years to come.
Both my projects involve working with people coming from various academic disciplines and cultures. I am so glad that I am doing what I am passionate about – environment and people. I would like to be associated with projects that not only improve the quality of the environment but also looks into the welfare of the people,
help change behaviours for the better and also believe in educating people about the environment that we live in.
We cannot separate people from the environment – we are all created equal in the eyes of nature and we must respect each other's space. I am an optimist who believes that positive changes are possible and it is never too late to start. I live by Gandhi's words 'Be the change that you want to see in the world'. At first it seems hard but for people like me who never lose hope, it is a journey that will continue until I live.
GD Star Rating
loading...
GD Star Rating
loading...
Tags: green dreams