Home » Business
Activate28.com – the website for 28 year olds who want to not only make it through, but thrive!
Submitted by Charlotte on January 29, 2012 – 11:48 pm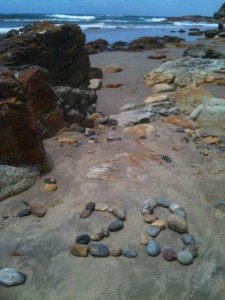 activate28 by Erin O'Brien
Age 28 was a big year for me. I changed careers, returned to uni, moved from Sydney to Wellington, fell in love, dealt with heartache … and discovered a big piece of my health puzzle. On top of those 'outside' changes, it was a time of inner questioning: Who am I? What do I want from my life?  Where's my place in the world?
At the time, I thought what I was experiencing was unique. I figured nobody would understand. Sure, I had friends who were supportive, but I still felt quite alone in my experiences.
Someone mentioned to me "Saturn's Return". At first, I tuned out because I wasn't interested in astrology (to be honest, it's still not something that interests me). But there were three things she said that made me pay attention:
1. That around the age of 28, many people feel the same way (Phew! I'm not unique after all! Even though there's a part of me that wants to be!)
2. It's called Saturn's Return because Saturn takes about 28 years to circle the sun, and that's apparently why lots of people experience these feelings at this time.
3. This one's the crux: Saturn's Return helps you get on track with what you're meant to be doing in life.  If you ignore these inner promptings now, they'll come back even stronger in another 28 years (mid-life crisis time at age 56).
I didn't want to reach my 50s and living with regrets of things I could've (or would've or should've) done at age 28. So I'm grateful that I had learned about this Saturn's Return phenomenon, and decided to listen carefully to my intuition.
So, let's fast-forward five years to now. I'm 33. After a bumpy few years, I feel steadier and on track.  I've been following my heart and aligning what I do with my values. Workwise, the past few years I have been a workshop facilitator at Sydney Uni, teaching Goal Setting and Conquer Procrastination classes to 600 students. I also ran a life coaching business on the side. This work was very fulfilling, although I felt that something's not quite complete.
Out of curiosity, I went to a business seminar last October. Driving home, I asked myself "Do I want to be an entrepreneur? And, if so, how can I package up all my passions and skills? Most of all, who will benefit most from what I have to offer?" I did an intensive self-inventory. What am I truly good at? What have I successfully done in my life, with no regrets, no shame? The answer dawned on me: "Erin, you survived and thrived at age 28. That's one thing you've done brilliantly in your life so far".
And that's how activate28 was born.
I want others to be able to say "I survived and thrived at age 28 too!" So my mission has become to create an empowering online space for people 'in the 28 zone'. The activate28 website will eventually become a one-stop shop for 28ers throughout the world. I've started creating eCourses and eResources, as well as an online community, to support 28ers with time management, goal setting and self-esteem.  It's exciting for me because these resources and courses are a blend of all my professional and personal experience, as well as the latest research into neuroscience and positive psychology.
Can you imagine a world where a critical mass of 28ers feel empowered? It's hard to believe that 1 in every 14 people on the planet is in the 28 zone (that's 550 million people). If activate28 can support even a tiny percentage of these 28ers, that's thousands of people who are making a difference in their own lives. In turn, they are making an impact on the lives of their families and communities, as well as future generations. Maybe one day age 28 will be celebrated like age 21 and 30?
It's early days at activate28 but a lot is happening. At the moment, I'm running a few types of webinars.  There's the free Conquer Procrastination webinars held at the start of the month. And I'm launching the Daily Action Power Hour this week (very cool!). And I'm very excited to witness the first group of 90 Day Action Plan taking action on their goals … and can't wait for the next group to start in April. I've also got some Get Organised Bootcamps coming up soon. Wow, it's all happening!
I've had great feedback on these webinars so far. People love them because they focus on the essential life skills that you didn't learn at school! The most popular part is the Action Power Hour which is built into each of the webinars so you actually get stuff done while online. We don't talk about theory or give advice; there's no psycho-babble or analysis paralysis! It's all about taking action. You learn a skill and then put that skill into action. Pretty simple, really!
Anyway, I still pinch myself … it's hard to believe I get a chance to share my skills and passions, and be self-employed at the same time. And it's pretty amazing to look back and realise this was just an idea four months ago. It's amazing what results when you put vision and action together!
GD Star Rating
loading...
GD Star Rating
loading...
Tags: Business, saturn return, website