Home » Uncategorized
d'Arcy Lunn rides the world for the Global Poverty Project and Live Below the Line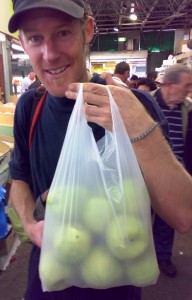 I have the biggest admiration, thanks, joy, belief and faith in humanity having lived my dream everyday for the past 11 years since graduating from university.
I'm an educator, teacher, advocate, campaigner and celebrator on everything to do with global, social and environmental justice. I have been extremely lucky to volunteer, teach, learn and travel to over 50 countries and mainly in developing countries. From these experiences I have learnt we are all wonderful humans in a beautiful world and should be treated with the same amount of respect, interest and love. Everything I do is based around this and always in a happy, positive, can-do, fun approach.
My latest exploit to inform and inspire others to foster this connectedness is a cycling tour in April and May in north-western America.
Representing the Global Poverty Project and the Live Below the Line campaign I will ride 1000 miles giving global awareness presentations and eating on less than US$1.50/day (the definition for people living in extreme poverty [for everything]). Join me for the ride – http://lunnyLBTL.wordpress.com
After first falling in love with this country as I rode around the South Island in 2009 my ultimate dream is to settle in Aotearoa New Zealand in 2013. I will aim to establish a youth and schools presentation and program for the Global Poverty Project as I have done in Australia for the past two years.
Aotearoa New Zealand is my ultimate destination to:
Integrate into a community – suggestions welcome but will have to beat Paekakariki
Promote community participation, active citizenship and volunteering,
Establish a sustainable living model and education project (have the proposal on the sketch pad if you want to know more)
Run, walk, bike on every possible trail this beautiful nature has to offer
Find a nice Kiwi lass! I'm 33 fit, health and love the world…!
Learn
For this year get yourselves familiar with the Global Poverty Project and in particular the Live Below the Line campaign in September, follow my journeys through my blogs and think about informing and inspiring your youth and community with a 1.4 Billion Reasons presentation in 2013 when I will be back to settle in this pure natural and human country.
Many Thanks
d'Arcy.
If you are interested in why I would ride 1000 miles Living Below the Line then please read below:
WHY
I am not doing this to self promote, fish compliments or impress anyone
This trip is a product of experiences, learning and inspiration from the past 11 years of travel, volunteering and learning, especially in developing countries
I want to advocate and be the middleman
o        Hopefully for the first time people will be drawn to do Live Below the Line from May 7-11 (AU, US, UK) and September 20-24 in New Zealand
o        Others will be able to see if I can do it riding for a month riding a bike, Live Below the Line is possible for them for five days
o        Hopefully they will also see it will be a great experience with lots of learning, empathy and inspiration
o        What I am doing is beyond the campaign but it is nothing compared with the 1.4 billion people in the world who live in extreme poverty every day with no assurances of an end
I love simplicity and seeing the world in that light – I know I will learn a lot with powerful perspectives and insights
I want to show the amazing resilience, resourcefulness and unrelenting hope and hard work of people who live in extreme poverty
I want to empower the people who live in extreme poverty – so we see them as truly remarkable
o        From this point we can understand and take action in support – not through pity, guilt or sadness
There is no better way to see a place and it's people than on a bike sharing stories and lives
I'm a human just as important and insignificant as anyone else and this is what I do, just as others do with equal commitment and purpose as students, parents, workers, volunteers, etc…
I want to see everyone have access and opportunity, voluntary simplicity and a perpetual smile as I am lucky to have
Offer an example for more people to live within the capacity of our environment, and enjoying it
Advocate nature, cycling, simplicity, sustainability, healthy lifestyles, community interaction
Hits and giggles – the world is a wonderful place to have fun… why not!
I live, learn and act to see a world without extreme poverty anymore
GD Star Rating
a WordPress rating system
GD Star Rating
a WordPress rating system
Tags: cycle, live below the line