Home » Gardening
Urban community gardening – how a group of friends made it their success story
Submitted by Charlotte on March 13, 2012 – 5:03 pm
Grace Deathridge writes for Happyzine (having discovered it when she lived in New Zealand) as an Intern, and lives in the UK. In this article Grace and her new-found friends transport a neglected urban plot into a thriving urban community garden.

It's funny how things can develop from nothing sometimes. Last Autumn I went to a public meeting in Bristol and it turned out to be one of those moments. I went to the meeting on a bit of a whim really. It was being organised by someone I'd recently met, who was involved in the local community food growing scene – the 'keen as beans' Frank – and I wanted to support what Frank was doing, as well as go along to learn more about food growing.
Frank was interested in setting up a local Community Supported Agriculture (CSA) project on a derelict piece of urban land. Initially he'd advertised the meeting to recruit people for this project, but when he had over fifty enthusiastic people turn up to the meeting, he adapted the meeting to be a more generalist affair, where he informed those present of all the community food growing projects going on in Bristol. Then he invited us to split into groups we were interested in, a group for each project and its corresponding area of Bristol.
So that is how I found myself sitting in a group I had no intention of getting involved with. It happened that the people around where I was sitting were wanting to form a community group to rent a plot in the shared garden where the meeting was being held – The Windmill Hill City Farm. Although the city farm was very local to me, I had quite a good reason for not getting involved, as I was moving cities in four month's time. It was also the start of autumn – not the most fruitful time of year to start gardening, from the point of view of growing or harvesting. But for some reason I found myself choosing to sit with them.
Most people in the group were keen to start growing their own veg (we were all pretty much learners!) but did not have adequate land at home so were keen to co-rent a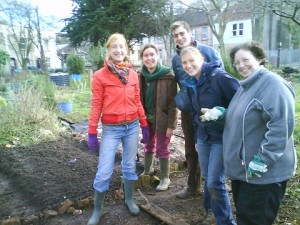 space, where the workload, knowledge and motivation could be shared, alongside having access to their own green space within an urban environment. People seemed very keen to start something up and we all exchanged emails. I walked away thinking 'What am I doing?! – why sign up to garden just for the winter?!' but my more intuitive side, which wasn't so het up on being goal focused, just took me up this garden path. A few emails later we met at the garden's community cafe and the group was organically formed, the plot acquired, all with incredible ease.
Windmill Hill City Farm was formed in 1976 (it is the oldest U.K. City Farm outside of London} by a volunteer group of local residents who transformed an inner city wasteland, enabling the local community to experience farming in the heart of the city. Alongside the farm's ducks, goats and pigs it has community garden plots which can be rented by community groups (not individuals). The piece of land we were given measured approximately 150 square metres and was in quite a state of neglect. Overgrown with grass (including the invasive and troublesome weed Couch grass}, general vegetation, rubble and – as our plot was in the middle of a lot of plots and had just been left to it – there was a lot of rubbish. But we couldn't wait to get our hands on it!
This autumn and winter we have cleared the grass, dug the soil where needed, scooped up the couch grass, piled together the rubble and old plant pots, cleared the rubbish and put down layers of cardboard over our future beds. We are also lucky to have a tree-expert in our group, who has tended to the lovely elderberry tree in the middle of our plot. We've defined the group's values (organic and permaculture-inspired), planned future crops and projects (including a wildflower garden and frog haven!) following a naturally democratic process. All in all, it's been satisfying, hard (ish!) work and great fun! We even shared our first planting – a winter solstice garlic planting ritual!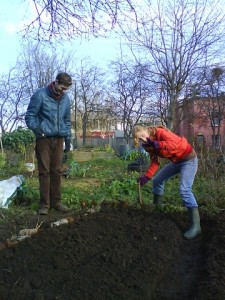 Much can be said about the benefits of gardening for an individual (read Steve Carter's excellent article on why gardening is great) and speaking as an individual, this experience has been nourishing, connecting and balancing.
What I have loved about this experience most has been the sense of a shared project. Yes, we all gain from this mutually beneficent venture, as we are helping to grow each other's food, but there is also a lot of joy in sharing land with others. The joy spreads. It grows! There's been an almost tangible atmosphere of enthusiasm when we have been gardening together on our plot – even when we've dragged ourselves out of bed, bleary eyed, early on a winter Sunday morning!
Over to Sam one of the group's members:
"There's some prior knowledge amongst the members of the group but we're busking it a bit too which, whether we particularly succeed or not, this has been a good way to think about how we go about things and will be a mutual support network should the promising sprouts we're cheering for at the moment turn out to be rotten tomatoes. There's been a real sense of openness about our aims, I suppose. I get the impression we're all a bit ambitious but will be reasonably thrilled with whatever comes up out of the ground."
I know from my time in New Zealand that you have a lot of thriving local Community Gardens and I have also read that Garden Sharing is becoming popular, as it is over here. Garden sharing is an arrangement where a landowner allows a gardener access to land, typically a front or back yard, in order to grow food. Garden sharing projects are often incorporated into larger sustainability schemes such as the Transition Town movement. Transition Towns in the UK and NZ have instituted garden sharing projects as part of their efforts to prepare communities on a local level for the effects of climate change and peak oil. There are a few websites I have listed at the end of this article if you want to look at some Garden Sharing or Community Garden options available in NZ.
As for my future green-fingered activities I've now moved cities (to nearby Bath) and have signed up for my local Community Garden as a volunteer. I am now a 'friend' of the shared plot in Bristol as I live too far away now to contribute effectively though I am looking forward to visiting the new friends I have made on the shared plot, when back in Bristol from time to time- oh and getting back there for our hopefully abundant summer's solstice garlic harvesting!
NZ Community Gardening Website Links:
Good's collaborative guide to community gardens in New Zealand:
http://good.net.nz/magazine/community-gardens
Organic Pathways:
http://www.organicpathways.co.nz/directory/category/39.html
Grow Together:
http://www.growtogether.org.nz/community-gardens-and-other-projects/garden-share-schemes/
GD Star Rating
loading...
GD Star Rating
loading...
Urban community gardening - how a group of friends made it their success story

,
Tags: community gardens