Home » Environment
Earthhour News: 'I will if you will' Tauranga's Mayor steps up with environmental recovery plan for Rena
Submitted by Charlotte on March 20, 2012 – 5:30 pm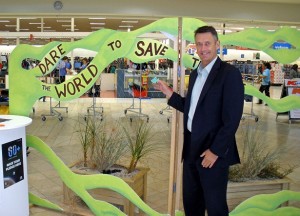 MAYOR STUART CROSBY MAKES FIRST PLEDGE IN SUPPORT OF EARTH HOUR
Dare the world to save the planet – 'I will if you will.' The international theme of Earth Hour 2012 is being embraced by Bayfair Shopping Centre this month. The centre, in partnership with Tauranga City Council and the World Wide Fund for Nature (WWF) New Zealand is encouraging the local community to pledge actions for the benefit of Mayor Stuart Crosby was the first to make a pledge last week, committing to support the environmental recovery plan for Rena.
WWF New Zealand executive director Chris Howe says, "It's fantastic to see Mayor Stuart Crosby embrace the spirit of Earth Hour by making the first pledge. We hope he inspires others to take their own steps toward a cleaner and safer future. This year, the global environment movement is all about going 'Beyond the Hour' with lasting actions that will help us create a more sustainable planet."
From now until Friday 30 March, the community is invited to make pledges by writing and attaching them to an art installation located in-centre, outside Kmart.
The installation will then be relocated to Sulphur Point where those visiting the free community Earth Hour event, featuring a night market and candlelit acoustic concert on Saturday 31 March, will also have the opportunity to make a pledge.
Bayfair centre manager Steve Ellingford says the community pledge installation provides a great platform for those wishing to recognise Earth Hour 2012. "Each
pledge will detail a personalised action to be undertaken by its author, and can include anything from installing roof insulation to purchasing low-energy bulbs for the
Those who have made a pledge will also be invited to participate in a dune restoration project sponsored by Bayfair and in association with Coastcare. In the spirit of the 'I will if you will' theme, the centre will match the total number of pledges with plants for the project. Planting days will be held in the July school holidays with the goal of restoring an area of the dunes at Arataki Beach.
Tauranga City Council sustainability adviser Michelle Elborn says, "It is a pleasure to be working with Bayfair to deliver their contribution to Earth Hour celebrations.
Tauranga is leading New Zealand's Earth Hour celebrations this year, and Bayfair's community pledge installation and dune replenishment project inspires  environmental action and brings to the fore the importance of the local environment."
Visit www.bayfair.co.nz, www.facebook.com/bayfairshoppingcentre or www.tauranga.govt.nz for further details.
GD Star Rating
loading...
GD Star Rating
loading...