Home » Environment, Headline
Sinbad Sanctuary project reaping hugely positive results
Submitted by Charlotte on March 21, 2012 – 6:08 pm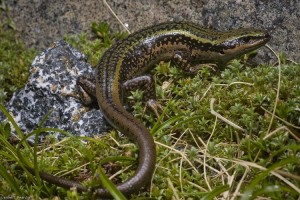 Media release from Southern Discoveries
21 March 2012
Sinbad Gully sponsorship hugely rewarding
An award-winning environmental conservation project in a World Heritage Area is continuing to demonstrate "uplifting and positive" results half-way through the first stage of work.
Two-and-a-half years ago Southern Discoveries, one of New Zealand's premier tourism companies, committed sponsorship funds to the Sinbad Sanctuary Project at the base of Milford Sound's Mitre Peak, New Zealand's most photographed mountain.
Southern Discoveries is halfway through a five-year sponsorship of the project, working in conjunction with the Department of Conservation (DOC) and the Fiordland Conservation Trust with a view to Sinbad Valley becoming a sanctuary for native species.
The project aims to enable threatened bird, lizard and invertebrate species to increase in number with particular focus on the rejuvenation of the Sinbad Skink population – a skink known only to that area in Fiordland.
Last year Southern Discoveries won a prestigious Southland Environment Award for the Sinbad Sanctuary Project and a recent visit to Sinbad Gully to determine the growth of the Sinbad Skink population revealed the species has taken up a previously uninhabited new location on a vertical rock wall.
DOC rangers and professional climbers helicoptered into the area and abseiled down rock walls up to 300m high to monitor the skink, and were delighted to discover that the Sinbad Skink population was more widespread than previously thought.
They estimate the population may have doubled from less than 500 to around the 1000 mark since monitoring and pest control began.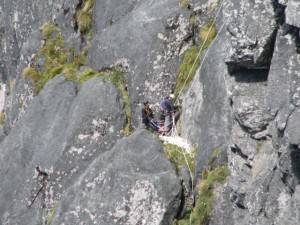 Southern Discoveries General Manager John Robson said it was "great news" and reaffirmed the importance of the company's commitment to the project.
"Fiordland is one of the last true areas of remote wilderness in the world, and it's important to us to help preserve Milford Sound and in particular Sinbad Gully as a spectacular and unique conservation area," he said.
"Over the past two-and-a-half years, Southern Discoveries has donated hundreds of man-hours to the project, and will continue its commitment to the preservation of this magical area.
"We're privileged to be working alongside likeminded organisations like DOC and the Trust to preserve this land, and news of skink population growth is hugely rewarding and reassuring that we're really helping to make a difference."
Department of Conservation Ranger Hannah Edmonds, who heads up the Sinbad Skink monitoring programme, described the news as "fantastic" and said working with the Southern Discoveries team was "awesome".
"To work with a company that is as passionate about conservation and the preservation of our natural surrounds as we are, is fantastic and unique," she said.
"The Southern Discoveries team has stuck by us and I'm looking forward to sharing more great results like this with them.
"While our recent visit to Sinbad Gully tells us the security of the species in on the rise, and that's hugely encouraging, the Sinbad Skink is still vulnerable as we are yet to discover them elsewhere in Fiordland.
"We've still got our work cut out for us."
Sinbad Gully background information
The Sinbad Gully is located close to the head of Milford Sound within Fiordland National Park and the Te Wāhipounamu – South West New Zealand world heritage area.
In 1974 Sinbad Gully was set apart as a "Special Area" because of the presence of kakapo and the largely unmodified state of the vegetation.  This status was lifted in 1992.  At this stage deer had become established in Sinbad Gully and kakapo were thought to be no longer present, therefore it was considered no longer necessary to restrict public access under the special area status.  Sinbad Gully is now classified as part of the "Eastern Remote Zone" under the Fiordland National Park Management Plan (2007).
The Sinbad Gully has a natural barrier of steep terrain, combined with a cold, wet climate which has limited the invasion of mammalian predators. These attributes have contributed to making it a safer refuge for the rare lizard species such as the Sinbad and Mahogany skinks and the Cascade gecko.  All three were only recently discovered in the Sinbad Gully and the Sinbad skink is known only to the Sinbad Gully. Other species present include rock wren, kea, whio, kiwi, weka, large weta and other large colourful invertebrates.  The valley was also one of the last refuges of kakapo in Fiordland.
The animal pests that DOC proposes to control have a serious impact on native wildlife through direct predation and competition for food.  Control of both possums and stoats will be the key focus for the project.  In time if funding allows rodent and deer control may also become a focus in the Sinbad.
Once the initial knockdown of possums and stoats has been achieved, ongoing control work will be required to maintain low predator densities.  Maintenance control will be achieved through regular servicing of stoat traps and by monitoring possum densities and controlling as required.  The valley walls surrounding the Sinbad Gully form a natural barrier that will limit the re-invasion of introduced predators.
GD Star Rating
loading...
GD Star Rating
loading...
Tags: green business