Home » Business, Club Happyzine
Win a pack of delicious healthy and allergy friendly Eat Right Foods!
Submitted by Charlotte on April 6, 2012 – 8:52 pm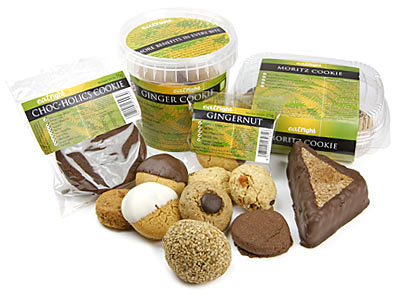 Have you come across Eat Right foods yet?  They say they're 'Healthy and Allergy Friendly Foods'.  And it's true.  They are … and they're so much more, I'll just add in: 'decadent, moreish, yummy, feel as if they're made at home in Mum's kitchen, taste natural real' to that description.  Though it's not quite so snappy.
Imagine if you opened your door to find a box full of organic, natural, handmade cookies, balls and crackers from one of New Zealand's most reputable, trustworthy companies on your doorstep.  Yes my friends it happened to me.  And, it could happen to you.
So let's take a short meander through my box of goodies.  I made my way slowly through the box, and very kindly shared them with my girl-friends.  Well some of them.
Rice and Spice Cookie
This one rates very high for me, hence its order in The List.  This sweet, moist and moreish cookie tastes divine, honestly, you'd never know it was 'free' of so many seemingly vital ingredients.  It's gluten and wheat free, dairy and soy free, egg free and also nut and peanut free.  It's low in fat.  It's GE free and it uses certified organic ingredients.  Now let's get back to the most important thing here – it tastes damn fine – it's sweet and spicey and I could have eaten half a dozen rather happily.
Ginger Nuts
Ok, these are super yummy too!  They're egg, gluten, nut and soya free.  They include organic ingredients.  They're half covered in chocolate.  They're moist, sweet, gingery and it's difficult to stop at one.  In fact, why even try?
Yogi Cookie
Have you tried these?  No honestly, have you?  You have GOT  to try these.  They're up there with my favorites too.  Oh where does it stop with Eat Right?  These are free of eggs, gluten and nuts.  They two are sweet and moreish.  They're half covered in hard yoghurt.  They're divine.
Oat and Sultana Cookie
Now this one's an interesting one, because it contains less 65% less sugar than your average cookie.  It has no added refined sugars.  It's wheat, soy, egg, nut, peanut butter free.  It's high in fibre, and it includes certified organic ingredients.  I tried this one out on my four year old (he's very fussy) and he woofed it down pausing only to inquire as to the where abouts of his next cookie.  Yes it passed the Kahu test with flying colours.  It passed my test too.  Yum!
Energy Ball
This sweet, firm ball of fruit, nuts and seeds would make the ideal snack for someone who loves vegan raw food and is going for the yummiliscious factor.  It's wheat free, contains no refined sugar, is dairy and egg free, is low in fat, GE free and of course it contains certified organic ingredients.
Slow Dried Organic Apple
This little package contains certified organic dried apple.  Now this may seem a simple feat, but in the food industry things aren't usually as simple as they look.  In this case however, they are.  This apple is, as all dried apple should be, preservative and sulphate free, has no added sugar, is 100% New Zealand grown and made, is certified organic, contains fibre and is low in fat and sodium.  Awesome snack for a wee person.  Also, if you're into raw, this apple has been slow dried, so much of that natural goodness has been preserved.
Super Seeded Cracker
These are savory cracker made of certified organic: brown rice flour, fresh carrot, flaxseed, sunflower seeds, buckwheat flour, and Horopito.  I found them to be great for a totally sugar free snack (I'm into sugar free right now), they're yummy, filling, filling due to their high protein factor, and crunchy.  Great to have in your bag for those moments when you need a healthy, nice tasting snack, particularly if you need something to regulate your blood sugar.
So that's the spread folks.  They come in environmentally packaging too.  Keep a look out for Eat Right Foods in your local organic shop or local supermaket, they're very well distributed around New Zealand.
This week only two members of Club Happyzine can win the very same experience I had.  Sigh.  It was JOLLY good.
GD Star Rating
loading...
GD Star Rating
loading...