Home » Community
The Real Value of Community
Submitted by Charlotte on April 11, 2012 – 4:50 pm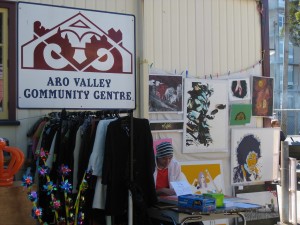 By Hannah Mackintosh of elevenhoursahead
I recently got into an argument with my father about the importance of community and whether building community should be a responsibility of councils and government. My argument was that yes, it should be. I see a resilient and connected community as synonymous with having functioning street lights, clean streets and fresh water. They're like the relationship between the African Honeyguide and the Honey Badger. The bird leads the badger to a bee hive where the badger feeds on the honey. When it is finished, the Honeybird can feed off the beeswax. In the same way, having services such as street lights and waste management is essential to having safer communities. And communities that are connected are also more likely to look out for each other.
Am I wrong? Well according to my dad I am. After much debate, he commented, "You've got no proof of this connection. I think we've got onto a topic where you and I need to have a lot more discussion about how things work" to which I childishly (as you do when you're the youngest child having an argument with your father) retorted, "well, at least I'm doing something about it." He replied simply, "but are you really?"
This got me thinking, why am I so caught up on building community? What difference does it make if people know each other in the street or not?
Perhaps some people don't need community. They're self-sufficient. Maybe my father is one of those people. He's a bit of an introvert; he'd rather stay home and be with his family than go to a community event. He can afford to have his hedge cut and to get his pants hemmed if they are too long. If he runs out of eggs or milk, he doesn't need to go to his neighbour; he walks to the dairy a block up the road. Maybe indeed he doesn't need community.
However, looking at my life for a moment, I am in a different situation. I need my community for many reasons. Being connected to my community adds social, economic and cultural value to my life. There are those people who cook me meals, give me lifts to the airport, and generally look out for me. I am a member of the time bank in Wellington which has given me access to people who have skills that I don't have – people have written me press releases, fixed my clothes, and watered my garden. Other people in my community have acted like mentors. They have given me professional advice, linked me up with the right people, looked over my CV, and helped me get funding for projects. Then there are just those familiar faces around my neighbourhood who smile and say hi whenever we pass each other in the street. They just make me feel like I'm part of something that is bigger than myself.
It was at this point in my reflections that a video made in Lyttleton after the Christchurch Earthquake sprung to mind. It is a short video that illustrates in ways I couldn't possibly manage here, the essential nature of community at a time of crisis. "In this time of great loss, Lyttelton and its community stood out as being resilient, organised and sustainable. It already had the community connections, timebanking, resource sharing and a cooperative arts community."
Essential city services are, well, essential. I do not doubt that. But when those things fail, when the world is taken out from under our feet like it was in Christchurch. What is left? There is no electricity for the street lights. There is no-one coming around to collect waste. There are just the people and the community looking out for one another. And being from Wellington, where 'the big one' is a constant threat, I think it is vital that we are connected, resilient, and generous at heart. This is just one reason why Council and Government should see that putting resources, money and energy into supporting a connected community is not just pandering to the 'lefties', it will in the long term have significant social, economic and cultural benefits.
ElevenHoursAhead developed out of a sense that important events and policies that impact our lives in Aotearoa/New Zealand were often not being critically engaged with in the mainstream media.
In response, we have created this news blog as a space where we as New Zealanders can discuss and engage with some of these larger issues. In particular, the political, social and economic issues that are impacting our lives and the future of our country. We aim to provide a wide range of different perspectives and voices.
These are the principles that underpin what we do:
1. ElevenHoursAhead critically engages with political, social and economic events and policies impacting New Zealanders.
2. We aim to represent a wide range of political views.
3. We aim to make important issues available and accessible to a wider audience.
4. This is a forum for us as New Zealanders to express our opinion in a way that we feel is often not represented in the mainstream media. The contributors are encouraged to be as creative as they like.
If you would like to say anything to us, feel free to send us a line on: elevenhoursahead@gmail.com. Alternatively, leave a comment…
Who we are
Marianne Bevan
Marianne joined elevenhoursahead so that she would finally have a public space to rant. In her spare time she likes to monitor Family First, the group that monitors the alleged decline of family values in New Zealand. She is interested in gender, foreign affairs, militarism, non-violence, national identity myths and on occasion (given that she grew up on a farm) the dairy industry. She recently decided to move to Togo to intern with the UN. Despite now being 13 hours behind, she will continue writing for EHA, mostly so that she can pretend to be a foreign correspondent.
Celeste Donovan
Celeste is someone that believes we all need to have an 'opinion' on things that matter, if possible, an informed one. She has a background in the Arts; politics, feminist and American studies, along with a smattering of other papers in the liberal arts, which means she has more opinions than many, on most things. But she reckons, overall, if she takes a moment to think before she speaks, or writes, this can be okay. She believes that it's important to be aware, engaged, informed, open, and upwardly mobile, and likes to use words that begin with vowels.
Hannah Mackintosh
Hannah comes from a human rights and community development background. She has a tendency to get worked up about the lack of public discussion around what she considers to be the 'real issues' facing Aotearoa today. She decided to write for elevenhoursahead as a more constructive way of dealing with such things. Her particular interests form a messy combination of topics including culture and identity, indigenous rights in Aotearoa and public consultation and participation in government decision-making.
Laura Barrett
Laura was born in Wellington but has spent time in the South Island and also Japan and Europe. She has long had an interest in how we create a more equitable and just society. This, she believes, requires change in our approach to social policy, but is inspired by what individuals and communities can and do achieve. In contributing to elevenhoursahead she hopes to provide information and stimulate conversation on issues she feels are important for New Zealanders.
Kiri Stevens
Kiri is currently studying towards her Masters degree in Development Studies. Her thesis focuses on the social expectations placed on Maori men, particularly those who enter the New Zealand Defence Forces. Kiri's interests are wide, but as a student of feminism, politics and history she has a particular interest in the long-term effects of political decision-making and how ideas about gender affect New Zealanders perceptions of issues.  Kiri is optimistic that other people are into politics too and she hopes that through her blogs people become more aware of how to become more politically engaged.
GD Star Rating
loading...
GD Star Rating
loading...
Tags: Community