Home » Arts
Alastair Riddell (Space Waltz) to premiere his first short film "The Last Stop"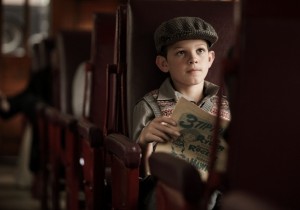 Submitted by: Vanessa Cohen-Riddell, Little Red Hen Pictures
Alastair Riddell (Space Waltz) is to premiere his first short film "THE LAST STOP"; a film made specifically for entry in Ridley Scott's new online "Your Film Festival".
Singer/songwriter and Rock Artist Alastair Riddell (formerly of SPACE WALTZ) has entered a Short Film called "THE LAST STOP" into Ridley Scott's International Short Film Festival: "Your Film Festival". The festival has recently featured publicity by Ridley Scott and Michael Fassbender (both of whom will also be jurors to pick the winner in Venice in September).
This film is exceptional not only because it is Riddell's first film to be released, but also because the Festival in which it is entered is the first major online Film Festival (run in conjunction with Google/Youtube).
A Cinema Premiere of the film is being held at the Academy Cinema in Lorne Street, Auckland to raise funds to help cover the film's production costs and promote the film, as it will require voting support if it makes the next round in the Festival. Most short films in New Zealand are funded through the NZ Film Commission, but the Riddells did not have time to apply for funding: "We need as much support as we can muster" Alastair said, "If you want to help please buy a ticket and come along or simply make a donation through pledgeme.co.nz … keep an eye out for us on YouTube as well because we may well need your vote".
Although the film can be viewed on YouTube in the nature of the competition, Riddell said the Cinema screening was a great opportunity for people to show their support for the project, and a chance to see the film the on the big screen; "…how we intended it too be seen".
The film is a drama set in 1950s New Zealand and features a nine year old called Robbie (Louis James), who takes a journey on a steam train to see a very special person. He is certain that this day can't be anything but the best day ever.
The Film was made on the Glenbrook Vintage Railway, and took a little less than a month to complete from its inception to its final edit. It was also made specifically for the online film festival and has been completely self funded.
Riddell's wife Vanessa Cohen-Riddell ("In My Father's Den") wrote the script for the film and is its Producer. She also stars in it, along with Matthew Chamberlain ("In My Father's Den", also currently starring in "Shortland Street"), Dwayne Cameron (The Locals, The Tribe), Sarah James (Insatiable Moon) and Xavier Black.
Riddell who is better known for his No 1 hit "Out on the Street" has never released a film before, although he is close to finishing a feature film called "Broken Hallelujah" (to be released later in the year).
His music has recently been featured in Taika Waititi's film "BOY", the two TV series "UNDERBELLY", and "JACQUI BROWN DAIRIES", and AMDS' short YouTube film "ROTTING HILL".
If the film reaches a group of the top 50 entrants (selected near the end of April), it will go on to a voting stage and Riddell is keen to get as many people as possible to hear about it, as he believes Kiwi support of the film at this stage is crucial: "I'm confident if people were to watch the film they would be pleased to support it. I think we have produced a film of the highest standard both in regard to story and script as well as to visual excellence and appeal. If we can get enough people to support the film by voting for it on Youtube we have a very good chance of being selected for the final group. It would be amazing to have a New Zealand film in the finals and that's possible, if kiwis get behind our entry": the final ten films that will be shown and judged at the Venice Biennale (the Venice Film Festival).
There will also be some other short pieces shown on the night, as well as live music in the bar area. All proceeds will go toward the cost of making the film and those interested in buying a ticket or supporting the film should go online to pledgeme.co.nz and enter the search words: the last stop. The film can be viewed at: http://www.youtube.com/watch?

WHAT/WHEN/WHERE
Cinema Premiere of "THE LAST STOP"
Sunday 29th April at 8.30 pm
The Academy Cinema in Lorne Street, Auckland.
GD Star Rating
loading...
GD Star Rating
loading...
Alastair Riddell (Space Waltz) to premiere his first short film "The Last Stop"

,
Tags: film