Home » Green technology
Wellington cycling numbers double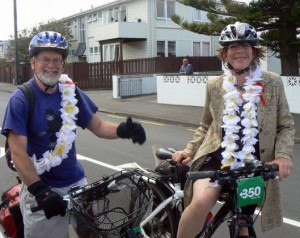 Originally published on Cycling Auckland.
By Lucy H
*Wellington's cycling Mayor, Celia Wade-Brown and Regional Councillor, Paul Bruce. Credit Capital Times.
"Capital Cyclist Numbers Double." That's  the title of a fairly positive piece about cycling in the Dominion Post.At first, when I saw this, I thought it meant they had doubled over one year which would have been awesome.
In fact, if you read more closely cycling numbers have doubled since 2006 – which is still good but not quite so exciting.
However, it's good timing to have some positive media about cycling because today in Wellington a pedestrian carrying a baby also stepped out in front of a cyclist (allegedly, without looking) and they all ended up in hospital. So brace yourself for the usual vitriol on that front, folks!
How many people cycle in Wellington?
I would link to the council's full report here and provide more information but I can't find it anywhere on their impenetrable website (post the link in the comments if you've had more luck).
According to the Dominion Post, they now have 1733 cyclists coming into Wellington CBD in the morning peak every day.
It's a bit difficult to compare that to Auckland as our reporting seems to be done in a different way (we just measure all cyclists moving around the CBD, not only those going inwards), but it seems like a similar number to us.
The monitoring in Waitemata Ward in 2011 recorded 2,082 cyclist movements in the morning peak. Since the roads they monitor are almost all big roads heading into the CBD, it seems likely most of those cyclists were probably heading inwards for work.
Of course, Auckland has more than three times Wellington's population, so you'd expect us to have more cyclists on the roads going into the CBD. However, we do also have much less centralized patterns of employment than Wellington and just lower rates of cycling in general, so it's not really surprising the numbers are so similar.
Cycling is on the up and up.
But, anyway, in some ways, what's more important is the trend. It's good news that Wellington's cycling rates into the CBD have doubled since 2006. This kind of increase, coupled with the falling traffic volumes on our state highways, should, hopefully, spur councils and the government, into providing more funding for the active modes.
On the other hand, it makes our own 30% increase across the region since 2007 look a bit less impressive. But given the incredibly rapid rate of motorway construction Auckland has seen these last 7 years perhaps we should be grateful the difference isn't greater.
Can we catch them up?
Having just spent 4 days in Wellington, marveling at both the coldness of the weather and the steepness of the hills, I think it's pretty obvious that Auckland has potential to have much, much higher cycling rates than Wellington…
What's holding us back is our lack of cycling infrastructure and our extremely poor public transport (the lack of public transport means people are less willing to try living without a car. And owning a car means they are less likely to walk/cycle for short trips and more likely to choose to live in far-flung, low density suburbs which means they are less likely to walk/cycle and so on and so on).
Wellington, in contrast, has the highest rates of public transport use (and, probably both as a consequence and a cause) some of the densest development of any city in New Zealand – and I'm pretty sure this is why they also have higher cycling rates.
What do you think? Does it make sense that Wellington has higher cycling rates than Auckland? Can we overtake them and, if so, what will it take?
GD Star Rating
loading...
GD Star Rating
loading...
Wellington cycling numbers double

,
Tags: cycling