Home » Community, Local Good News
Golden Bay's Jo Campbell practices 2000 year old encaustic art
Submitted by Charlotte on May 4, 2012 – 7:34 am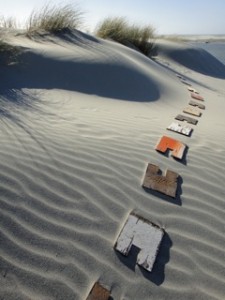 Golden Bay's Local Good News Reporter Charlotte Squire introduces painter and sculptor Jo Campbell who is practicing one of the oldest known forms of art – encaustic painting. Jo brings in influences from her zen practice, while also using her encaustic art practice as a way to unravel from her busy life as the mother of two young boys.
I have a thing about beeswax.
I can't walk past it without lifting it to my face to inhale deeply. The sweet, deep honey smell reminds me of my father's old work-shirts during his bee-keeping days. I love the soft, forgiving texture of beeswax, and I enjoy knowing that those precious honey bees that we're all needing to help preserve and protect right now, created it.
From one creative act to another – let's meet Golden Bay artist, parent, wife and zen practicioner Jo Campbell. Jo's one of a handful of people in New Zealand who are currently using bees wax as an 'encaustic painter'. This is an ancient medium – being one of the oldest forms of painting that we know.
Yep, it has history and it smells good. Encaustic painting predates tempera, fresco and oils and was first used in ancient Greco-Roman Egypt to paint mummy portraits around 2000 years ago. Many of these works remain in pristine condition today.
So what is it, exactly? Encaustic paint is made from beeswax mixed with damar resin (from a fir tree). This mix increases the melting point of the wax while also creating a hard and luminous finish. The word 'encaustic' refers to the 'burning in' process used to fuse the layers of wax together. Most of Jo's paintings are made up of between ten and twenty layers of wax.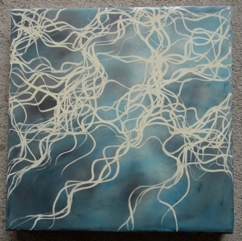 Which is why it seems appropriate that Jo ties her zen practice into her work as an encaustic painter.
"I find working with the wax a great way to unravel. It demands unwavering attention, leaving little room for all the rest. And then there is the wonderful mix of attempting to control the output, and just going with the flow."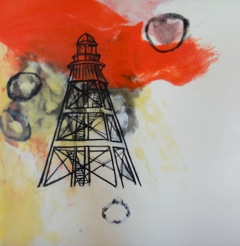 "It's a very versatile medium; part painterly, part sculptural. The colour's created through adding raw pigment to the wax medium, or by transferring photographs,
drawings or combining other materials such as oil paints, pastels or graphite.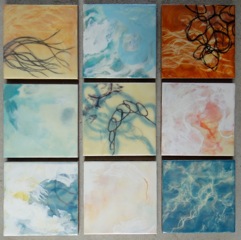 "I personally love the texture and smell of the wax. Most of the wax used in my paintings comes from locally grown Heaphy Honey."
Jo recently displayed her work and offered people the chance to touch and experience encaustic painting at a group exhibition called 'Where Tides Collide' here in Golden Bay. The exhibition showed the work of twelve artists who had participated in the bi-annual artist residency on Golden Bay's iconic Fairwell Spit organized by DoC and the Arts Council.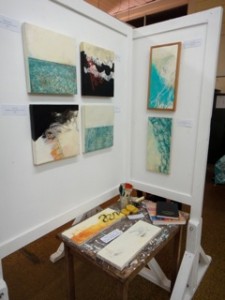 Writing about her experience out at Fairwell Spit, Jo says:
"Apart from the lighthouse, there is nothing solid on Farewell Spit. The land itself is a result of longshore drift: Sediment washed from the mountains, carried by the sea and deposited as the wind and tides collide.
There is 'nothing solid here', and at the same time the vastness all around me is very solid and dependable. I lean into the spaciousness and the lack of solidity and try to let go.
When I do let go, there is a physical sense of unraveling. This is good unraveling, not the madness it might suggest. The unraveling is a waking up to just what is here, this grain of sand, this feeling in my toes, this windy blast. What unravels is all the rest.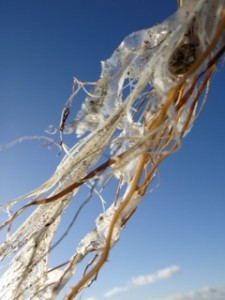 I depict this unraveling in the imagery of my work, but more so I want to experience it in how I work. Back in the studio I try to paint from the toes up, not the head down. But how to unravel those faithful companions; the fear, the doubt, the ego, and the rest?
The lighthouse has become a symbol for that which holds back the unraveling. It is so majestic in its efforts to make safe. We all want solid ground. Yet this particular solid ground wrecks ships and beaches whales.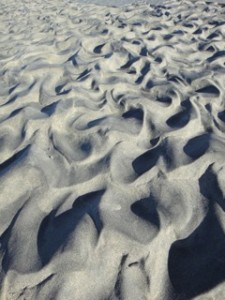 How to truly unravel this? The wax moves from solid to liquid and back again. And I am blown away."
As a mother of two busy young boys, Jo relished her time on the Spit. She sees it as part of her practice and also part of her parenting. "Having time to do what nurtures you is very important to being able to be there for your children. I am trying to see my art practice, my zen practice and my parenting as one seamless entity. A large and morphing role that is full of creative energy, patience and lots of learning by mistake!"
This is reflected in some of the titles of Jo's work, for example 'Not Perfect But Whole', 'Letting Go', and 'Welcoming'.
The artworks that come out of this combined practice hold within them a sense of surrender. Jo works with layer upon layer of encaustic paint to discover and create the right effect. The final results are deep, soft and often striking. I long to touch them, and then of course I long to hold them to my face and deeply inhale for just one more moment with my Dad's old bee-keeper's shirt.
Her next project is to deepen into the connections between art, parenting and practice. She says, "All three have similarities, they can all be rewarding but likewise they all have their frustrations, challenges and mess-ups! Parenting demands presence just as sitting on a cushion does, and likewise working with the wax. It's all the same practice at the end of the day."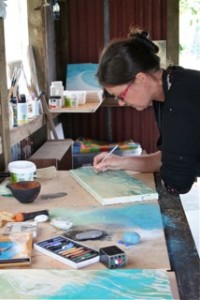 For private viewings of Jo's encaustic art, or to book workshops, one on one lessons or to stock up on her hand made encaustic medium, contact:
jocampbellnz@me.com or 03 525 6029. Jo also runs workshops that combine art and zen practice.
Read the inspiring stories of our sponsors:
Tui Balms is a worker-owned cooperative that began 27 years ago in Golden Bay with Tui Bee Balm, a remarkable healing balm made of beeswax and other natural ingredients.  An effective skin healer, Bee Balm has since become a New Zealand icon, the country's favourite baby balm and the flagship of our popular range of natural skincare and healing balms. Our range of massage Balms with aromatherapy essential oils is the supreme medium for massage.  Tui Balms donates to charitable trusts in New Zealand. Last year, we donated over $30,000 to New Zealand charities! Find Tui Balms at your local health store or organic shop.
www.tuibalms.co.nz
contact@tuibalms.co.nz
ph 03 525 9654.
HealthPost is New Zeala
nd's favourite online retailer of natural health supplements, proudly based in Golden Bay. Established more than 20 years ago, HealthPost is still in 'The Bay' because, basically,we like living here! Our rural location poses logistical challenges from time-to-time (flooded rivers and road wash-outs!) but the dedication and ingenuity of our 38-strong team always gets us through. We're committed to balancing profits and principles, donating more than $60,000 to charity in the past two years through our 'doing WELL' programme. We're passionate about the products that
we sell and proud to be able to help people live WELL.

Billy Kerrisk, Ray White Real Estate New Zealand, Golden Bay branch
TIDY AS – AND OH THE SERENITY!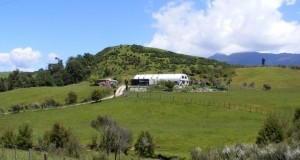 The picturesque Aorere Valley has so much to offer and this 7.7 hectare lifestyle block with a barn conversion style dwelling is a real gem. Everything is done; tight and tidy fencing; clean pastures; good water; established fruit trees and productive vege garden.
The large hangar shaped barn has been converted at the northern end into a comfortable home with some great features – my favourite is the scullery, a wet area currently set up for sausage making, meat packing and beer brewing. If… Read more.
Billy Kerrisk,
027 608 5606
billy.kerrisk@raywhite.com
Golden Bay office 03 525 7219
Sonaz Realty Ltd Licensed (REAA 2008)
The (happy) end.
GD Star Rating
loading...
GD Star Rating
loading...
Tags: Arts, Golden Bay