Home » Music
Music Review: Sarah Brown 'The Great Heart Robbery'
Submitted by Charlotte on May 21, 2012 – 1:06 pm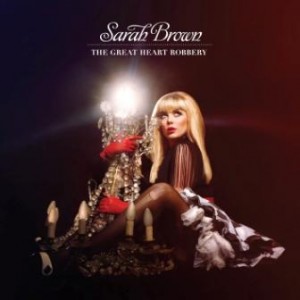 By Charlotte Squire
If you're after a bluesy, sultry, heart-felt album with beautiful female vocals and continued references to love in all its forms, one that you can listen to while you relax on a rainy day (or bake three dozen muffins to, as I did) check out Sarah Brown's new album The Great Heart Robbery.
Blenheim born, award winning singer/songwriter Sarah Brown says she loves Gin Wigmore and this shines through in her music.  While she doesn't have the harder edge of Gin's vocals, her voice has a rawness, and a soulful beauty.  Sarah's lyrics are open, honest, gutsy and equally raw.  She writes about love – past love, love of a family member, lost love, deep love – and she writes with intelligence and transparency.
Her music is described as "an eclectic style of blues mixed with gypsy Americana."
Twenty eight year old Sarah has been involved in the New Zealand music scene for over a decade, touring with Kiwi musicians such as Greg Johnson, Tim Finn and Jamie Cullum.  And she's collected a few awards for her talent including the Juice TV Music Video of the year award for her song Hands in 2006, and another first place in the nationwide Ovation/Rockshop Songwriter of the Year Competition back in 2001.
She recorded The Great Heart Robbery in Sydney where she was accompanied by the string section of the Sydney Symphony Orchestra.  She had her album mastered in New York by Chris Gehringer at Sterling Sound, who has also worked with Madonna, Christina Aguilera and Jewel.
Sarah received funding from New Zealand on Air to record her album.  This June you can personally check her out as she tours New Zealand with her five piece band.
Check out www. sarahbrown.co.nz to find out tour dates or buy her album
Members of Club Happyzine will automatically go in the draw to win a copy of Sarah Brown's CD 'The Great Heart Robbery'.
GD Star Rating
loading...
GD Star Rating
loading...
Tags: Music