Home » Community
AskShareGive – a website where people do just that!
Submitted by Charlotte on May 23, 2012 – 10:04 am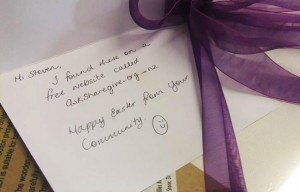 An introduction, by Tanya Bibby
Recently a new website was launched. AskShareGive is a new not-for-profit website where people can share their time, skills, transport and old or unwanted goods.
The website is the brainchild of a creative and talented Auckland businessman Guy Bibby, who runs a software company. Guy felt somewhat disenchanted by the type of consumerism that dominates society today, where we tend to clutter our homes with an abundance of stuff and continue to buy more rather than spread out what we have amongst each other. Guy also felt passionate about the amount of waste that is thrown into the landfill each year as he feels much of it can be prevented, reused or given a longer life. After playing around for a few years with ideas of one kind or another and researching global trends, Guy hit upon the idea of AskShareGive a website modelled on that of a gift economy, which is where goods and services flow through a community without trading or money changing hands.
AskShareGive has managed to tick all the boxes that Guy was hoping it would and he is thrilled with the response so far. The website is being used to list broken appliances, old timber and goods that we might consider rubbish along with items that simply serve no purpose in our lives anymore. As the recession bites deep into our pockets, others are seeing the sense in asking for items rather than buy new or going without.
While sharing old and unused goods is taking off on the site, requests for volunteers and skill sharing is also proving to be popular. We have had people offering dog walking, business advice, befriending and budget advice and one woman even offered to sing at functions. Giving makes people feel good and volunteering often creates win win situations. One person who experienced this commented;
"Through this site I have met a wonderful person who lives close to me and walks my little dog for me. I know she loves the arrangement as much as I do … The more I de-clutter and help others the better I feel. It's kind of addictive!"
Community groups have really grabbed hold of the site too with members that include the SPCA, KidsCan, Sustainable Trust, Christchurch Cat Rescue and Youthline.
Guy is pleased with the functionality of the website, which he says is well thought out, slick, simple to use and incorporates some interesting community functions such as a feedback and rating system which allows people to choose who they wish to share with. This is important in a site like AskShareGive where you are placing trust in people – and you rate the experience at the end, just like Trademe. The website also has a Coordinator, an Auckland person, with a social services background, who works diligently behind the scenes to sort out issues and problems and to answer the numerous questions that are put forward each day, with the intention that the site does not
take on the face of so many other websites – just another website with no human element.
To join up or to learn more about the site go to www.asksharegive.org.nz or email the Coordinator at info@asksharegive.org.nz
GD Star Rating
loading...
GD Star Rating
loading...