Home » Food
Breaking the Fast – Raw Style – by Sarah Lea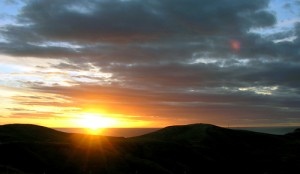 I wake every day to a magical state of consciousness. Still dark, with a babe in arms, I'm followed to the kitchen by two frisky girls. Flinging them fruit like fish with seals, they clap their hands in glee. Sitting back eagerly lapping up their fruit salads with their personal storyteller, Roald Dahl, I get on with the serious art of breaking our fast.
While we sleep, our body slows down to rest and rejuvenate. Fasting three hours before hitting the Land of Nod, assists your body to work most efficiently in the art of regeneration. When you feel ready to tuck in, wallow in a wake-up breakfast that allows your body to attain the nutrients it needs to help you propel through your day.
Personally, I like to start my day with a glass of water spiked with fresh lemon juice, followed by a glass of sunshine … but my beloveds like to get through at least three courses. Depending on the day ahead determines the state of play. Slow-releasing food in the form of perky porridge, grawnola or pancakes fills them with bliss and supports very important playing, energy levels and the ability to concentrate on longer tasks. For special occasions, I love to create magical mornings starting with chocolate cake, ice cream or mousse. For quick, 'we gotta get outa the house now breakfast', buckwheaties cereal with nut milk, raw breads with living jam and a green smoothie or nut milkshake help us to fly. I purposefully fill my pantry and fridge with health-full ready prepared delights so that I can throw morning saviours into the magic box in preparation for another round.
My heart sings out watching the girls start their day with a glass of sunshine juice. Deliciously pinkalicious thanks to beetroot, I cram in every green vegetable I can lay my hands on and allow the sweet root vegetables to carry the chlorophyll from the leaves and green powders into hungry tummys. The eldest downs hers in one, leaving my three year old to watch the essence of life spiral around the curly wurly straw as it delivers her life force hit in one. Chase-slurping a spirulina tablet around the bottom of their glass gifts us with giggly girls and kicks off our day with purpose.
Our breakfasts are so fantastic we often eat them for pudding. And our puddings are so scrumptiously perfect to end a meal with, we love to start the day with them.
These are two of my favorite raw breakfast recipes. Nutritional bombs they compliment one another with minerals, enzymes, co-factors and high quality protein. I only use a tiny bit of raw chocolate and I could live on just this smoothie alone. The raw chocolate and maca is a great replacer for coffee and when you use warm water or tea you have a nice warm drink.
Wake-Up tea
1 tsp of raw cacao powder
1 tbsp goji berries, soaked
1/2 tsp maca powder
1 tsp bee pollen
1 tbsp hemp seed powder
1 tsp raw honey (or yakkon root or few drops stevia)
1 tsp green powder (green blue algae,spirulina, chlorella, wheatgrass)
few leafs of wild greens, (I use dandelions, nettles or miners lettuce)
2 cups of your favourite warm herb tea or water and cinnamon or cayenne powder to taste.
Blend all ingredients together and 'yehaa!' your way through the day.
Perky Porridge (Serves two sunshiny girls)
250g sprouted buckwheat
1tbsp raw honey/raw agave nectar
1 tsp cinnamon
1 tbsp tahini
1tbsp chia seeds, ground
1 tbsp flax seeds, ground
1 tbsp sunflower seeds, ground
Boiling water
1/ Break down the buckwheat in the food processor until the groats are mushed-up mash.
2/ Add the tahini, seeds, cinnamon, honey and process again until well mixed.
3/ Keep the machine running and add enough water to reach your preferred consistency.
I like to add seasonal fruits. My favourite at the moment are figs and feijoas. Serve in coconut shell halves and watch breakfast whirl around the table!
GD Star Rating
loading...
GD Star Rating
loading...