Home » Wellbeing
Yes, music does help your exercise performance – enjoy!
Submitted by sarbjohal on June 6, 2012 – 12:12 pm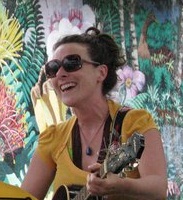 By Dr Sarb Johal
A recent study seems to show that whatever you like to listen to, your own choice of music could not only improve your enjoyment of taking part in competitive sports, but it could help to boost your performance too. Listening to your preferred choice of music seems to lower your perceived exertion (for the same level of performance) – you don't feel like you have to try as hard to hit your goals. It also increases your sense of being 'in the zone' compared to listening to no music at all.
So, Grateful Dead or Chilli Peppers, T-Pain or David Guetta – whatever you're into will get you going. I'm not sure what the effect of being forced to other people's choice of music can have – I know I can react badly in the middle of a set if a tune I hate blares through the gym loudspeakers. At that point, I tune out and focus on my set instead. It can feel harder though – maybe that's just me.
Science geeks, here's the reference: British Psychological Society (BPS) (2012, April 17). Listening to your favorite music boosts performance. ScienceDaily. Retrieved April 19, 2012, from http://www.sciencedaily.com­/releases/2012/04/120417221709.htm
Dr Sarb Johal is the Director of Equanimity Limited and Associate Professor of Disaster Mental Health at Massey University's Joint Centre for Disaster Research. He spends quite a lot of his work time providing advice to the Ministry of Social Development and CERA on aspects of recovery from the Canterbury earthquakes. When not working, Sarb spends a bit of his time writing and running, though not at the same time. He has completed numerous half-marathons, 4 international marathons and 1 ultra-marathon from 2010-2012. He is a certified Leader in Running Fitness, and is also training to be a Personal Trainer. 
You can read more of his thoughts on health, wellbeing and mental fitness at completecoach.wordpress.com
GD Star Rating
loading...
GD Star Rating
loading...