Home » Community, Local Good News
Slow fashion thriving in Golden Bay – by Charlotte Squire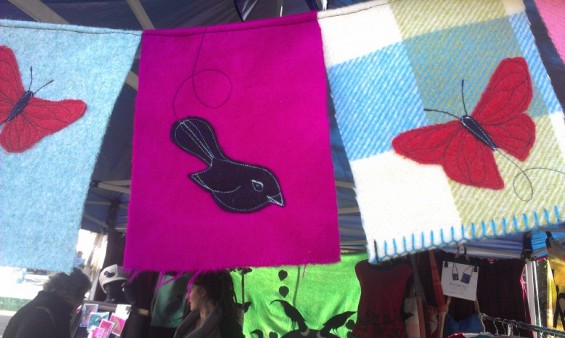 Local Good News/Golden Bay
Up-cycling – taking old clothing from its forgotten place in history into fresh 2012 fashion – is not only thriving world-wide but also serving to reduce waste, and utilise the top quality, natural fabrics that our parents wore. Charlotte Squire talks to Golden Bay green clothing designers Moana Lee and Belinda Keig about second hand woollen blankets, eighties power suits and the popular new clothing lines they're creating.
You know those New Zealand made woollen blankets? The one's Nana used to put on the bed to keep you extra snug at night? They were made of top quality sheep's wool, they held in the heat, they were durable and they were even just a tad water proof thanks to the lanolin in that wonderful natural wool. For me they're a symbol of my childhood – they remind me of cosy winters sleeping beneath heavy, sweet smelling wool; they remind me of being nurtured and feeling safe and warm.
Guess what? The day has come when it's fashionable to wear those rugs as skirts because they've been up-cycled baby. We're talking: sexy, shapely, swing'n skirts, seventies rug style. And let's throw in a few native birds and spirals for good measure. Each skirt is unique, and will probably last another life-time.
These funky, adjustable skirts (perfect for the lady with a changeable waste line) are just one line of clothing that Moana Lee and business partner Belinda Keig design and produce for visitors to their market stalls in Takaka, Golden Bay.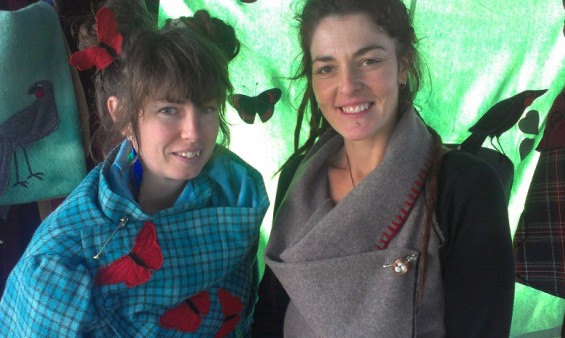 Moana, works under the label 'Koko by Bee Dance' uses New Zealand made woollen blankets, end of run curtain material, knitwear, and old cotton curtains in her clothing design. Belinda's label is called 'B.U.Nek' and amongst other things she offers a popular line of tights with vines spiraling down the leg, and a range of native flower adorned knit wear.  Belinda and Moana are teaming up under the label 'Banshee' this spring/summer to broaden their up-cycling into a new winter clothing line.
"We'll collaborate under "Banshee" to co-create re-vamped suit jackets with combinations of our flora and fauna to complement our indivdual designs," says Moana.
Stepping into their marquee brings back whispers of my seventies and eighties child-hood. Inspired by the familiar lines and weaves of those old Kiwi blankets the yesteryear nostalgia kicks in swift and fast. It's quickly complemented by the clever new designs, and the simple, stylised Kiwi images such as koru, spirals, native birds and flowers adorning the garments.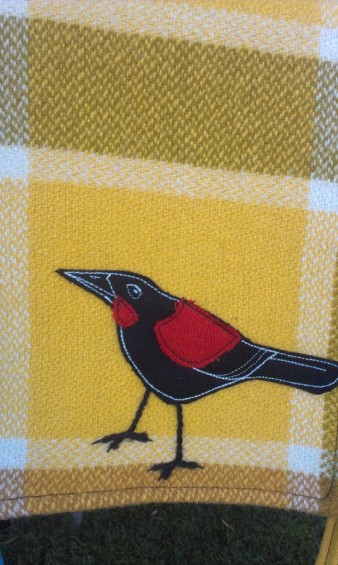 This makes clear business sense, Moana and Belinda are harvesting the high quality, pure materials of our parents from second hand shops and paying far less for top quality material.
"Those woolen blankets are really durable, they're made to last. Also the older woolen suits, they're top quality. We're building up our resources of suits," says Moana.
She loves the concept of Slow Fashion.
"When we found these clothes in an op-shop they weren't so funky any more. We turn them into something that you want to wear.
"This is slow fashion, there are definitely no sweat shops involved and these are the sort of clothes that don't go out of fashion, so you're going to wear them year after year."
"Each piece is wearable art, nothing's exactly the same. I might use the same fabric for two or three skirts but the way I place the birds or spiral is always a bit different," says Moana.
Moana and Belinda are both wearing up-cycled suit-jackets. So we're talking: 100% woollen suit jackets, the one's your Mother may have worn when she was dressing to impress her friends in the eighties. But they've up-cycled them to reflect a whole new feel, to the point where they've literally turned the jackets upside down and re-attached sleeves. The result is dramatic, stylish and woolly warm.
I'm firmly convinced that up-cycling is just one small aspect of our creative response, as a generation, to the need for intelligent resource management.  I love that we're having fun with it.  I love that we're turning our parent's old naff clothing into wearable art (who knows, perhaps one day our children will upcycle our upcycling).  And there's one more thing I love: it's that by indulging in a woollen skirt from Belinda and Moana's lush shop on the Takaka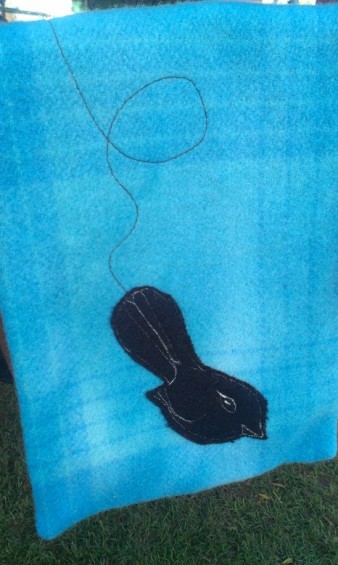 Village Green, in the small rural community of Golden Bay, New Zealand, I'm doing my bit to save the planet.
Charlotte Squire
Contact details
Moana Lee's label: Koko by Bee Dance – specialising in up-cycling woolen blankets, end of run curtain material, knitwear, and old cotton curtains.
E: beedance@hotmail.com
Belinda Kreig's label: B.U.Nek – specialising in ladies and children's summer clothing
Read the inspiring stories of our sponsors:

Billy Kerrisk, Ray White Real Estate New Zealand, Golden Bay branch
TIDY AS – AND OH THE SERENITY!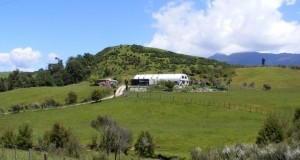 The picturesque Aorere Valley has so much to offer and this 7.7 hectare lifestyle block with a barn conversion style dwelling is a real gem. Everything is done; tight and tidy fencing; clean pastures; good water; established fruit trees and productive vege garden.
The large hangar shaped barn has been converted at the northern end into a comfortable home with some great features – my favourite is the scullery, a wet area currently set up for sausage making, meat packing and beer brewing. If… Read more.
Billy Kerrisk,
027 608 5606
billy.kerrisk@raywhite.com
Golden Bay office 03 525 7219
Sonaz Realty Ltd Licensed (REAA 2008)
Tui Balms is a worker-owned cooperative that began 27 years ago in Golden Bay with Tui Bee Balm, a remarkable healing balm made of beeswax and other natural ingredients.  An effective skin healer, Bee Balm has since become a New Zealand icon, the country's favourite baby balm and the flagship of our popular range of natural skincare and healing balms. Our range of massage Balms with aromatherapy essential oils is the supreme medium for massage.  Tui Balms donates to charitable trusts in New Zealand. Last year, we donated over $30,000 to New Zealand charities! Find Tui Balms at your local health store or organic shop.
www.tuibalms.co.nz
contact@tuibalms.co.nz
ph 03 525 9654.
HealthPost is New Zeala
nd's favourite online retailer of natural health supplements, proudly based in Golden Bay. Established more than 20 years ago, HealthPost is still in 'The Bay' because, basically,we like living here! Our rural location poses logistical challenges from time-to-time (flooded rivers and road wash-outs!) but the dedication and ingenuity of our 38-strong team always gets us through. We're committed to balancing profits and principles, donating more than $60,000 to charity in the past two years through our 'doing WELL' programme. We're passionate about the products that
we sell and proud to be able to help people live WELL.
The (happy) end.
GD Star Rating
loading...
GD Star Rating
loading...
Tags: Golden Bay, up-cycling