Home » Community, Local Good News
Golden Bay's plastic bag culture shift – small community, global impact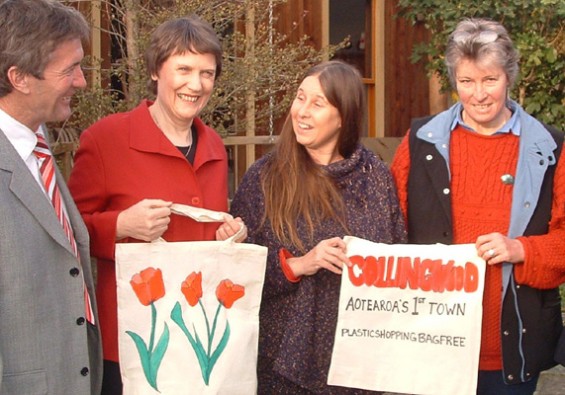 Lcoal Good News/Golden Bay
Charlotte Squire
Collingwood, Golden Bay was the first New Zealand town to go plastic shopping bag free in 2005. Seven years on from that small, but significant move, Charlotte Squire takes a look at plastic shopping bag culture locally, nationally and internationally.
I'm standing at the checkout of my local supermarket with a small pile of groceries ready to be scanned. For such a small community, we have a rather large and sparkly Fresh Choice supermarket. This is because each summer thousands more Golden Bay lovers visit and the isles of this supermarket pulse with holiday makers buying up big for the bach or the dance party.
The friendly lady working on check out pauses for a moment before she scans my goods. She looks at me questioningly, and I wonder why. Then she pops the big question:
"Would you like bags or boxes?"

"Boxes," I say, mostly because I prefer to use a box, but also because I'm feeling weight of her expectation. This lady seriously wants me to go box, not bag. I even get the feeling if I used a plastic bag she'd think less of me. This isn't my first experience of green peer pressure.
And right there in that moment and I realise how far we've come.
Seven years ago citizens of Collingwood, Golden Bay, which is just a wee community of 400 people down the road from Takaka (and, in fact the town of my early childhood) declared their town was going plastic shopping bag free. And so, to cut a long and inspiring story short, they did. On the 4th of October, 2005, Collingwood became the first plastic shopping bag free town in New Zealand.
It was really quite exciting at the time.
Our then Prime Minster Helen Clark popped by to officiate matters. All the Collingwood shop owners, some of whom really were being quite brave to go 'PB free', declared their support of the move.  And West Coast Tasman M.P. Damien O'Connor said at the time:
"Both the Bag Ladies and Collingwood should be congratulated on their commitment and contribution to the environment. It's estimated that, although tiny, the Golden Bay community consumes 1 million plastic shopping bags each year and New Zealand-wide, we work our way through 800 million bags a year. With the community right behind them, the Golden Bay Bag Ladies are helping reduce these numbers and educate people about alternatives. Their initiative and progress to date are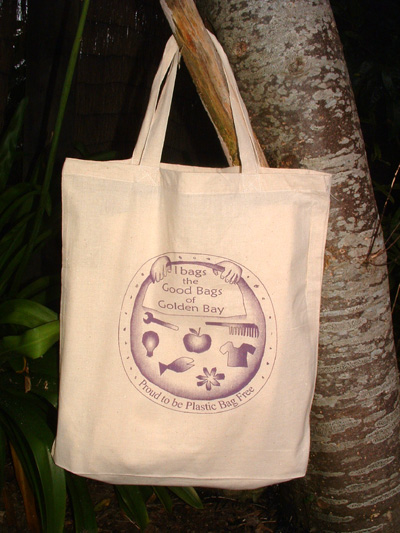 impressive."
And so cloth bags became a common good in Golden Bay and the culture here shifted to 'anti-plastic bag'. Our Takaka Supermarket made the notable culture shift to supporting a reduction in plastic shopping bag usage. Boxes became a resource.
Which brings us back to 2012. We're still going strong here in Golden Bay and the movement has continued to ripple through communities world-wide. In fact, I conducted my own personal survey on Facebook to explore the state of PB free-ness around the planet.  I asked:
"Do your local supermarket staff offer you an alternative option to plastic bags? Do they demonstrate an awareness of the value of reducing plastic bag use? If so, where's your supermarket?"
And the answers, they came.
Here in New Zealand, Shane, who shops in Hokitika said people were welcome to take their own resuable bags, boxes or anything at all really, to carry food. In Christchurch however, Anthony said:
"There are options at the check out, but staff don't seem to care … The best place is Piko Wholefoods … they don't use any new plastic bags, relying on customers to bring their own bags, or offering cardboard boxes if customers need them."
Emily of Wellington reported a mixture of experiences: "Commonsense Organics in Wellington offer you a recycled box or bag if you don't bring your own, or you can buy a 20c biodegradable bag from them. I was in Countdown and purposefully didn't bag all my separate items of fruit and veges but at the checkout it seemed to annoy them because of stuff rolling off the scales so they just bagged them all."
Writing from Napier, Brendan said "Pak & Save charges you ten cents per bag but they ask first if you want bags and how many. There are boxes there you can use or you can take your own. Generally I'm too tight to pay ten cents and too forgetful to remember to take a bag so I've become really good at stacking things in my arms!"
So it would seem that Kiwi organic shops and Pak & Save streaked ahead in this casually orchestrated poll of mine. Now let's go global, where I found some interesting feedback.
Roger, of Maui, impressed me deeply by saying plastic bags were against the law in his neighbourhood:
"We banned plastic bags here on Maui in January of 2011 (that's when the law went into effect). They can't be dispensed by stores at the cash register. We do still have produce bags which are plastic, though mostly we are using biodegradable, plant-based produce bags these days, especially at the natural foods places where I shop."
Heading to Ireland now, Kevin reported:
 "There's been a restriction on plastic bags in Ireland since 2002. You have to pay about 25c if you need one and now hardly anyone uses them. No public outcry. No collapse of the grocery industry!"
I was told plastic bags are banned in Toronto; they don't give them away in France; they charge for them in the Czech Republic; and the entire state of Hawaii plans to ban disposable plastic bags by 2015.
Yes, this is but a brief glimpse into a gentle, but notable global movement away from plastic bags.
Back to Golden Bay now, where cloth bags are cool.
Did Collingwood, Golden Bay play a role in this international shift? Absolutely. When Collingwood went plastic bag free the news went global. Other Kiwi towns such as Kaikoura followed suit and referred to Collingwood as they did it. Petroleum based plastic bags, which some refer to as the 'modern day tumble weed', are indeed the phase-out stage.
As small communities such as Golden Bay follow through on their global vision for a more sustainable culture, I see my people shifting to coopoerate with their environment in such a way that our planet that will thrive into the distant future.  And small communities such as mine can make a huge difference, on a global scale.
Just one piece of important advice for you in case you holiday in Golden Bay soon: seriously, bring your cloth bags.
By the way, just in case you need some educational tips about how to go plastic bag free, check out the plasticbagfree.org.nz website.
Charlotte Squire
Read the inspiring stories of our sponsors:

Billy Kerrisk, Ray White Real Estate New Zealand, Golden Bay branch
TIDY AS – AND OH THE SERENITY!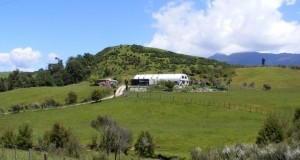 The picturesque Aorere Valley has so much to offer and this 7.7 hectare lifestyle block with a barn conversion style dwelling is a real gem. Everything is done; tight and tidy fencing; clean pastures; good water; established fruit trees and productive vege garden.
The large hangar shaped barn has been converted at the northern end into a comfortable home with some great features – my favourite is the scullery, a wet area currently set up for sausage making, meat packing and beer brewing. If… Read more.
Billy Kerrisk,
027 608 5606
billy.kerrisk@raywhite.com
Golden Bay office 03 525 7219
Sonaz Realty Ltd Licensed (REAA 2008)
Tui Balms is a worker-owned cooperative that began 27 years ago in Golden Bay with Tui Bee Balm, a remarkable healing balm made of beeswax and other natural ingredients.  An effective skin healer, Bee Balm has since become a New Zealand icon, the country's favourite baby balm and the flagship of our popular range of natural skincare and healing balms. Our range of massage Balms with aromatherapy essential oils is the supreme medium for massage.  Tui Balms donates to charitable trusts in New Zealand. Last year, we donated over $30,000 to New Zealand charities! Find Tui Balms at your local health store or organic shop.
www.tuibalms.co.nz
contact@tuibalms.co.nz
ph 03 525 9654.
HealthPost is New Zeala
nd's favourite online retailer of natural health supplements, proudly based in Golden Bay. Established more than 20 years ago, HealthPost is still in 'The Bay' because, basically,we like living here! Our rural location poses logistical challenges from time-to-time (flooded rivers and road wash-outs!) but the dedication and ingenuity of our 38-strong team always gets us through. We're committed to balancing profits and principles, donating more than $60,000 to charity in the past two years through our 'doing WELL' programme. We're passionate about the products that
we sell and proud to be able to help people live WELL.
The (happy) end.
GD Star Rating
loading...
GD Star Rating
loading...
Tags: Golden Bay, plastic bag free