Home » Community, Local Good News
Eco-friendly event lighting artists shift home-base to Golden Bay
Submitted by Charlotte on June 22, 2012 – 3:41 pm

Local Good News/Golden Bay
By Charlotte Squire
Have you ever been mesmerised by the high powered lighting displays at dance-parties and events, and wondered about the people who bought it to you and the thought processes behind all that colour and magic? I have, and when I heard Ben Clegg and his partner Enfyes Bellamy being interviewed on our local radio station 'Fresh FM' about their national lighting business, I was keen to learn more about this art duo.
Lighting is one crucial aspect of a performance that adds mood, effect, and focus. International lighting guru Ben knows only too well the capacity of good lighting to boost a show into a success story. Ben and Enfyes have recently moved their national event lighting business, RGB Lighting and Decor, from Coromandel to Golden Bay and are enjoying settling into the Bay.
I paid a recent visit to the new arrivals in their gallery/workshop which they've named 'Benfys'. Enfyes and Ben have set up a long-dreamed-of base/gallery/workshop/co-creative space in downtown Takaka, on our one and only main street – Commercial Street. They've already held a number of performances and events to welcome the community into their new gallery.
Enfyes (which, just in case you're interested, means 'rainbow' in the Welsh language) greets me and offers me some raw milk (we're very proud of our new Raw Milk service here in Golden Bay). As she dashes off to pour a cup, I admire the dramatic, well-stocked gallery she and Ben have created. It seems that art work has found its way onto every wall, and into every corner of this gallery/workspace.
 I'm drawn to Ben's strange, insect like seat sculpture where it sits in the front window display. Enfyes said it was made out of used Audi parts (Ben apparently has a fondness for used car parts to weld into his sculptures) and had been sat upon by over two thousand bottoms at the House of Future in Wales. I'm sure many more young bottoms will sit on it in New Zealand, once the word gets out.
And speaking of word getting out, I wondered how they discovered Golden Bay. Turns out they were lured down here into the hidden north-west corner of the South Island after providing the lighting for Luminate – the dance party that runs early each year on the Takaka Hill. Enfyes and Ben found themselves falling utterly, uncontrollably in love with the area. Then, a chance stroll past their now gallery/base lead to them signing a lease here and the rest is well … a co-creative process.
Thanks to Ben's business – RGB Lighting – the two are able to base themselves anywhere in New Zealand. Ben has worked on a long list of events in both the UK and New Zealand, including both WOMAD and the world-renowned Glastonbury in England. Recently they also worked at Prana, Luminate and the Nelson Arts Festival here in New Zealand. He's also supported acclaimed Kiwi artists such as Pitch Black, Midnight Youth, Barons of Tang, Cornerstone Roots and the (rather impressive) list goes on and on.
Enfyes said their lighting work has taken them into some amazing shows.
"We were involved in the Rugby World-Cup opening working with a director who used the whole Auckland harbour as his canvas, including a choir on the roof top of the BNZ. It was amazing coordination," said Enfyes.
Before more teaming up with Ben, Enfyes worked in both English and Kiwi high schools teaching art to a senior level for twelve years. These days she's totally focused upon her work as a multi-medium artist. She finds she and Ben have complementary skills and work well together, with he being the 'techy' guy and she bringing in the VJing (which is like visual disk-jockeying), and the promotional skills.
Incidentally, Enfyes is keen to offer her art skills to the Golden Bay community in what ever form they're needed – such as photography, sculpture, and painting. She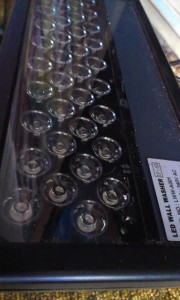 says her life-drawing classes are starting next week.
An eco-conscious theme threads through their work, both within their light shows, and their art and sculpture. They use state of the art gear in their shows, including LED lights, which consume at least 75 percent less energy than incandescent bulbs and last 15 times longer. LED lights produce a small fraction of the heat of fluorescent and incandescent lights.
Also on the green front, Enfyes said that a lot of décor material they're using in their gallery and art work comes from recycled materials, such as fabric from Bendon. She also runs Trash to Fashion events that transform old material and cloths into  'wearable art'.
"My décor aspect complements Ben's lighting, the materials we work with are usually used or swapped."
Enfyes and Ben plan to work "co-creatively" with the Golden Bay community to develop their new space, while they continue to work around the country with their lighting business.
Seems to me this move will provide them with a fantastic mix of grass-roots community living and large-scale festivals and events. And that's their plan, to enjoy an environmentally and personally sustainable new life-style here in Golden Bay.
Read the inspiring stories of our sponsors:

Billy Kerrisk, Ray White Real Estate New Zealand, Golden Bay branch
TIDY AS – AND OH THE SERENITY!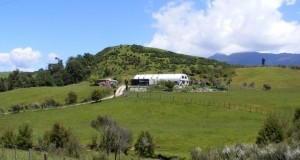 The picturesque Aorere Valley has so much to offer and this 7.7 hectare lifestyle block with a barn conversion style dwelling is a real gem. Everything is done; tight and tidy fencing; clean pastures; good water; established fruit trees and productive vege garden.
The large hangar shaped barn has been converted at the northern end into a comfortable home with some great features – my favourite is the scullery, a wet area currently set up for sausage making, meat packing and beer brewing. If… Read more.
Billy Kerrisk,
027 608 5606
billy.kerrisk@raywhite.com
Golden Bay office 03 525 7219
Sonaz Realty Ltd Licensed (REAA 2008)
Tui Balms is a worker-owned cooperative that began 27 years ago in Golden Bay with Tui Bee Balm, a remarkable healing balm made of beeswax and other natural ingredients.  An effective skin healer, Bee Balm has since become a New Zealand icon, the country's favourite baby balm and the flagship of our popular range of natural skincare and healing balms. Our range of massage Balms with aromatherapy essential oils is the supreme medium for massage.  Tui Balms donates to charitable trusts in New Zealand. Last year, we donated over $30,000 to New Zealand charities! Find Tui Balms at your local health store or organic shop.
www.tuibalms.co.nz
contact@tuibalms.co.nz
ph 03 525 9654.
HealthPost is New Zeala
nd's favourite online retailer of natural health supplements, proudly based in Golden Bay. Established more than 20 years ago, HealthPost is still in 'The Bay' because, basically,we like living here! Our rural location poses logistical challenges from time-to-time (flooded rivers and road wash-outs!) but the dedication and ingenuity of our 38-strong team always gets us through. We're committed to balancing profits and principles, donating more than $60,000 to charity in the past two years through our 'doing WELL' programme. We're passionate about the products that
we sell and proud to be able to help people live WELL.
The (happy) end.
GD Star Rating
loading...
GD Star Rating
loading...
Tags: Golden Bay