Home » Food
Raw Food: managing a cold
Submitted by on June 25, 2012 – 10:30 am
2 Comments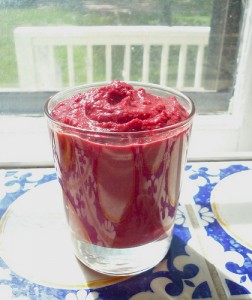 By Raw Foodie Sarah Lea
The pantry's bursting full of food, the fridge still oozes sweet treats and it's at the end of my shopping week. The homefront is decidedly low energy. And although a relative stranger to ill health these days, I know what this means. The girls are harbouring the common cold. Most colds start at the turn of a full moon, new moon or seasonal change. With all the dramatic weather we've had this last week, this box certainly gets ticked. The body detoxifies more at these periods, which leads us to think there's a bug going round, because so many people are affected at one time…
It took a day of tear-full sadness to bring out the snotty symptoms and thankfully by day three it looks as if we are out of the mire. Got a bit sticky in there though. Two nights up weaving in and out of sleep-deprived consciousness with Peppa Pig and Little Bear was  enough to get me to the bottom of my resourceful energy pit.
Resting completely is obviously not on the menu with little raw ones, they still manage to find energy from some hidden reserve, but letting their body eliminate and put it's feet up is the best way to cure a cold. So, the girls got the biggest treat ever this week, watching a movie from the local shop. Wearing their pjs all day, they've made dens and played snap, as I called around cancelling all prior arrangements.
Thankfully, on the raw food diet, your body detoxifies itself so well that you'll find catching a cold a little harder! As the old adage goes, 'you don't catch a cold, you eat a cold.' Cooked foods and animal foods depress the immune system, keeping it in an acidic state. Raw plant foods strengthen the immune system. Illness is an energy crisis in the body- the body no longer has enough energy to hold together its integrity. Purifying the body through balanced, mineral rich, raw food nutrition raises the energy vibration, thus increasing the immune system. Mild symtoms like skin complaints, headaches and colds show that the body is trying to rid itself of harmful toxins. If you bombard it with unatural, processed foods, stressful living and enviromental pollutants then you will start running into problems.
So, with that said, on top of sprout salads filled with dark leafy veggies, I have filled tummys with warm miso, vibrantly zingy soups spiked with spices to warm the body, green smoothies and veggie juices sweetened with fresh ginger. Pau d'arco tea keeps immune systems strong and less susceptible to viruses. And I always have at least one cold cuppa leftover for the bath or adding to a green smoothie. On top of eating lightly but nutrient heavy, I give a dessertspoonful of ionic silver every day until all symptoms have been kicked out. Silver kills all viruses and bacteria in about six minutes … yeeha! And then, of course, there's  Vitamin C.  Eating whatever is growing seasonally is a surefire way to give your body what it needs. I turn a blind eye and let the girls intuitively swallow the fruit bowl!
Anti- slime smoothie
1 cup frozen berries
1 chopped pear
1 thumb chopped ginger
1 stick celery
small handful spinach
1 tbsp blue green algae
Blend together with enough water to reach desired consistency.
Pour into glasses, add curlywurly straws and race your way to increased vitality.
GD Star Rating
loading...
GD Star Rating
loading...
Tags: Health