Home » Community
Blueskin Energy Project – Community Wind Farm
Submitted by Charlotte on July 9, 2012 – 12:49 pm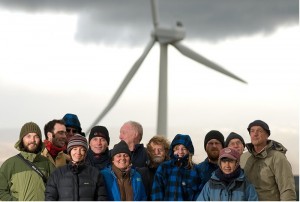 From Hikurangi
Since 2009 Hikurangi has supported Scott Willis in Dunedin's Waitati North to realise his community's dream: to become the first community in New Zealand to own their own power company, build a community-owned wind farm, and sell electricity back to the grid (Blueskin Energy Project).
The turbines are on track for installation in early 2014 and will be able to supply the community's 1,000 households with all of their electricity (expected generation 4.5million kW a year).
Not only does the project mean Blueskin Bay is in control of its own renewable energy, it is creating a blueprint for other New Zealand communities to do the same, and is bringing key people together to discuss renewable-energy related projects.
As Lucy Brake writes in Issue #20 of Good Magazine's article on Scott Willis (and Everyday Heroes) – "The ultimate reward for the locals of the bay? Switching on the heater and no longer wondering just how high the next electricity bill will be – because they're generating it."
GD Star Rating
loading...
GD Star Rating
loading...
Blueskin Energy Project – Community Wind Farm

,
Tags: green design, green energy design