Home » Food
Raw Food: Taking responsibility and 'I Love My Life' Pie by Sarah Lea
Submitted by on July 9, 2012 – 12:43 pm
4 Comments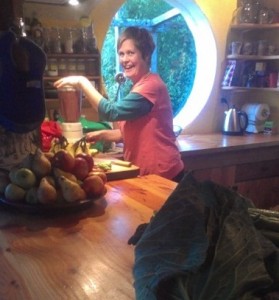 I am responsible for my life. Listening to my inner voice and trusting that internal guidance has taken me over the stepping stones of my life, leading me to my dreams and beyond into life that is yet to be realised. I love food. Food has been a constant source of inspiration, well being (emotionally if not physically!) and a way of showing my love to those around me.
In the early days though, I had to delve deep into faith and know that all would be well when, due to various self-destructive motivations, my body began to fall apart. I continued to ignore the messages it was sending me to slow down, go inside and listen. Instead, I carried on to near collapse. It took a long time to realise and react. I recovered myself by removing one lifestyle and gradually built up another in it's place. And I have to tell you…life never looked so great!
Becoming physically exhausted and unable to mentally stabilise, my body began to react strongly to most food types. With help from professionals, I was pulled apart from my beloved food and reintroduced to it over a period of two years. A decade later, I feel two decades younger, have gained a new elite body and have healed at a higher level. And I am now able to nourish people with love through foods I know are the best the planet has to offer. Healing and empowering not only loved ones, but supporting and awakening the spirit within, sustaining our planet, celebrating our aliveness.
We all have different lifestyles, jobs, commitmentments, bank balances and motivations. Eating raw, living foods is something that we all can incorporate into our lives at some level and reap the benefits. By just adding a juice, smoothie, a salad or more fruit to our daily diets will have incredible effects over the long term. Noone need to feel that they will be missing out on anything either. By simply allowing your body freedom from the tedious job of digestion, you will be rewarded with more energy and vitality. Your beautiful body can concentrate on repairing tissue, replenishing cells and gifting your brain with enhancing nutrients. Accessing super powers through super foods is something to be grateful for daily, and the longer you implement it in your lifestyle, the more you will want it in your life.
This is an inspiring way of living. By taking responsibility for the choices that I make encourages me to choose the thoughts that benefit me. That includes what I put in my body. By removing toxic foods, beauty products and negative thoughts, my day is lighter, happier and present. I am in the driving seat. Loving my life, loving myself, loving all around me.

I love my life pie
Crust
1 cup walnuts
1 1/2 cups soft dates
1 1/2 cups shredded coconut
1 tsp salt
1 tsp vanilla essence

Filling
1 cup pitted dates
1 cup water (or thereabouts)
1 tbsp cinnamon, ground
8 ripe persimmons, peeled and sliced
1/ Pop all the crust ingedients into your food processor, adding the dates slowly. Process into a dough-like consistency.
2/ Press the dough into a pie pan.
3/ Excluding the persimmons, blend the filling together until well mixed.
4/ Mix together with the persimmons and lay on top of the crust.
Invite a favourite friend over, share your pie and create your dreams together.
For more articles and yummy recipes by Sarah Lea, search 'Sarah Lea' in Happyzine's search box, then scroll down …
GD Star Rating
loading...
GD Star Rating
loading...
Raw Food: Taking responsibility and 'I Love My Life' Pie by Sarah Lea

,
Tags: raw food