Home » Food
Raw Food: Loosing weight and gaining energy – by Sarah Lea
Submitted by on July 16, 2012 – 2:02 pm
2 Comments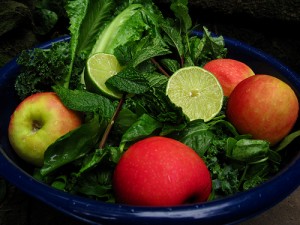 The discovery that I was fat was alarming. My body weight had snuck up on me without me seeing the big picture. Of course I was aware I had a fat and thin wardrobe…some days were better than others for the chiffony materials. But the black, stretchy, hide me fabrics were winning in the "wear me!" today stakes.
Still…I thought I had it under control.  Relatively fit, I chose to ignore the fact I was keeping hold of clothes for when I could fit in them again.  Finding it increasingly difficult to find radiantly fun clothes to fit my increasingly oversized body was getting me down. I ate healthily. However, the organic, wholefoods created by my fair hands were supported by binging on yummily made cakes, biscuits by well-meaning mummy mornings. And then deliciously social days at the local vineyard, sitting back and enjoying award winning reds. Yeek!
Watching my yo-yoing friends and family with the latest fad diets didn't help. Why bother if you just got fat again? Exercise was slowing down as my energy hit an all time low. But that was OK. I had children now. It's nice to be warm and cuddly for the kids.
My beloved bought me a juicer for valentines. It helped me across to the other side. Preparing freshly extracted juices provided my body with a vast supply of vitamins, anti-oxidants, enzymes and amino acids. Every morning for breakfast I juiced and devoured bowls of fruit salad making me feel bright and fresh. Positive vibrations chipped away the horizontal self esteem and dropping pounds in the first fortnight energised me. Cravings were shown the front door. My days and eyes were sparked with a strength and vitality I hadn't felt since before my transformation into mama.
There's nothing like incredible weight loss to keep you feeling inspired and motivated. But with the raw mornings, my attitude also changed. From feeling overwhelmed with lack of vitality and a lower, slower energy I started to see the light. A connection to the natural world, the craziness of westernised programming, I felt full with positive thoughts. Watching how I zinged with life when eating a salad helped me when I couldn't muster energy to run about having fun with my two year old. And that's when it became clear. If I ate more natural alive foods, I would feel young, alive and excited.
It's easy peasy in the early days to get you back to your natural high self. Experience higher energy levels, weight loss, glowing skin and bright eyes. With yummy sweet treats and deliciously ready-made bars lining shop shelves and armed with the knowledge that preparing raw living foods can be faster than the cooked alternative, you can introduce an abundant way of living into your life. Choosing a life-giving smoothie over coffee when out and about, taking the salad option instead of a side of boiled veggies, and kick-starting your day with a boost of life-supporting nutrients in a juice, will create an abundant life where all your dreams will come true.
Kick Start Juice
2 apples
1 beetroot
2 carrots
handful of spinach
1/2 lemon
thumb of ginger
1/ Juice all of the above.
2/ Pour into a glass and delight in the pretty colour.
3/ Drink and embark on your new juicy journey into increased well being and joy.
GD Star Rating
loading...
GD Star Rating
loading...
Raw Food: Loosing weight and gaining energy - by Sarah Lea

,
Tags: raw food