Home » Community, Local Good News
Sean Weaver – secretly saving rainforests from Golden Bay, New Zealand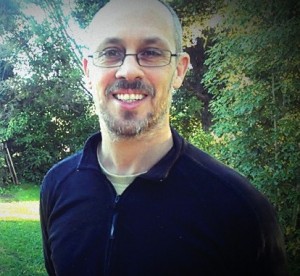 By Charlotte Squire

Ever dreamed of moving to the country, raising the kids to in a small, vibrant community, and growing the quintessential healthy organic garden? Many of us Happyzine readers have had the Good Life dream, and thanks to Sean Weaver's unusual talent for saving rainforests he and his family are living it.
Sean Weaver. I first noticed him being quoted in articles back when he was involved in a passionate, and long-lasting movement to save the South Island's West Coast native forests. This was in the years leading up to Helen Clark's tenure as Prime Minister. When she was voted in, so was the 120 million dollar economic compensation package that Sean designed.
Sean continues to save rainforests today. His work takes him all over the world, in a "life-dream partnership" with his wife Jo Campbell. Sean, Jo and their boys Leo and Ruben recently relocated to my 'hood and became firm friends.
I asked Sean what inspired the move from New Zealand's bustling political capital to the rural pastures of Golden Bay.
"We wanted to shift down here as a family. I'd been running the consulting business from Wellington for a couple of years, without needing to be in Wellington, so we knew that we could relocate the business here."
"We thought we should try it now, rather than put it off, and we thought we should do it when the kids are young.
Speaking of his work … a little more detail please?
"I am an environmental consultant. I get a kick out of saving rainforests. My work is mostly about forest  conservation finance, where I help rural forest owners and PacificIsland governments get paid for protecting their rainforests instead of logging them."
And it's this unique vocation that takes Sean all over the planet.
"There's a lot of travel. So when I was based in Wellington I'd travel regularly around New Zealand and to other countries. All I needed was a phone, a broadband connection and an airport – I had that in Wellington and now I have it here in Golden Bay."
I asked Sean about the reality of leaving Wellington and setting up shop in rural Takaka was working for his business.
"The networking in Wellington was cool. It has a fantastic and wonderfully energetic environmental and social justice community. But my work shifted from education and advocacy to designing very practical forest conservation solutions, and this required a different energy. Being here in Golden Bay has enabled me to drill a deeper well, rather than several shallow ones. And this has been very good for the business."
Back to the Good Life dream. It's one that many of us have toyed with, and fewer of us have actioned. I asked Sean about the social reality of relocating the family Golden Bay.
"We had been here a lot in the past few years, and so when we shifted we decided to give it a test drive first. We rented a house and committed to being here for a year, and then to review things."
Sean and Jo ended up buying the house they were renting and settling into the Golden Bay community. The one thing I know Sean doesn't have in Golden Bay, is a professional network of colleagues close by.
"Wellington is rich in progressive social and professional networks. I'd lectured at the university for so many years and I was mentoring a lot of young environmental professionals, and they were also mentoring me – that was a lot of fun. So coming to Takaka means sitting here in this home office each day, occasionally zooming off to Honiara, Port Vila or Suva, and living a kind of secret life like Alice down the rabbit hole, wrestling with cranky donors, and impossible deadlines…"
"But if I need a networking fix I can just pick up the phone. Plus, we have some wonderful friends here too."
However, other aspects of living in Golden Bay offer a quality of life that can't be found anywhere else.
"We have lots of fruit trees and a garden, and plenty of space with mountains and forests all around. Because I work from home I can take the kids to school, pick them up, have a lot of kid time."
"We go to Wharariki Beach at the drop of a hat, we zoom up to see Rawhiti Caves, we go up the Cobb Valley, we go tramping and kayaking. The kids love the outdoors, our boys love being in a forest."
And he couldn't do any of this with out his partner in life, Jo Campbell.
"Jo is my business coach, my Zen practice partner, and my cuddle buddy. She looks after the boys when I am away, and like me, loves travel and adventure. It's challenging for Jo to hold the fort when I'm away and I am enormously grateful for her support."
And Jo's dong her stuff here too. Jo's an artist and she runs therapeutic art workshops, and being in Golden Bay provides a bit more space for her to do that. "We've got enough physical space for her to have a studio, a bit more mental space because the pace of life here is less hectic."
Finally, I asked Sean if he felt that their life in Golden Bay was sustainable for them as a family.
"In the medium term, while the kids are still young I cant think of a better place for us to be. Coming here we had to think about what's gong to happen when the kids are teenagers. We thought, well if they do need something different when they're older we'll respond to it then."
"So the future for sustaining our livelihood here is like the future for anyone running a business, whether you're in Auckland, Wellington, Chicago, or Golden Bay – it's all about making it happen and hustling to make sure it continues to happen."
Jo and Sean are very happy to be living in such a beautiful part of the planet.  Says Sean: "I honestly can't think of anywhere I'd rather be."
Read the inspiring stories of our sponsors:
Tui Balms is a worker-owned cooperative that began 27 years ago in Golden Bay with Tui Bee Balm, a remarkable healing balm made of beeswax and other natural ingredients.  An effective skin healer, Bee Balm has since become a New Zealand icon, the country's favourite baby balm and the flagship of our popular range of natural skincare and healing balms. Our range of massage Balms with aromatherapy essential oils is the supreme medium for massage.  Tui Balms donates to charitable trusts in New Zealand. Last year, we donated over $30,000 to New Zealand charities! Find Tui Balms at your local health store or organic shop.
www.tuibalms.co.nz
contact@tuibalms.co.nz
ph 03 525 9654.
HealthPost is New Zeala
nd's favourite online retailer of natural health supplements, proudly based in Golden Bay. Established more than 20 years ago, HealthPost is still in 'The Bay' because, basically,we like living here! Our rural location poses logistical challenges from time-to-time (flooded rivers and road wash-outs!) but the dedication and ingenuity of our 38-strong team always gets us through. We're committed to balancing profits and principles, donating more than $60,000 to charity in the past two years through our 'doing WELL' programme. We're passionate about the products that
we sell and proud to be able to help people live WELL.

Billy Kerrisk, Ray White Real Estate New Zealand, Golden Bay branch
TIDY AS – AND OH THE SERENITY!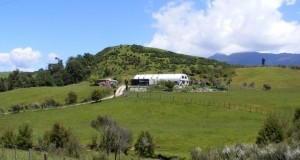 The picturesque Aorere Valley has so much to offer and this 7.7 hectare lifestyle block with a barn conversion style dwelling is a real gem. Everything is done; tight and tidy fencing; clean pastures; good water; established fruit trees and productive vege garden.
The large hangar shaped barn has been converted at the northern end into a comfortable home with some great features – my favourite is the scullery, a wet area currently set up for sausage making, meat packing and beer brewing. If… Read more.
Billy Kerrisk,
027 608 5606
billy.kerrisk@raywhite.com
Golden Bay office 03 525 7219
Sonaz Realty Ltd Licensed (REAA 2008)

The (happy) end.
GD Star Rating
loading...
GD Star Rating
loading...
Sean Weaver - secretly saving rainforests from Golden Bay, New Zealand

,
Tags: Golden Bay