Home » Music
Music profile: Matiu Te Huki 'Let your light shine'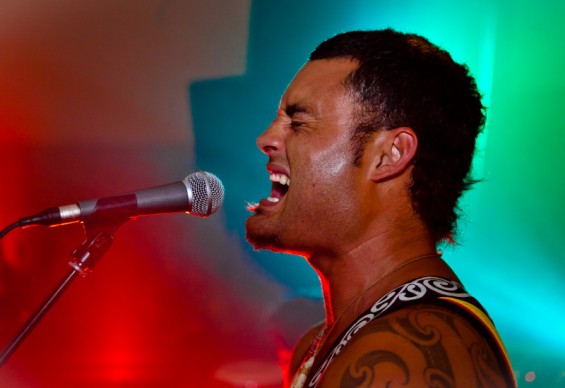 Check out this soulful photo of Matiu Te Huki using his powerful gift for onstage performance, singing and songwriting.  The man's worth checking out, if you haven't already discovered him.
What I love most about Matiu's waiata (songs) are his lyrics, he isn't afraid to call in the good, to challenge us to be brilliant, or to remind us to believe in ourselves.  And who doesn't need to hear that!?  I sure do.
Seasoned musician Matiu sings in both Maori and English and his lyrics are described as 'positive, uplifting, inspiring and motivating'.  The music itself is soulful roots, dub, funk and hip hop.
Matiu has collaborated with and recorded with artists such as Tiki Taane, Anika Moa, DLT and more.  He's performed with acts such as Fat Freddies drop, Rhombus, Pitch Black, Hori Buzz, Hikoikoi, Omecha Supreme and others.
He was the founding member of the popular roots band Homefire Burning and is currently still and member of basscamp and his current band My Golden Soul.
We have two of Matiu's CDs, recorded in both English and Maori versions, by Matiu Te Huki – with My Golden Soul, to give away to one member of Club Happyzine
GD Star Rating
loading...
GD Star Rating
loading...