Home » Community, Local Good News
Christchurch: Liberating The Free Word
Submitted by Charlotte on July 27, 2012 – 12:32 pm
Local Good News/Christchurch
by Steve Carter
There's been 'Shaking' and there's been "Quaking' … kind of lends itself to poetry, right?
Actually, there has been something of a gentle ban on earthquake doggerel at the Catalyst open-mic poetry nights but, as co-editor and host Ciaran Fox admits, "We're starting to see the beginnings of some useful poetry about these events and the times we're living through."
After a fitful few months, the crew at Catalyst are back for their monthly open-mic – "Liberating the Free word for as long as we can remember" … as they are described on the poster.
Since regular venue, the iconic Al's Bar, first disappeared behind the Red Zone cordon and later fell victim to the wrecking ball, Catalyst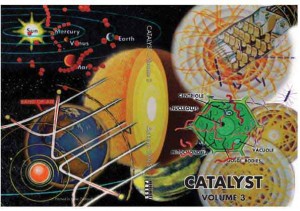 nights have struggled to re-establish any stability since last year's quakes.
Ciaran says, "Al's Bar was our home for four years and we had the first break in the poetry nights in our ten-year history after the February quake. But poetry was bleeding out of the city everywhere and the quake actually spawned a second poetry night in Christchurch called Beat Street Sessions [at Beat Street Cafe in BarbadoesStreet]."
Now the Pegasus Arms has opened its doors and Catalyst are back on the mic, upstairs in the lovely Vespa Room. Happily, according to Ciaran, "The staff at The Peg are nice and don't seem too freaked out about having a bunch of poets hanging around."
The hope is for the regularity to rebuild the audience for the nights. As Ciaran says, "We launched our arrival at The Peg late last year with a Poetry Slam as part of New Zealand's first National Poetry Slam and we drew probably seventy-plus people that night – the punters sure love a good slam. The open mics are a bit quieter but we're getting lots of new people coming out and trying their hand/voice on the mic."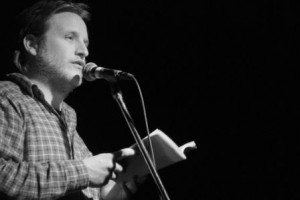 Catalyst is, at its essence, a 'literary arts journal' that was founded in 2003 by Doc Drumheller. It publishes mostly poetry, but will occasionally dabble in song lyrics, visual art and design, collage, graffiti … even taxidermy!
Ciaran describes Doc's vision as a recognition of a gap in Christchurch's publishing scene for a high-quality journal of young and/or emerging writers and writers of edgy or experimental work. "We're now an international journal," he says, "and have published writing in seven different languages so far. We've got readers in India, Japan, Cuba, South Africa, USA, Canada, Bulgaria, Germany, Austria."
They have even produced three full albums of spoken word/music collaboration, borne of an interest in how spoken word might collide with other forms of artistic expression. It's all a labour of love and produced mostly on what Ciaran describes as, "guts, enthusiasm and sheer pig-headed determination."
The open mic nights, from which the journal actually emerged, have been running since 2002, making it New Zealand's longest continuously-running poetry night.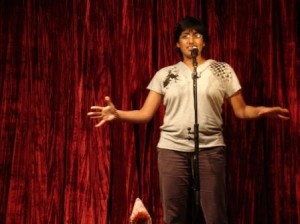 In recounting the history of Catalyst, Ciaran shows a mean mind for numbers to go with his poet's facility with words: "By my count, we must have run well over a hundred and sixty nights which, given the average length of a night is about two and a half hours, if you added them all together means listening to live spoken word continuously, round the clock for about seventeen days straight."
Quite how many words that might entail is anybody's guess.
A Board member of Gap Filler, Ciaran places poetry and the work of all those involved in Catalyst into the wider context of the artistic response to the earthquakes. As he says, "It's sparked a huge amount of creativity and also a hunger for art, music, entertainment in the general public. People are suddenly very aware what an important part the arts play in making life worth living."
As ever, artists provided a different lens through which to view the experiences, a vital public service in a city struggling to make sense of a devastating series of events.   Ciaran tells me, "I think the arts community were some of the first to respond to the changed environment and the sudden need for hope, inspiration and a bit of colour on the landscape. Poets have been busy too … "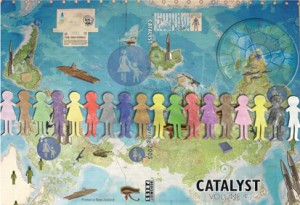 Indeed, the earthquakes have produced a lot of poetry, not all of it necessarily of high quality … unfortunate poetry, in Ciaran's words, "bubbling up like liquefaction."  It's that shaking and quaking again, along with derivative poems about lost cats and piles of silt in the streets.
Not that one should be too readily snobbish about it. Ciaran has a smart way to look at it: "I tend to think that although it's good for one's own wellbeing to write about these experiences, perhaps the benefit of time and perspective makes for better poetry. A few got in through the cracks – I don't mind that, it's what an open mic is for."
So, if you're a budding poet, you are welcome to head along to the Pegasus Arms, Oxford Terrace on the first Tuesday of every month and share your words … whatever the subject or style.
They promise not to be too brutal if you stumble into the shake and quake rhyme-trap.
For information on Catalyst publications, open-mic nights, writing contests and more, check out the website at www.catalystnz.blogspot.com or join in the fun at http://
www.facebook.com/catalyst.journal
Read the inspiring stories of our Christchurch sponsors: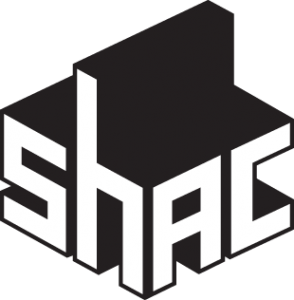 SHAC – The Sustainable Habitat Challenge – is a network of architects, builders, engineers, designers, building scientists, students and young professionals interested in taking positive action in their communities today.
On the 2-3 May 2012, SHAC presented the 2nd annual workshop on micro-architecture at the Christchurch Polytechnic Student Centre. Sixty attendees discussed temporary architecture, simple buildings, and the reuse of building material.
"People cherish their culture through recycling" – those are the words of Wang Shu, the 2012 winner of the Pritzker architecture prize. The demolition of red stickered housing and CBD buildings does not have to mean the eradication of Christchurch's history or culture – nearly all materials can be reused in new construction, incorporating local memories and fusing the past with the present.
What is permanent in this land of earthquakes? In San Francisco, the Palace of Fine Arts was built in 1915 as a temporary building for the Panama-Pacific Exposition and still stands today as an icon of the city. From the cardboard cathedral to the convention centre – how long will they serve us?
"Simple buildings are key for affordability" said Canadian architect Brian McKay Lyons, recently interviewed on Nine to Noon with Kim Hill. Lyons, from Nova Scotia, says "simple buildings are what we farmers and fishermen build when we can't afford to get things wrong"
This symposium brought together elements of the growing Regeneration movement – people working together to take positive action in their communities.
Community Rebuild – for the Whole House Reuse project Juliet Arnott
Community Development – Joshua Durrant, Jess Smale, Sophie Moore
Positive Action – Gapfiller Trust

YTONG® is an alternative building system made from light-weight Aerated Autoclaved Concrete (AAC). It was invented in Sweden in 1923 and further developed under the YTONG® brand it turned into a world-wide success.
Environmentally friendly and non-toxic – From the manufacturing process to shipment, construction, and waste disposal YTONG® is in ecological balance.
Good sound absorption – effective sound barrier – The natural air cushion formed in the high-pressure steam curing of AAC can absorb the most possible noise.
Ensures high standard of well-being – YTONG® reduces temperature differences and humidity fluctuations and so ensures a comfortable and healthy room atmosphere.
Excellent workability – It is easy to erect a solid masonry structure quickly and precisely. Only few tools and implements are necessary.
Outstanding thermal insulation – Keeps buildings cool in summer and warm in winter saving on heating and air-conditioning.
YTONG® is fireproof and has a high fire rating – AAC is resistant to high temperatures for a longer period of time than any other solid building material. YTONG® is especially chosen for fireproof walls in commercial buildings.
Performs well in earthquakes – Thanks to its low weight and its plastic deformation properties the destructive force of earthquakes can be minimised.

Social Innovation is a small, hardworking community engagement agency based in Christchurch. They work with leading non-profits, changemakers, progressive companies and government to mobilise everyday New Zealanders. Their expertise in this area comes from grassroots innovation on large-scale community action projects, including the Student Volunteer Army, A Day at the Beach Festival, Love your Coast and a number of other public participation initiatives. They know how to scale initiatives and achieve big results with large numbers of stakeholders.
They have developed an integrated blueprint for community organising in the 21st century, drawing inspiration from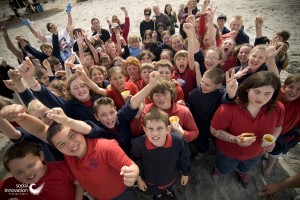 kiwi folk heroes like Kate Sheppard combined with the sheer power of modern technology. At the heart of what they do is supporting everyday New Zealanders to take action and participate fully in public life, in turn increasing the proportion of citizen's who know that they can make a difference to the way things are.
Their services include strategy, leadership training, volunteer coordination & management, media and communications, project management and fundraising. Find out more at www.socialinnovation.org.nz or make direct contact via their studio-line on 03 337 0861
Ph:  03 337 0861 or info@socialinnovation.org.nz

Got good news to share about your social enterprise?  Join this inspiring line up of Christchurch sponsors, email charlotte@happyzine.co.nz
GD Star Rating
loading...
GD Star Rating
loading...
Tags: Arts, christchurch, poetry