Home » Community, Local Good News
Slow travel: Winter getaway to Te Hapu, Golden Bay
Submitted by Charlotte on July 27, 2012 – 12:13 pm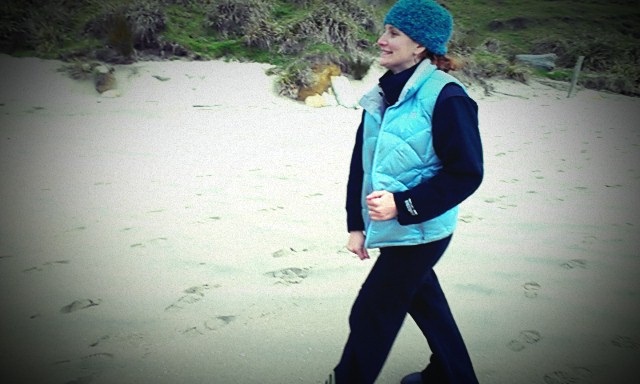 By Charlotte Squire
Do you feel like you have enough time? It's the one thing we all have the same amount of. Yet not all of us feel the same way about it. Here in the 21st century thanks to cell phones and the internet we're constantly available. Thanks to Facebook and TV there's always something new to watch and digest. And thanks to the rising cost of living there's always a dollar to be earned. But our quality of life is improving though, right?
There are multiple answers to that question. But I'm not here to answer it, I'm here to take you away with me, on holiday, to Te Hapu, West Coast, Golden Bay. Why? Because it's mid-winter, and you deserve some time out to rest and dream for a while.
The moment we cross over the hills and onto the South Island's wild West coast I feel my shoulders fall, dropping off several tonnes of 'should's and shifting down a gear into 'it can wait'. Te Hapu is a private coastal farm, bounded by the Kahurangi National Park and the Tasman Sea. We reach it by chugging along a narrow, winding dirt road that could be easily missed.
The name Te Hapu means 'family' or 'sub-tribe'. It also means 'pregnant'. In fact Te Hapu has a history of couples finally managing to conceive, including the owners themselves.
So let's meet them: Sandra and Ken Closs have owned Te Hapu since 1980 when Ken ended up here as a shearer. They fell in love with the place and they've happily raised three children, run a sheep and cattle farm, and developed the holiday home aspect of Te Hapu since then.
Sandra and Ken don't own a tractor and they don't use machinery. They practice a rotational farming principle which involves fallowing a pasture every seven years. This is the sustainable way of avoiding the need for heavy use of artificial fertilisers. Sandra's a passionate musterer so you may hear dogs barking joyfully from the hills as they work the stock. Visitors are welcome to wander all over the farm, and down onto any of the seven beaches footing this thousand acre coastal property.
With over 700 holiday makers per year making the pilgrimage to Te Hapu, these cottages are often being booked out for months. The beauty of this place is that it's simple and untouched. This is the holiday you can take your oldest, most comfortable clothes on. Here the makeup and the perfumes will remain in the toilet bag, and despite your best efforts you'll soon forget to worry about the hair-do. There's no point taking your laptop, unless you're planning to write that novel.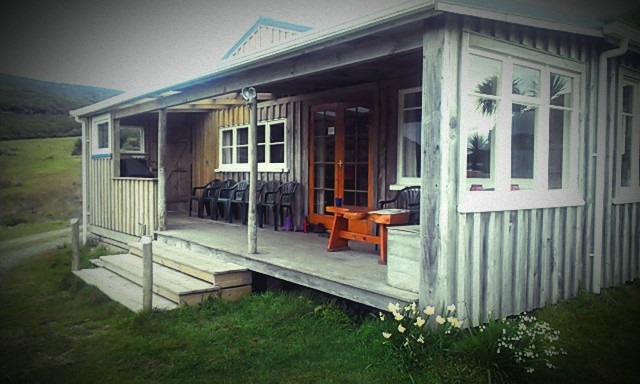 We arrive at our cottage – 'The Shearer's Shed Retreat' and after the initial excited tour of our simple, cosy accommodation (remarkably stocked with everything we might need), we decide to take a stroll. We head downhill to Gilbert's Beach (Gilbert was a very determined old man who refused to sell his land to anyone until he was in his eighties and couldn't walk, but that's another story). Fat cattle watch us curiously and follow us from a polite distance. Below us, the Tasman Sea stretches out to Australia. It moves in powerful surges, reminding me how wild and unpredictable this South Island coast can be.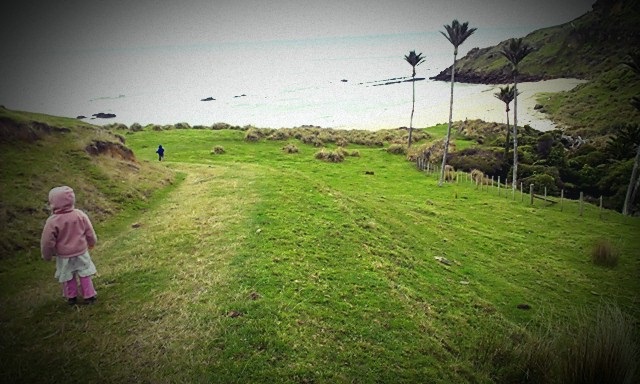 Gilbert's Beach, which is entirely ours, invites nude swimming and hours of exploration. I momentarily consider the former, then shiver in my warm coat and opt for the exploration instead. Our pre-school children are immediately absorbed in rock pools, caves, waves, and huge claimable rocks.
I watch my son take off into the distance. He loses himself in that way children do and adults long to. He's totally absorbed in crossing rock shelf after rock shelf, investigating caves, and jumping deep craggy holes that OSH would throw up their arms at. I'm thankful to see him behaving just as my little brother once did here on the west coast of Golden Bay, adventuring in true four year old fashion. His computer games are momentarily forgotten.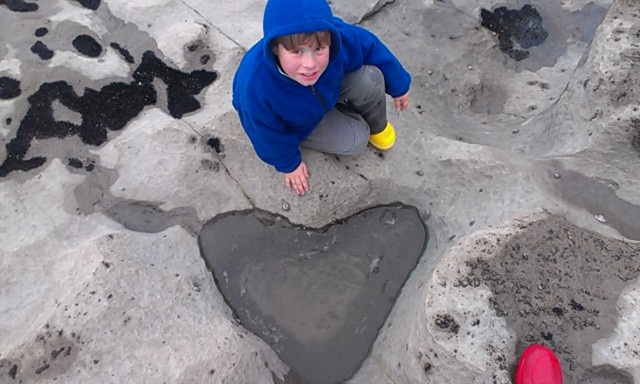 After a sturdy stroll back up the hill we're back at home base. Here, we're off the grid. We're solar, gas, wood and coal powered. Candles are strategically placed all around the cabin, inviting dreamy, flame lit nights.
Ever-keen to expose our children to the joys of country living we run them a hot outdoor bath. It's an old claw foot tub, built for a six foot man or perhaps a romancing couple. Though he's concerned at the strange lack of roof, my son soon relaxes into the hot water, his face lit up by candlelight.
Naturally, due to the whole sea-air/exercise thing, come seven that evening we're all yawning and thinking of bed. There's no TV here, no clock and only one unreliable bar of cell phone reception. It's easy to retire early without a TV show to entice me to stay up another half hour, or a website to update. Outside a howling and truly west coast wind batters the Shearer's Shed. We cuddle up in the generous amounts of hot water bottles they provide, and sleep.
The two nights pass by slowly. Without my lap-lop I experience the strange sensation of having time on my hands. It's great. I potter. Our bach is neat because I have time to clean. I don't need to but I chop kindling because it feels nice. My son proudly barbecues fish for us and takes far too much pleasure in lighting matches for the candles.
By the time we leave I've hit that 'feel like I've been here forever' place. I'm moving at half my usual speed because my brains slowed down to the far more reasonable pace of a lady who knows she's got time. Also, my son is no longer afraid of large cattle and calls them all Norma and Bessy.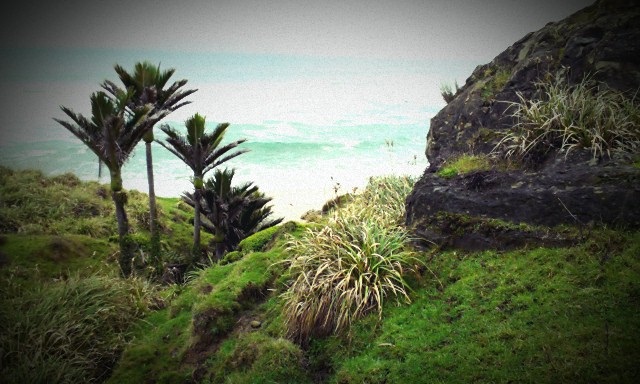 To find out more information about Te Hapu – visit www.tehapu.co.nz
Read the inspiring stories of our sponsors:
Tui Balms is a worker-owned cooperative that began 27 years ago in Golden Bay with Tui Bee Balm, a remarkable healing balm made of beeswax and other natural ingredients.  An effective skin healer, Bee Balm has since become a New Zealand icon, the country's favourite baby balm and the flagship of our popular range of natural skincare and healing balms. Our range of massage Balms with aromatherapy essential oils is the supreme medium for massage.  Tui Balms donates to charitable trusts in New Zealand. Last year, we donated over $30,000 to New Zealand charities! Find Tui Balms at your local health store or organic shop.
www.tuibalms.co.nz
contact@tuibalms.co.nz
ph 03 525 9654.
HealthPost is New Zeala
nd's favourite online retailer of natural health supplements, proudly based in Golden Bay. Established more than 20 years ago, HealthPost is still in 'The Bay' because, basically,we like living here! Our rural location poses logistical challenges from time-to-time (flooded rivers and road wash-outs!) but the dedication and ingenuity of our 38-strong team always gets us through. We're committed to balancing profits and principles, donating more than $60,000 to charity in the past two years through our 'doing WELL' programme. We're passionate about the products that
we sell and proud to be able to help people live WELL.

Billy Kerrisk, Ray White Real Estate New Zealand, Golden Bay branch
TIDY AS – AND OH THE SERENITY!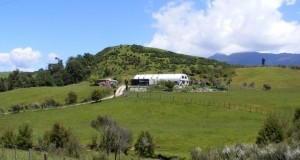 The picturesque Aorere Valley has so much to offer and this 7.7 hectare lifestyle block with a barn conversion style dwelling is a real gem. Everything is done; tight and tidy fencing; clean pastures; good water; established fruit trees and productive vege garden.
The large hangar shaped barn has been converted at the northern end into a comfortable home with some great features – my favourite is the scullery, a wet area currently set up for sausage making, meat packing and beer brewing. If… Read more.
Billy Kerrisk,
027 608 5606
billy.kerrisk@raywhite.com
Golden Bay office 03 525 7219
Sonaz Realty Ltd Licensed (REAA 2008)

The (happy) end.
GD Star Rating
a WordPress rating system
GD Star Rating
a WordPress rating system
Tags: Golden Bay