Home » Business, Club Happyzine
Green Product Review: Natural Cream Deodorant – Lavender
Submitted by Charlotte on July 29, 2012 – 10:04 pm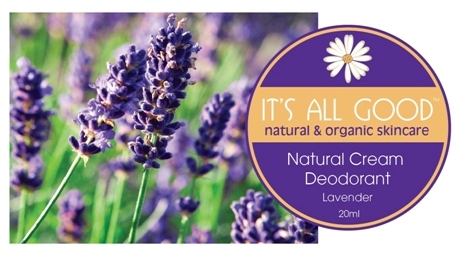 We have a deodorant revolution going on here.  And I don't mean that in an infomercial tone of voice.  This is Happyzine.  I mean it.
I'm holding a 20 ml container of totally natural, aluminium free deodorant.  It's made up of organic butters of shea and coconut, sodium bicarbonate, arrowroot, essential oil of lavender.  That's it.  Nothing I can't pronounce.  No numbers.  And it smells … real.

So what's with the 'revolution' statement?  The interesting thing is:  you apply this with your fingers.  At first I thought it was a bit strange.  I'd only ever used roll on, liquid deodorants.  Yep, finger contact had been limited in the armpit department.  But then I discovered a) it works and b) it's easy. It's a paste, best stored in a cool place.  You rub it on with your fingers and it provides a good layer of protection.  Plus it smells good.
I'm super fussy when it comes to investing in deoderants, especially when the natural ones tend to cost quite a lot more, and many of them just don't work.  But trust me, this one does.
Nelson qualified classical Homeopath Anat Edwy was kind enough to develop the 'It's All Good' deodorant range, because she was in the same situation as me: she was in need of an all natural, high quality deodorant that actually works.  Ask for it next time you're in an organic shop and if they don't have it, tell them to contact ECOtanka (the drink bottle people, see contact details below).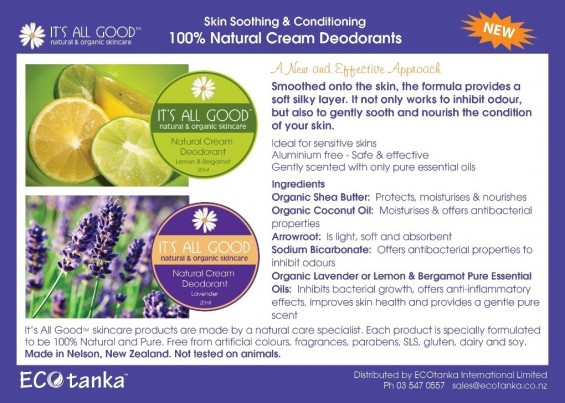 Natural Deodorant creams are distributed by ECOtanka International Limited sales@ecotanka.co.nz  Ph 03 547 0557  to be directed to a retailer
Good news!  Club Happyzine members shall go in the draw to win one of two samples of this all natural lightly scented deodorant.  Winners get to chose from Lemon and Bergamot or Lavender.
GD Star Rating
loading...
GD Star Rating
loading...