Home » Headline, Keep New Zealand Beautiful
Keep New Zealand Beautiful Launch Cleanup Week!
Submitted by Charlotte on August 14, 2012 – 3:01 pm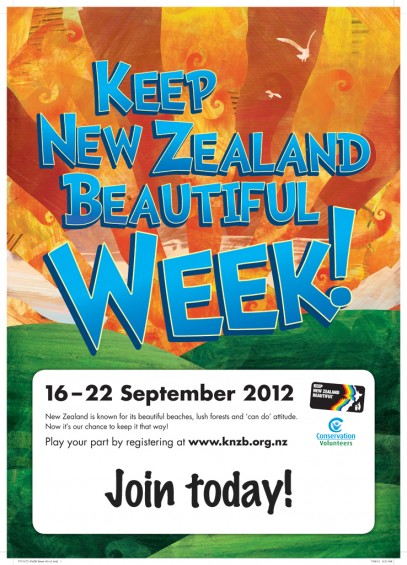 This week, we've launched Keep New Zealand Beautiful Week!
We know Kiwi's all over the country care about the communities they live in, the streets of our towns, the water in our harbors, and even the sides of our roads.  We believe that a cleaner, greener, more beautiful place to live, also makes us happier people & more positive about the world around us.
So we're asking New Zealanders to get active this year for our KNZB Week from 16 – 22 September.  
You can sign up on
our website
today, to create your own event or join one in your area.  That's right, we'll send you everything you need – bags, gloves, certificates for participants & a guide about how to run a great event.  Just sign up at
http://www.knzb.org.nz
Have you seen a patch in your area that you think could do with a clean up? Noticed the coast near you has trash on the beach? Seen a local park which could be a little greener with a few more hands helping out?  It's time to shoulder tap neighbors, talk to the local school, leaflet your community & take to social media to spread the word about your event, and clean up your patch!
Keep New Zealand Beautiful have teamed up with Conservation Volunteers New Zealand this year to bring you the Week of Action. CVNZ, which celebrates 30 years of community-led conservation this year, is one of Australiasia's largest environmental volunteering organizations, with a presence nationwide.  Keep New Zealand Beautiful & Conservation Volunteers teamed up to extend the week of action this year to enable more Kiwi's to take action for our environment.
Last year we had about 15,000 Kiwi's involved in the KNZB Week, this year we'd love to double that! We look forward to seeing you all out & about on 16 – 22 September when you'll make a big impact for a more Beautiful New Zealand.  You can also join the conversation online at
Facebook
, or
Twitter
at #KNZBWeek
Keep New Zealand Beautiful also wants to hear from you if you'd be happy for us to get some snaps & write a story about your clean up event – contact us at
info@knzb.org.nz
with the title 'Feature My Cleanup'.
GD Star Rating
loading...
GD Star Rating
loading...