Home » Community, Local Good News
Christchurch: A Hub For Healthy Youth Development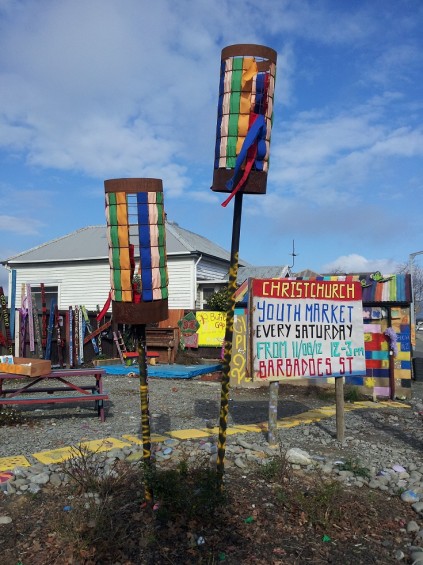 by Steve Carter
Time passing is such a relative thing.
Sometimes, the last year feels like the longest ever … and then something happens to change one's perspective to thinking time has fair raced by.
On my way to meet up with ActionWorks' Peter Young at the new Youth Hub in Barbadoes Street, I was musing on when my last real connection to the service might have been. I remember being in Latimer Square for a protest at the closure of the 198 Youth Health Centre, but that was pre-February 2011, before the square become synonymous for me with fear and blood, smoke and tears, the place where hundreds were ejected to when the shaking started.
Now Peter has reminded me that less than a year ago, we were both sat in a room with other representatives from youth and community organisations, many still displaced from offices in the Red Zone. We were discussing the possibility of services joining up, sharing resources and co-locating in what were backpacker accommodation houses, now left vacant by the tourist flight from the city.
Much of the unlikely idea was borne from force of circumstances. Many staff were still operating from homes or temporary offices, trying to ensure that clients weren't falling through gaps in those hardest of times. But there was a glimmer of a bigger picture, one that some people had been postulating for years: Could the sector create a new type of seamless service through collaboration? Could the chaos of the earthquakes be the opportunity needed to break down many of the barriers between respective organisations, barriers that only served to undermine the service that young people were receiving to support their health and development? Could the whole ambitious project be led, designed, inspired by the young people themselves?
Lofty dreams?
Well, only a (short/long) year later, those dreams are an inspirational reality. Peter puts it best when he says, "I see that meeting as a key moment. Remember we all sat around putting a model together with cogs and wheels? You were there and now you are here … this is the result of that meeting, happening right now."
This is the landscape of the new Christchurch: a place where possibilities are not hijacked by a lack of vision or, worse, a failure to act upon visionary ideals. Unprecedented times have produced unprecedented solutions, as though in returning to an 'uncarved block' we are no longer satisfied with repeating the failures of the past because we simply can't see our way out of thinking, "that's the way we have always done things".
Into this landscape, a short stretch of Barbadoes Street has been steadily, intentionally pulling in a range of service providers, connecting them with the visions and needs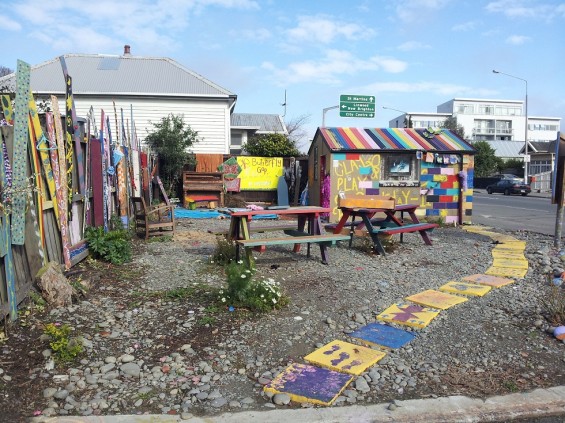 of the city's youth, and creating … well, a Hub of activity.
Previously zoned residential, the area has a vibe that definitely does not scream "youth health service" with all that those words often represent: utilitarian, soulless, unappealing. Instead, the Youth Hub radiates 'inviting', 'responsive' … even, perish the thought, 'friendly'. Connecting gardens are being made into a huge communal space by the systematic dismantling of fences and Peter is wholly alive to the symbolic beauty of that: "It's a great analogy for the way we are working," he says. "And there's even a research project on the collaboration being carried out, that's called 'Bringing Down The Fences'."
On a sunny Spring day, it's a beautiful spot to be, with the RDU mobile radio studio parked up permanently and broadcasting in the corner, a huge wall ripe for a planned graffiti mural, and plenty of trees from which climbing ropes are due to be hung. It's a green space, relaxing and warm … but that's not going to stop them inviting hip-hop fave Scribe to play a gig there.
Because this place is resolutely not just about services. It is about creating a space by and for young people. Services are a lead part of it, for sure, and the list of agencies now located in the Hub, or due to move in soon, gives a clear picture of the scope of activities operating from here.
But good youth development is about more than just organisations chasing the tail of perceived problems and deficits. So there's a funky 'Butterfly Gap' just on the next corner, the houses are colourful and inviting, and every Saturday sees a "youth/art/public/creative/community market" just about wholly colonise a main, arterial city route.
And these are still early days. Peter shows me the plans for the future and I am floored by how much the vision has expanded, how much the achievements of the last year are viewed as a springboard to bigger and better possibilities for Christchurch's young people. Most importantly, as he stresses, "It's being driven by community … that's what makes it work."
Ironically, seamless service integration is exactly what funders and Government departments have been issuing rhetoric upon for some time but manifestly failing to enable. Indeed, the closure of the old, shabby 198 Youth Health Centre was, in part, precipitated by that very mantra.
More efficient services, defined by collaboration, driven by service-user leadership and filling the holes that the cliché so often has young people falling through. It is a model for success that sector leaders have been wanting to enact for years. As Peter says, "It is so exciting to see these groups working together. No silos, no patch-protection … it all works on communication and that comes from us being close together. If I have a question for another organisation, I can just wander into another room."

In the wake of all the disruption we have experienced, Christchurch is now actually modeling a template for a new way of doing things. Peter tells me about a recent trip to Wellington where it was clear, as he puts it, that, "Christchurch is being seen as this test case for a whole load of innovative, collaborative, melting-pot stuff, where there's opportunities galore."
Unsurprisingly, the whole country seems to be watching, intrigued … perhaps even jealous at the freedom and innovation we have been able to leverage from the worst of circumstances.
It has been an eventful year since that first meeting, since that germ of an idea was tabled for discussion. But here two of us are, talking about actual progress, tangible success … talking it up as something of a vindication for the way we see the world. It seems only appropriate to give the last word to Peter because he articulates exactly what I am thinking about what a stimulating city this is to live and work in right now.
Besides, he says it best:
"This is the most excited I have felt about creating something that is sustainable that will make a difference. I have never felt more excited in this work."
For more information on the Youth Hub, including details on all the services now operating from Barbadoes, visit the website at http://youthhub.org.nz/ or connect on Facebook at http://www.facebook.com/YouthHubBarbadoes
You can also find out about the Saturday Youth Market at their website http://www.chchyouthmarket.co.nz/ or on Facebook: http://www.facebook.com/chchyouthmarket
Read the inspiring stories of our Christchurch sponsors: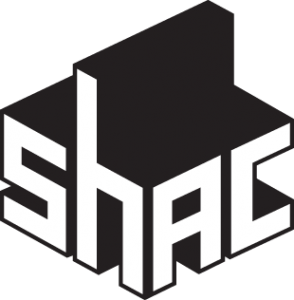 SHAC – The Sustainable Habitat Challenge – is a network of architects, builders, engineers, designers, building scientists, students and young professionals interested in taking positive action in their communities today.
On the 2-3 May 2012, SHAC presented the 2nd annual workshop on micro-architecture at the Christchurch Polytechnic Student Centre. Sixty attendees discussed temporary architecture, simple buildings, and the reuse of building material.
"People cherish their culture through recycling" – those are the words of Wang Shu, the 2012 winner of the Pritzker architecture prize. The demolition of red stickered housing and CBD buildings does not have to mean the eradication of Christchurch's history or culture – nearly all materials can be reused in new construction, incorporating local memories and fusing the past with the present.
What is permanent in this land of earthquakes? In San Francisco, the Palace of Fine Arts was built in 1915 as a temporary building for the Panama-Pacific Exposition and still stands today as an icon of the city. From the cardboard cathedral to the convention centre – how long will they serve us?
"Simple buildings are key for affordability" said Canadian architect Brian McKay Lyons, recently interviewed on Nine to Noon with Kim Hill. Lyons, from Nova Scotia, says "simple buildings are what we farmers and fishermen build when we can't afford to get things wrong"
This symposium brought together elements of the growing Regeneration movement – people working together to take positive action in their communities.
Community Rebuild – for the Whole House Reuse project Juliet Arnott
Community Development – Joshua Durrant, Jess Smale, Sophie Moore
Positive Action – Gapfiller Trust

YTONG® is an alternative building system made from light-weight Aerated Autoclaved Concrete (AAC). It was invented in Sweden in 1923 and further developed under the YTONG® brand it turned into a world-wide success.
Environmentally friendly and non-toxic – From the manufacturing process to shipment, construction, and waste disposal YTONG® is in ecological balance.
Good sound absorption – effective sound barrier – The natural air cushion formed in the high-pressure steam curing of AAC can absorb the most possible noise.
Ensures high standard of well-being – YTONG® reduces temperature differences and humidity fluctuations and so ensures a comfortable and healthy room atmosphere.
Excellent workability – It is easy to erect a solid masonry structure quickly and precisely. Only few tools and implements are necessary.
Outstanding thermal insulation – Keeps buildings cool in summer and warm in winter saving on heating and air-conditioning.
YTONG® is fireproof and has a high fire rating – AAC is resistant to high temperatures for a longer period of time than any other solid building material. YTONG® is especially chosen for fireproof walls in commercial buildings.
Performs well in earthquakes – Thanks to its low weight and its plastic deformation properties the destructive force of earthquakes can be minimised.

Social Innovation is a small, hardworking community engagement agency based in Christchurch. They work with leading non-profits, changemakers, progressive companies and government to mobilise everyday New Zealanders. Their expertise in this area comes from grassroots innovation on large-scale community action projects, including the Student Volunteer Army, A Day at the Beach Festival, Love your Coast and a number of other public participation initiatives. They know how to scale initiatives and achieve big results with large numbers of stakeholders.
They have developed an integrated blueprint for community organising in the 21st century, drawing inspiration from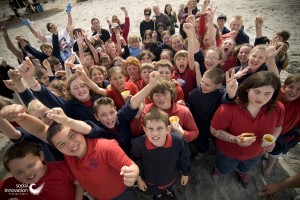 kiwi folk heroes like Kate Sheppard combined with the sheer power of modern technology. At the heart of what they do is supporting everyday New Zealanders to take action and participate fully in public life, in turn increasing the proportion of citizen's who know that they can make a difference to the way things are.
Their services include strategy, leadership training, volunteer coordination & management, media and communications, project management and fundraising. Find out more at www.socialinnovation.org.nz or make direct contact via their studio-line on 03 337 0861
Ph:  03 337 0861 or info@socialinnovation.org.nz

Got good news to share about your social enterprise?  Join this inspiring line up of Christchurch sponsors, email charlotte@happyzine.co.nz
GD Star Rating
loading...
GD Star Rating
loading...
Tags: christchurch, Christchurch Recover