Home » Community, Local Good News
Christchurch: The little organic shop the community bought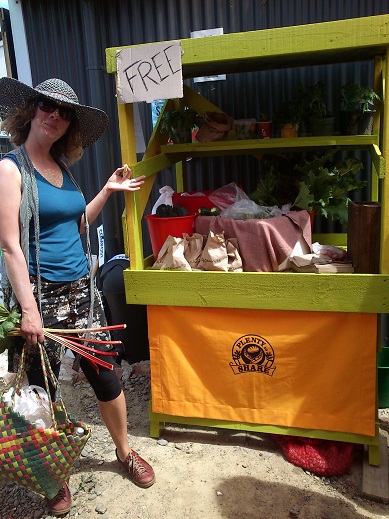 by Steve Carter
What do you do if you are told the shop you are managing is to be put up for sale? Well, you convince your whole town to chip in to buy it, of course.
This might seem like a unlikely scenario, but if I told you it happened in Lyttelton, I imagine you might just reconsider your cynicism. You would be right to, because here is another example of that closely-networked community rallying around a local cause for the purposes of working towards self-reliance and resilience.
Brian Rick and his partner had been managing Lyttel Piko, the harbour-side arm of Christchurch's well-established icon Piko Wholefoods, for about five years when the earthquakes started, ultimately tearing the physical heart out of their town.
Like many other city businesses, Piko had also taken a substantial hit as a result of the earthquakes, losing its long-standing location in a beautiful old brick building on Kilmore Street. A relocation to Stanmore Road, plus the loss of operations and business during the immediate aftermath, forced the owners to consider putting all of their efforts into the main business and letting go the Lyttel version on the other side of the Tunnel.
Brian's response, as he describes it, was to say to Piko, "can we have a little more time and see if there are other options, such as a community buy-out?" He then ran some public meetings and some surveying to float the idea and the response was very positive.
So in January of this year, a steering group of twelve people began to meet weekly and put in what Brian calls, "an extraordinary amount of work and effort.".
They also had to do an extraordinary amount of learning because it turned out that this venture was somewhat unprecedented, in New Zealand at least. As Brian says, "There are existing models of cooperative ownership overseas, especially in organics/wholefoods – it's a pretty popular model."
But because there was nothing like this is New Zealand the group had to write the book from scratch. Undaunted, they stretched their knowledge and set about framing up all the legal documents, including one member of the group who, as Brian says, "took it on herself to read the Securities Act, the Companies Act, the Cooperatives Act, in full, multiples times, in order to nut it all out."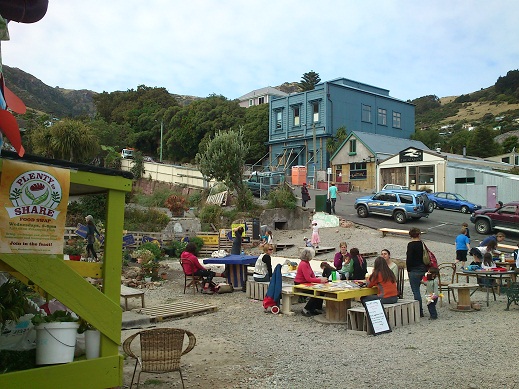 So by the middle of March they became incorporated, but still had to write up a prospectus and investment statement before they could make the public offer. Still, by the middle of May they had one hundred and fifty shares sold to households in Lyttelton and surrounding areas and had raised the $50000 needed to proceed. On June 1st they began trading as The Harbour Co-op.
That response, the literal 'buy-in' from the community and the work done to achieve it in such a short space of time, is incredible. Brian tells me that the advice they had received through all their reading and research was that it would typically take twelve to eighteen months to set up a cooperative, with multi-stakeholder co-ops like this generally taking eighteen to twenty-four months or longer.
It speaks volumes about the nature of the Lyttelton community, which has always been strong, for various reasons. Since the earthquakes, that community connection has been even more present. As Brian says, "Everybody remembers how the community responded and how people looked after each other … so what was already a strong community really became galvanised by those events."
Fundamentally, this is not simply about one shop … the story resonates with a bigger issue in Lyttelton: food security. The one supermarket in town has long-since gone the way of the quakes, and the majority of Lyttelton's food comes from the other side of the Tunnel. What was made perfectly clear throughout the quake sequence was the fact that shutting the Tunnel, for whatever reason, effectively cuts off the town. With the only other roads into the Port closed due to rockfalls or the risk of further hill collapse, food and supplies had to be delivered by ships from the New Zealand Navy in February.
So the Lyttel Piko issue is not a new problem that the community had to wrestle with but definitely something around which exisiting ideas could coalesce. The Harbour Resilience Project also exists to address these food security issues, so it is into this context that the cooperative idea was introduced. Perhaps no surprise then that the community response was so inspiring. Brian puts it nicely: "Before, people took the services and things that were there for granted, now they appreciate and value what we have left. So, for a lot of people our little shop was quite a testament to that."
Regardless of whether any further disasters occur and do actually cut the Port off from the rest of Christchurch, the immediate pay-off from the Co-op is very clear. There's the obvious statement about the community owning the solutions to its challenges, bolstering that bombastic Lyttelton identity that wears its independence from Christchurch with pride.
What is more immediately exciting in a town that already has social capital-building projects (such as the TimeBank and other burgeoning plans to create and work with what Brian calls "funny money"), is the fact that the profits from a cooperatively owned local store are returned directly to the community, not dripped out to external beneficiaries … the people of the town are the stakeholders in the business as well as the customers.
It is another strand of the Lyttelton drive to really live the Transition Towns model:  localising, and building on strengths and assets in a closed-loop of investment and
reinvestment in everything the town has to offer.
The end result should be increased resilience and self-reliance in the Harbour, while for Brian … well, he gets to keep his work going and in fact embed it even more closely in the community. It's a win-win, for everybody. Local and cooperative.
One more on the scoreboard for Lyttelton!
Check out Happyzine's online courses:
Read the inspiring stories of our Christchurch sponsors: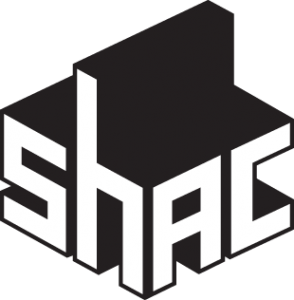 SHAC – The Sustainable Habitat Challenge – is a network of architects, builders, engineers, designers, building scientists, students and young professionals interested in taking positive action in their communities today.
On the 2-3 May 2012, SHAC presented the 2nd annual workshop on micro-architecture at the Christchurch Polytechnic Student Centre. Sixty attendees discussed temporary architecture, simple buildings, and the reuse of building material.
"People cherish their culture through recycling" – those are the words of Wang Shu, the 2012 winner of the Pritzker architecture prize. The demolition of red stickered housing and CBD buildings does not have to mean the eradication of Christchurch's history or culture – nearly all materials can be reused in new construction, incorporating local memories and fusing the past with the present.
What is permanent in this land of earthquakes? In San Francisco, the Palace of Fine Arts was built in 1915 as a temporary building for the Panama-Pacific Exposition and still stands today as an icon of the city. From the cardboard cathedral to the convention centre – how long will they serve us?
"Simple buildings are key for affordability" said Canadian architect Brian McKay Lyons, recently interviewed on Nine to Noon with Kim Hill. Lyons, from Nova Scotia, says "simple buildings are what we farmers and fishermen build when we can't afford to get things wrong"
This symposium brought together elements of the growing Regeneration movement – people working together to take positive action in their communities.
Community Rebuild – for the Whole House Reuse project Juliet Arnott
Community Development – Joshua Durrant, Jess Smale, Sophie Moore
Positive Action – Gapfiller Trust

YTONG® is an alternative building system made from light-weight Aerated Autoclaved Concrete (AAC). It was invented in Sweden in 1923 and further developed under the YTONG® brand it turned into a world-wide success.
Environmentally friendly and non-toxic – From the manufacturing process to shipment, construction, and waste disposal YTONG® is in ecological balance.
Good sound absorption – effective sound barrier – The natural air cushion formed in the high-pressure steam curing of AAC can absorb the most possible noise.
Ensures high standard of well-being – YTONG® reduces temperature differences and humidity fluctuations and so ensures a comfortable and healthy room atmosphere.
Excellent workability – It is easy to erect a solid masonry structure quickly and precisely. Only few tools and implements are necessary.
Outstanding thermal insulation – Keeps buildings cool in summer and warm in winter saving on heating and air-conditioning.
YTONG® is fireproof and has a high fire rating – AAC is resistant to high temperatures for a longer period of time than any other solid building material. YTONG® is especially chosen for fireproof walls in commercial buildings.
Performs well in earthquakes – Thanks to its low weight and its plastic deformation properties the destructive force of earthquakes can be minimised.

Social Innovation is a small, hardworking community engagement agency based in Christchurch. They work with leading non-profits, changemakers, progressive companies and government to mobilise everyday New Zealanders. Their expertise in this area comes from grassroots innovation on large-scale community action projects, including the Student Volunteer Army, A Day at the Beach Festival, Love your Coast and a number of other public participation initiatives. They know how to scale initiatives and achieve big results with large numbers of stakeholders.
They have developed an integrated blueprint for community organising in the 21st century, drawing inspiration from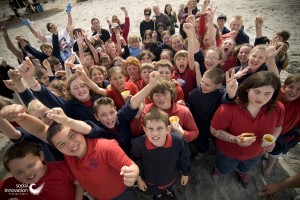 kiwi folk heroes like Kate Sheppard combined with the sheer power of modern technology. At the heart of what they do is supporting everyday New Zealanders to take action and participate fully in public life, in turn increasing the proportion of citizen's who know that they can make a difference to the way things are.
Their services include strategy, leadership training, volunteer coordination & management, media and communications, project management and fundraising. Find out more at www.socialinnovation.org.nz or make direct contact via their studio-line on 03 337 0861
Ph:  03 337 0861 or info@socialinnovation.org.nz

Got good news to share about your social enterprise?  Join this inspiring line up of Christchurch sponsors, email charlotte@happyzine.co.nz
GD Star Rating
loading...
GD Star Rating
loading...
Christchurch: The little organic shop the community bought

,
Tags: christchurch, Christchurch Recover