Home » Keep New Zealand Beautiful
Do A Little, Gain A Lot – #alittlealot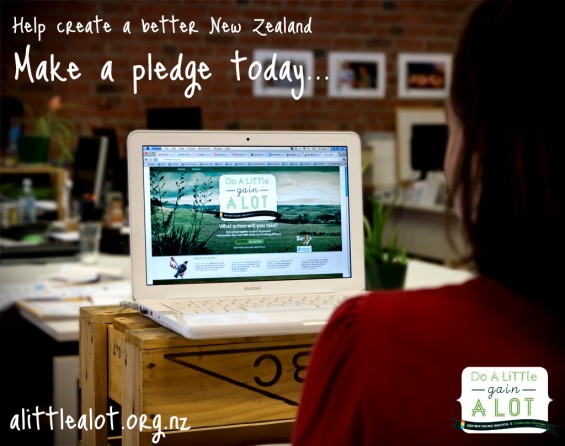 by Sam Rye, Keep New Zealand Beautiful & Conservation Volunteers
How can we create a thriving country?

It's a question we've often asked ourselves at Conservation Volunteers and Keep New Zealand Beautiful.  This year, we decided to team up to work on it together, because this question is bigger than any one of our organisations, our individual efforts, or how we spend our days.
The last generation or so, we've seen some big changes in New Zealand – some for better, some for the worse.  But one thing now appears clear : we're losing the health of our waterways, our coasts, our soils, our cities and our communities.  The problem of environmental health is bigger than litter, it's about land use, and the quality of our existing natural areas.
We believe that change comes from the grassroots – the recent success of Keep New Zealand Beautiful Week and various other initiatives.  That's why we've created 'Do A Little, Give A Lot' – an online platform to help you get offline and make a difference to your New Zealand. Along side it, we're running some communications & support through Facebook & Twitter – we'd love you to join the conversation.
We've started off small – with a few ideas for how you can get out and about to do some volunteering, but also some ideas for how you can make a difference in your everyday life too.  Whether it's the food you eat, how you choose to travel, what you plant in your garden, remembering your eco-bags when shopping, or a multitude of other things – small actions add up to a big impact.
That's the premise behind the platform – that individually, if we do a little, together we gain a lot.
We've made it simple & easy to get some ideas, take action, and then share with your friends on social networks. Spread the word, get your friends & whanau involved, your local school, your sports club, your community group, your church, your workmates, and your neighbours. Together, we'll create a wave of action sweeping across the country.
We'll be developing 'Do A Little, Gain A Lot' over the coming months as our Community Action hub, which is full of resources to help you get out & about to learn new skills, meet like-minded people, see new parts of the country, and make a difference.
But we want you (yes YOU, Happyzine readers!) to help us shape the site. We'd like to hear what would help you to make a difference, as we're committed to enabling more Kiwi's to do a little, and together – gain a lot.
Join us today, pledge to do a little, get outside & experience New Zealand with fresh new eyes: alittlealot.org.nz
GD Star Rating
loading...
GD Star Rating
loading...
Tags: community action, conservation volunteers, Do A Little Gain A Lot, Keep New Zealand Beautiful, new zealand