Home » Community, Local Good News
Cycle-share schemes for the next generation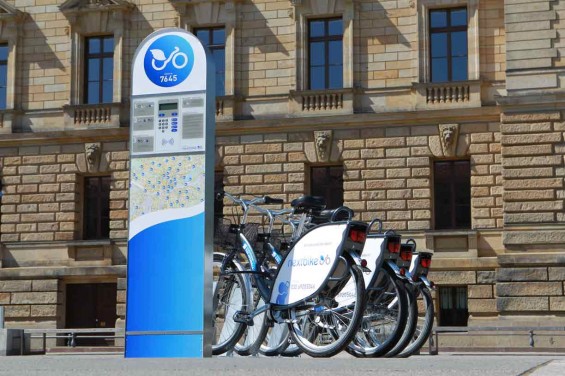 by Steve Carter
It's a city seemingly made for cycling, so why isn't there a world-class cycling infrastructure?
Whatever the reasons might be, there's plenty of voices clamouring for Christchurch to be rebuilt as a modern, sustainable city and young entrepreneur Robert Henderson is in on the ground working to bring practical cycling solutions into the picture.
He has bought into the NextBikes system, which originated in Germany but is run by Auckland-based NextBikes New Zealand. It's a simple system: Users register into the system and are enabled to access bikes via a phone number, a mobile app, mobile web or a normal website. Once provided with a lock code, you can pick up a bike from one of the NextBike stations and away you go.
The first scheme has been well established at Campus Living Villages out at the Canterbury University campus in Ilam. They are a private company that run the Halls of Residence and could see the marketing potential in the bikes. Robert explains their interest: "They get their names on the frames and on the headboard. It's a marketing spend: they provide them for free for the students to ride and the students ride around advertising the company."
As is often the case with collaboration/sharing schemes, some cynics have derisively suggested that 'it will never work'. The classic accusations arise, citing the 'Tragedy of the Commons' – bikes will inevitably be stolen or vandalised, especially in the hot-bed testing ground of a student campus.
In reality, there has been no such damage. As Robert says, "Actually the Nor'West wind caused the most damage, blowing a bike over and bending a rim!"
It's a common story around the globe. Robert tells me, "There's a number of public bike systems around the world and they are generally very successful."
Robert saw the business potential in investing in the scheme but he was already also something of a green advocate anyway, being the proprietor of mobile phone recycling business Redial. Fortuitously, he heard that NextBikes NZ had a whole lot of bikes that were sitting in storage not being used and Christchurch seemed like the ideal place for implementing their system, it being, of course, a city perfectly laid out for cycling.
The options for the future in a city that is ripe for improvements to its cycling infrastructure? Robert says, "The most successful public cycle schemes, such as Barclay's Bikes in London, are largely publicly funded as an integral part of public transport." Passengers having systems of multi-modal transport do tend to use them, perhaps traveling on buses and then using bikes for the last few blocks of the trip. Indeed, in those places where these schemes exist, the knock-on effect is to encourage more use of public transport … something that might make ears prick up down at ECan headquarters.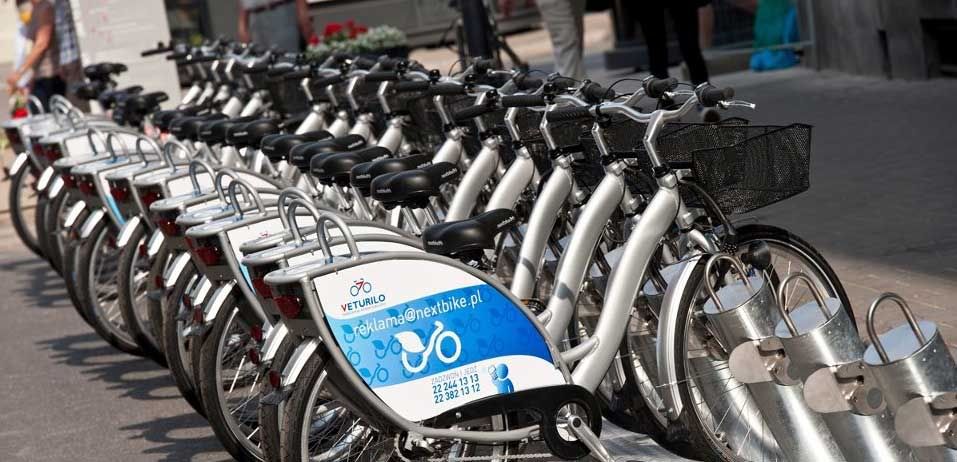 The possibilities, particularly in the Central District of the new city are intriguing. Clearly, the city as it currently exists would not be ideal but large roll-outs of the scheme could be planned in advance as a part of new transport developments. After all, there has been a large call for shared-use roading to allow better accessibility for pedestrians and cyclists in the new city.
In the meantime, Robert has received good traction for his plan to establish, over the next two or three years, a relocatable cycle station network across the city. The original conception was to use that most Christchurch of icons, the shipping container to start the ball (or the cycle wheels) rolling on a public bike system, although Robert is aware that container architecture might well become old hat in the next couple of years so he doesn't necessarily want to bind himself into that.
Regardless of the style of the station, the NextBike system is solar-powered so needs no power hook-up, making it eminently mobile and relocatable. In Robert's vision, "If a new hotel opened up, we could relocate a bike station outside and make a number of bikes available to tourists as a way to get around the city."
He sees it as potentially, "connecting the dots between the isolated businesses that are left, or the hotels, that sort of thing."
He is currently looking at relationships with naming sponsors to support the initial phase of developments. "It's a good way to test the concept, and gets people thinking about the model." In a city still in a temporary situation of flux, it certainly seems like a great idea, allowing for more integration into the permanent landscape of the city's infrastructure as time goes on and the rebuild gathers pace
Robert sees that, "In a very short space of time we can have this around the city and it fits with other cities around the world that have sustainable transport. I think it's something that people can see and think, yeah the future of Christchurch is going to be quite good."
It's that vanguard green city that so many want to ensure rises from out of the rubble.
Back in the Christchurch of now, the scheme at the University has been a fantastic success and Canterbury DHB are currently reviewing a trial that was run on their sites across the city, with a view to rolling it out more widely.
Robert tells me the analysts are looking at the data, "but we've been getting a lot of good feedback from the trials. Just in terms of saved taxi trips the bikes would have paid for themselves … and the advertising on them is super-cost effective." Apparently the indications are positive for an extension of the scheme in the future.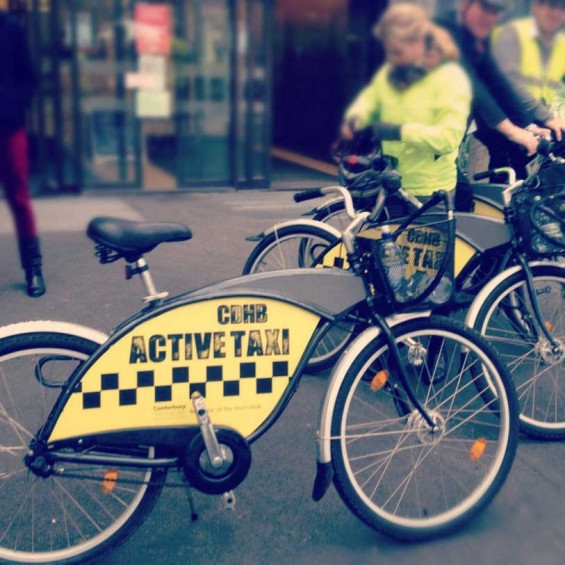 It certainly makes sense for an organisation like the DHB with its commitment to supporting staff health and wellbeing. They get to promote healthy workplaces and healthy transport options for their staff whilst also modeling good practice as an organisation.
Other businesses are showing interest for similar reasons – investing in wellbeing programmes for their workforce whilst also creating easy, effective mobile advertising for the business. Big businesses wishing to establish their green credentials, or create sustainable campuses for their staff … well, the NextBikes system seems like a no-brainer.
That is just where Robert's entrepreneurial spirit sees the niche. "People will see it working, see the idea and others will decide to try it for themselves. The idea will snowball from there."
It's beautiful and simple and could be just another contribution to making the new Christchurch a city that people across the world will look to for its bold, progressive, sustainable developments.
On your bikes Christchurch!
To find out more about Robert's Christchurch enterprise, Bicycle Ventures, visit the website at http://www.bicycleventures.co.nz/
Check out Happyzine's online courses:
Read the inspiring stories of our Christchurch sponsors:
SHAC – The Sustainable Habitat Challenge – is a network of architects, builders, engineers, designers, building scientists, students and young professionals interested in taking positive action in their communities today.
On the 2-3 May 2012, SHAC presented the 2nd annual workshop on micro-architecture at the Christchurch Polytechnic Student Centre. Sixty attendees discussed temporary architecture, simple buildings, and the reuse of building material.
"People cherish their culture through recycling" – those are the words of Wang Shu, the 2012 winner of the Pritzker architecture prize. The demolition of red stickered housing and CBD buildings does not have to mean the eradication of Christchurch's history or culture – nearly all materials can be reused in new construction, incorporating local memories and fusing the past with the present.
What is permanent in this land of earthquakes? In San Francisco, the Palace of Fine Arts was built in 1915 as a temporary building for the Panama-Pacific Exposition and still stands today as an icon of the city. From the cardboard cathedral to the convention centre – how long will they serve us?
"Simple buildings are key for affordability" said Canadian architect Brian McKay Lyons, recently interviewed on Nine to Noon with Kim Hill. Lyons, from Nova Scotia, says "simple buildings are what we farmers and fishermen build when we can't afford to get things wrong"
This symposium brought together elements of the growing Regeneration movement – people working together to take positive action in their communities.
Community Rebuild – for the Whole House Reuse project Juliet Arnott
Community Development – Joshua Durrant, Jess Smale, Sophie Moore
Positive Action – Gapfiller Trust

YTONG® is an alternative building system made from light-weight Aerated Autoclaved Concrete (AAC). It was invented in Sweden in 1923 and further developed under the YTONG® brand it turned into a world-wide success.
Environmentally friendly and non-toxic – From the manufacturing process to shipment, construction, and waste disposal YTONG® is in ecological balance.
Good sound absorption – effective sound barrier – The natural air cushion formed in the high-pressure steam curing of AAC can absorb the most possible noise.
Ensures high standard of well-being – YTONG® reduces temperature differences and humidity fluctuations and so ensures a comfortable and healthy room atmosphere.
Excellent workability – It is easy to erect a solid masonry structure quickly and precisely. Only few tools and implements are necessary.
Outstanding thermal insulation – Keeps buildings cool in summer and warm in winter saving on heating and air-conditioning.
YTONG® is fireproof and has a high fire rating – AAC is resistant to high temperatures for a longer period of time than any other solid building material. YTONG® is especially chosen for fireproof walls in commercial buildings.
Performs well in earthquakes – Thanks to its low weight and its plastic deformation properties the destructive force of earthquakes can be minimised.

Social Innovation is a small, hardworking community engagement agency based in Christchurch. They work with leading non-profits, changemakers, progressive companies and government to mobilise everyday New Zealanders. Their expertise in this area comes from grassroots innovation on large-scale community action projects, including the Student Volunteer Army, A Day at the Beach Festival, Love your Coast and a number of other public participation initiatives. They know how to scale initiatives and achieve big results with large numbers of stakeholders.
They have developed an integrated blueprint for community organising in the 21st century, drawing inspiration from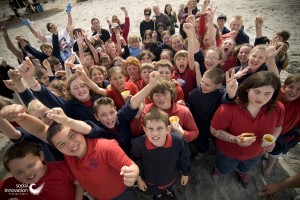 kiwi folk heroes like Kate Sheppard combined with the sheer power of modern technology. At the heart of what they do is supporting everyday New Zealanders to take action and participate fully in public life, in turn increasing the proportion of citizen's who know that they can make a difference to the way things are.
Their services include strategy, leadership training, volunteer coordination & management, media and communications, project management and fundraising. Find out more at www.socialinnovation.org.nz or make direct contact via their studio-line on 03 337 0861
Ph:  03 337 0861 or info@socialinnovation.org.nz

Got good news to share about your social enterprise?  Join this inspiring line up of Christchurch sponsors, email charlotte@happyzine.co.nz
GD Star Rating
loading...
GD Star Rating
loading...
Tags: christchurch