Home » Local Good News, Youth
Youth Action for the environment by Steve Carter
Submitted by Charlotte on October 26, 2012 – 9:03 pm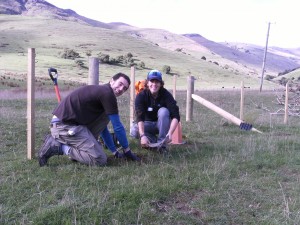 Need a green army of young, motivated volunteers to assist in the recovery and regeneration of post-earthquake Christchurch? Need a team of energetic workers to boost
your greening or conservation project?
Then look no further.
Launched with an official powhiri in September, Christchurch now has its own Youth Action Programme (YAP), coordinated by Conservation Volunteers New Zealand
(CVNZ). Morgan Coleman, Christchurch Programme Manager, describes the basic ethos as, "Empowering youth through providing opportunities."
There are number of partners on the ground in Christchurch, some actually referring volunteers but most providing the projects for them to be involved in. Some of those
projects are what might be called 'traditional' conservation activity while others are more specific to the post-EQ recovery of the city.
What this means for volunteers is they get to experience a variety of tasks across their programme course rather than the one. They might be involved in planting dunes, planting trees in other reserves, track building and maintenance, or supporting work in community gardens or on Greening The Rubble-style projects.
They provide their time for free, for three set days a week and the full programme runs for twelve to fourteen weeks. Of those three days, one day is set aside for training – formal and accredited, and including such things as First Aid, Tool Safety and other practical qualifications that would otherwise cost a lot of money to achieve but which employers increasingly consider as vital for job applicants to have.
So, at the end of the process they come out with practical skills and training but as Morgan says, "In some ways that's secondary – what they also get is basic skills like getting up in the morning, turning up on time, and committing themselves for three months of training and learning."
Of course, they also gain 'softer' skills such as team work, safety and looking after each other, which Morgan describes as equally vital: "Even if they don't want to work in outdoor or conservation work in the long term they have still learned good skills that will be useful in their life."
Importantly, YAP is not a referral-only programme, although some volunteers do come from youth development and employment projects such as ActionWorks. Anyone with an interest in gaining skills or being part of an active learning environment can join the programme.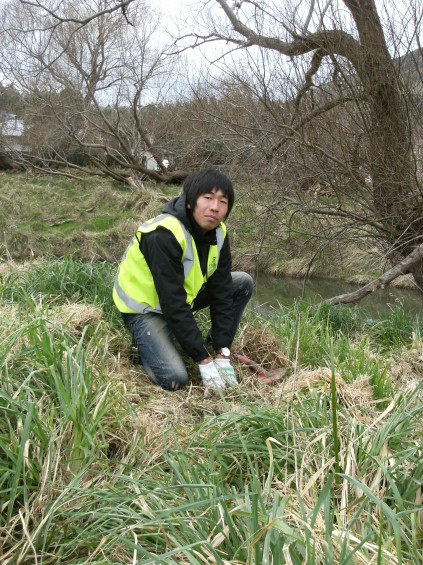 CVNZ is a huge organisation spanning Australia and New Zealand, and coordinates volunteers from all demographics. Their volunteering programmes operate in a range of ways but for this demographic the specific stated aim is clear. Ian Smith, CVNZ's National Manager tells me, "The outcomes are the people outcomes – the wellbeing or health benefits for the participants. If they feel better about themselves and feel more valued at the end of the fourteen weeks then that's a good result."
Of course, they might also have planted a thousand trees and that's a good result too. As Ian says, "The skills that CVNZ bring into the mix are in maximising the balance between those two objectives."
The programme is funded by Todd Foundation and Sovereign Insurance, two corporates who actually have those health and wellbeing outcomes as their criteria for funding, and the statistics speak for themselves: In Australia, a similar programme has put something like fifteen thousand young people through training programmes. Eighty to ninety percent of them get jobs or go onto further training but, as Ian says, "A hundred percent feel better at the end of it … and that's really what it's all about."
Another pay-off of the initiative is that volunteers tend to end up acting in ways that are more sustainable or green. Ian says, "You'd be wrong to think our volunteers are green when they start – the true green volunteers are already involved in activities, but that's only something like one or two percent of the population. Our target is the other ninety-eight percent. They do care about the environment if you ask them the question, but they just don't know what they can do in their lives to support the environment more."
Young people want to be involved, but they need to feel safe and they want to feel there are no strings attached. So the programme makes it easy for them. Ian sets out the
formula: "We pick them up, they join in as part of a team and then we take them home … they don't have to do any more than that and that is why we are so successful."
CVNZ don't own projects themselves, they facilitate getting people to those active two percent – the 'traditional' green groups who do own the projects. As Ian says, "If we get more arms and legs to the two percent who are taking all the responsibility, it helps to reduce burnout among those striving with real passion but struggling to get more people to contribute."
Critically, in Christchurch right now, as we press on with the recovery and work to get new projects, local solutions and creative ideas implemented on the ground, anything that helps get young people involved in hands-on action in their community has to be a boon.
For those involved, there is a strong sense of connection to the recovery and possibility for the future. As Morgan tells me, "I was out with a team one morning and they seemed really enthusiastic. Many are from the Eastern suburbs and come from broken homes – in more ways than one – and when they see food being grown in community gardens or projects springing up in their hard-hit suburbs, they can see how important their participation can be."
Ultimately, programmes like this are beneficial from every angle you view it. Young people gaining skills that they take forward with them in life; health and social benefits for their participation; conservation and regeneration projects infused with new life and new energy.
Everybody wins!
If you are interested in finding out more about Conservation Volunteers New Zealand, you can check out the website at http://www.conservationvolunteers.co.nz/ To
get involved in the Christchurch Youth Action Project, you can contact Morgan at mcoleman@conservationvolunteers.co.nz or on 021 686 292
GD Star Rating
loading...
GD Star Rating
loading...
Tags: christhchurch, Youth