Home » Headline, Wellbeing
Natural remedy: How to soothe your three year old's ear ache by pressing points on their feet
Submitted by Charlotte on October 27, 2012 – 8:14 am
By Shanti Burgess, Reflexologist and Herbalist
Q: My three year old, who is usually a very mellow toddler is hurting with an ear ache, is there anything I can do for her with reflexology to make this go away?
Again, little feet love attention and are beatiful to work on.  What better way to offer effective healing touch to your wee one than through Reflexology.  Not only will your child adore their feet being worked on, they will also feel relief from whatever ails them.
The more you create this ritual with them the more familiar they become to this healing technique and the more they begin to love it.  I work on my 3 year old's feet all the time and she LOVES it.
For earache, focus on the ear points specifically and also the spleen, thymus, upper body lymphatic points, throat, jaw, cervical neck, diaphragm, and adrenals.  Ear points are located on the toes, specifically the last 2 toes on each foot.
It's best to work the entire toe, tops, bottom, side and base.  Notice which ear is aching and work the toes on that same side of the body.  If your child mentions a particularly sore or tender area on the toes then this is where you should gently focus the reflexology session.
Work in between the toes on the top of the foot and the tops of all the toes.  Work the cervical neck points on the side of the big toe along the spine.  Herb-Wise, an oil infused with garlic and mullein flowers can also be helpful but is not always readily available.
During the upcoming reflexology course I will be demonstrating technique,  pressure applications, and more information will be given out and discussed in the online forum as to other common childhood ailments and how to treat them with Reflexology.  See map below: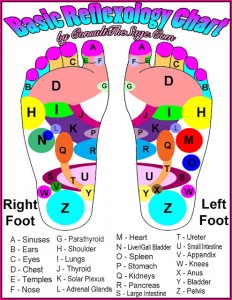 GD Star Rating
loading...
GD Star Rating
loading...
Tags: reflexology