Home » Music
Official WOMAD 2013 Line Up Announced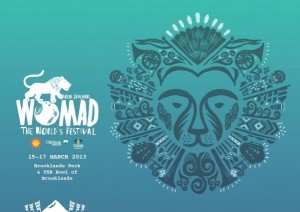 THE GOLDEN VOICE OF AFRICA JOINS  JAZZ MAESTRO & REGGAE SUPERSTAR
THREE DAYS & MORE THAN 200 REASONS TO GO
Festival features over 200 performers from 21 countries on seven stages
new offerings this year include the Human Library
available at WOMAD NZ for the first time
New Zealand's pre-eminent celebration of music, arts & dance is set to be a sell-out success once again as organisers, Taranaki Arts Festival Trust (TAFT) this evening announce the star-studded line up for WOMAD 2013, to take place at New Plymouth's Brooklands Park and TSB Bowl 15-17th March 2013.
Widely proclaimed as the "Golden Voice of Africa" Salif Keita will once again illuminate the WOMAD NZ stage, joining already announced headliners, trumpeting master Hugh Masekela and reggae superstar Jimmy Cliff.
This arrow head of World Music greatness pierce the way for NZ audiences to witness the mastery of European megastar Goran Bregovic and his Balkan rhythms, all male choir and feisty gypsy brass band. To quiet yourself after all that Serbian excitement WOMAD are delighted to anounce the Spanish classical genius, Jordi Savall will be performing in his breath takingly beautiful Renaissance style. If that wasn't enough, "The Hendrix of the Sahara", Vieux Farka Touré – son of Ali Farka Touré – will be showcasing the spontaneity and spark that have defined his revered live performances.
But it's not just the international artists that will cause the excitement. The iconic Aotearoa National Maori Choir is reforming especially for WOMAD.  Featuring around 80 voices from around New Zealand, Maori waiata we all love, and accompanied by WOMAD 2012 crowd favourites, The Yoots, get ready for what must surely be New Zealand's biggest sing-along. Alongside the unique Fly My Pretties and NZ musical icon, David Kilgour along with his Heavy Eights, WOMAD 2013 is shaping to be one of the most musically diverse years in its history.
For the first time the WOMAD NZ line-up will be added to by New Zealand's public vote.  WOMAD NZ is running a competition for NZ bands to nominate themselves via the WOMAD website and public votes decide who will play the coveted spot at the festival on Sunday 17 March. Entries have surpassed expectation and with another six weeks until the winner is announced (Thursday December 13), voting is expected to get a little crazy.
WOMAD's New Zealand Artistic Director, Drew James says "WOMAD 2013 once again traverses the world of music to bring a rich line-up of diverse and unique artists.  A festival that truly has something for everyone, from the sublime chants of Tibet, to the power of one of the greats of Jamaican reggae, through to the frenetic energy of a Balkan dance band, WOMAD takes you on a journey of discovery and celebration.
The magic of WOMAD starts in the personal one-to-one experiences and is enhanced this year with the introduction of "The Human Library". So lets open our minds and ears and make WOMAD 2013 another unforgettable experience."
For the 2013 festival WOMAD adopts a very successsful concept from WOMAD UK, the Human Library. The Human Library allows festival goers to converse with or 'borrow' 'Living Books' – people who have experienced some form of discrimination or stereotyping.  The intent of the Human Library is to challenge stereotypes and give people access to the thoughts & stories of people they would not normally meet.
This adds to the already hugely successful NOVA ENERGY Taste The World stage, Global Village (international food, arts & craft), Sustainable Village, Kunming Garden, Artists In Conversation, Artist Workshops, PaePae, Village Of Wellness and KidZone.
WOMAD tickets have experienced an unprecendented flurry of demand this year and are expected to sell out, so festival-goers are advised not to delay in purchasing their tickets to avoid disappointment. For those who missed out on Earlybird tickets, WOMAD has announced an option, which allows people to make three equal payments in November, December and January, and their ticket will be sent to them in February. Please see the website for details, www.womad.co.nz.
With so much to be experienced, so much to be shared, so much dancing to be done,
WOMAD 2013 is bursting at the seams with great reasons to get your tickets now.
GD Star Rating
loading...
GD Star Rating
loading...