Home » Keep New Zealand Beautiful
Do A Little, Gain A Lot – Spotlight on Brett Goodchild
Submitted by Charlotte on November 27, 2012 – 3:09 pm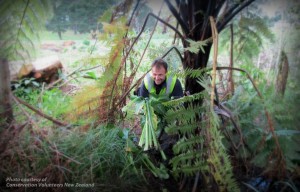 The 'Do A Little, Gain A Lot' Community Action Spotlight this week is shining on Brett Goodchild from Auckland. Brett is a volunteer with various groups, and recently got involved with the Conservation Volunteers program 'Connecting People with Parks'.
Connecting People with Parks is about building the capacity of the Auckland community, to encourage health, activity, social inclusion, skills & of course – great outcomes for the environment! You can find out more at the Conservation Volunteers website – the program is made possible through a collaborative partnership between Conservation Volunteers, Auckland City Council & the Ministry for the Environment.
We caught up with Brett to ask him a few questions:
Q: How did you get involved with Connecting People with Parks program?
A: I found out about this programme through Volunteering Auckland . I had done a little volunteering before with the Special Olympics but never anything environmental. I'm also involved in Predator Control with DOC and with CVNZ.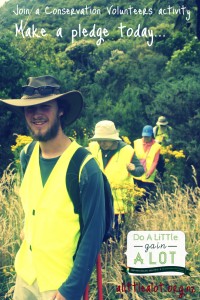 Q: What have you got out of being involved in CPP?
A: I really enjoy volunteering because it keeps me busy and fit. I've also met some interesting people and made a few friends. I believe this programme is rapidly building my interest and understanding of conservation.
Q: What kind of activities have you been involved in, and where's your favorite spot?
A: My favourite CVNZ volunteering spot has been Tahi Beach, just north of Whangarei. We did a lot of tree releasing there. In Auckland I like all of the parks we've been in so I can't really pick just one. I've been involved in weeding, predator control, planting, tree releasing, building tracks and walkways, digging, etc
Q: How do you relate to Auckland differently after being involved in CPP?
A: I see Auckland from a walking perspective now. It's like you get to see the city from a different angle, from a walker's perspective. And you look forward to completing the projects so you can walk through the tracks you've help build.
We hoped you enjoyed Brett's insight – we believe there's a role for each and every one of us in the restoration & upkeep of our beautiful land.
If you're keen to get involved & do your bit, head to the 'Do A Little, Gain A Lot' website for some inspiration & ideas – then pledge to take action, and share with your friends to get some support!
Team alittlealot.org.nz
GD Star Rating
loading...
GD Star Rating
loading...
Do A Little, Gain A Lot - Spotlight on Brett Goodchild

,