Home » Uncategorized
"Will not quit" attitude earns accolades
Submitted by on November 30, 2012 – 11:24 am
2 Comments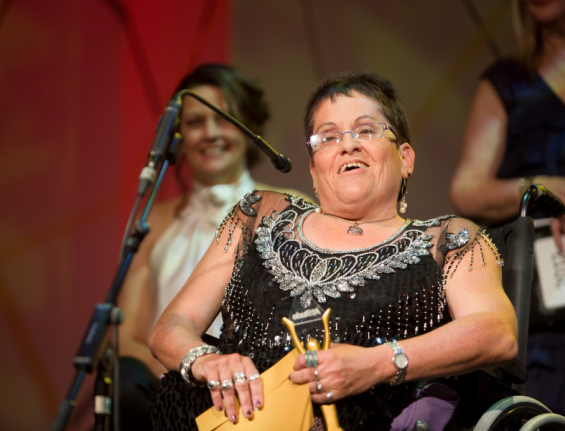 Attitude Awards Trust
30 November 2012
Sharon Davies has won the Attitude ACC Supreme Award for 2012, heading off strong competition from more than 20 other national finalists.
Sharon, better known as Shaz in the West Auckland community of Swanson she calls home, has been involved in 13 organisations from medical advisory councils to environmental agencies. She also served as a community board member in the former Waitakere City Council.
The judges said Sharon epitomises the kind of role model the awards seek to recognise.
The Attitude Awards celebrate the outstanding achievements of New Zealanders living with a disability and have grown out of the Attitude TV series, which screens on TV ONE on Sunday mornings.
The winners of the Attitude Awards, the fifth time they have been held, were announced at a black tie gala evening at Auckland's Viaduct Events Centre, hosted by TV celebrity Simon Dallow. Sir Murray Halberg was later inducted into the Attitude Hall of Fame.
Sharon was born 50 years ago into a world that dismissed people living with disabilities.  She was raised first in hospital then sent to the Wilson Home. At 15 she left there, determined to live an independent life. At a mere 1.12 metre (3 foot 8 inches) she says she has a determined 'will not quit' attitude.
"A lot of people, and not necessarily disabled people, sit around and complain about the system and think they are hard done by," Sharon says. "For me, at a personal level, I've always wanted to be involved because to be part of any change you have to be in there – boots and all."
Sharon is not afraid to tackle corporate giants all in the quest of making society more inclusive for everyone.  Her most recent accomplishment was ensuring KiwiRail made the Swanson train station accessible to everyone by insisting on a lift and an elevated bridge. It's now referred to as "the bridge that Sharon built".
Sharon is now working full-time as a personal assistant to the Waitakere Ranges Local Board of Auckland Council, as well as continuing her involvement with numerous community projects, boards and trusts. 
As the ACC Supreme Attitude Awards winner, and the winner of the Spirit of Attitude category, Sharon took home a cash prize for both awards totalling $7,500, as well as the use of a Toyota Signature Class car for a year to the value of $25,000. 
Other Attitude Award winners are Erin Gough (Youth Award), Neelusha Memon (Courage in Sport), Adam Hall (Sport Performer), Andrew Blythe (Artistic Achievement), Sir Murray Halberg (Hall of Fame Inductee), Invacare (Attitude ACC Employer Award) and Nola Burgess who won the Attitude Making a Difference Award.
Attitude TV executive producer Robyn Scott-Vincent says every year the awards highlight people with incredible stories and achievements that have previously gone without acknowledgment.
"The prime objective of the Attitude Awards is to create more awareness and consideration of the contributions made by New Zealanders living with disability," Robyn says.
ACC is proud to be principal sponsor of the Awards.
Ralph Stewart, ACC Chief Executive, says: "The recipients of this year's Attitude Awards have pursued life with a positive attitude, strength and determination. They demonstrate that with ambition and the right support it's possible for anyone to achieve their goals, regardless of the obstacles they face along the way."
ACC, Air New Zealand, Toyota, Lion Foundation, New Zealand on Air, Westpac, Drake Medox, Ministry of Health, Wayne Francis Charitable Trust and the IHC Foundation are among sponsors committed to supporting the awards.
ENDS
GD Star Rating
loading...
GD Star Rating
loading...