Home » Wellbeing
Introducing: The Wholefoods Handbook – a guide with big appeal and altruistic intentions
Submitted by Charlotte on January 31, 2013 – 10:49 pm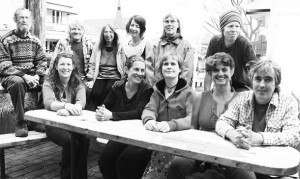 The Wholefoods Handbook ten years on – a guide with big appeal and altruistic intentions
—Rae McDowell
Authors of the tenth anniversary edition of the
Wholefoods Handbook
, Joanna Piekarski and Marsha Jones, celebrated with a launch at Takaka, Golden Bay Library recently. First published in 2002 as a handy reference guide for items sold in organic shops, it contained both information and inspiration for shoppers to trial 120 wholefoods products.
With 6,600 copies sold since publication to individuals, organic shops and health practitioners around the country, sales alone speak for the popularity of the original edition. The updated handbook adds nearly 100 new items that have appeared on shelves over the last ten years, plus 25 eye-catching photos by Carrie Dobbs and a range of recipes.
For anyone who has strolled around an organic shop and felt puzzled by the names of items and what they might be used for, the handbook is a guiding light whose format has been kept basic to ensure its ongoing affordability.
"The goal is to boost individual health, enjoyment of wholesome foods, organic shop sales and organics throughout New Zealand.  By demystifying items sold in bulk it helps shoppers save money, reduce packaging and get the amount they want." says Joanna.
Professional editor Joanna emphasised that production of the recent A-Z guide was a highly collaborative effort; afforded by a group of talented and dedicated individuals whose effort went beyond monetary compensation. "They were lovely and enthusiastic, always giving their best. Their whole heart was in it."  She further acknowledges the support of Golden Bay Organics, Unlimited Copies and the Takaka Library, who promoted the launch.
The handbook, whose popularity took Joanna by surprise, "was never planned."  Her initial brainchild was to write information cards for items while volunteering in the not-for-profit cooperative shop (now Golden Bay Organics) thirteen years ago.
"The cards were compiled into a book and I then decided to see if other organic shops would be interested. The response was so positive, with 95 percent of them saying yes." Earlier this year the owners of GB Organics mentioned to Joanna that the book needed updating and so she set to the task with a team of friends to bring the "little yellow book" up to date.
The Wholefoods Handbook was first published by the charitable trust Earthcare Education Aotearoa. The new edition is under the umbrella of the Community Enterprise & Economic Development Services (CEEDS) trust, of which Joanna is a trustee. Over 1000 copies were sold to organic shops in the first few weeks after printing.
Proceeds from sales support community groups and initiatives in Golden Bay and other parts of New Zealand. "The trust gives to environmental, health and social justice organisations and projects, all of which are in keeping with my own passions and interests," says Joanna.
Some groups that have benefited from Handbook sales include H.A.N.D.S. (Golden Bay's green dollar system), PLANET Organic, the former Golden Bay Environment Centre, BLIP (Bike Lanes in Paradise), the Southern Seed Exchange, Te Ataarangi (national organisation for Maori language teaching), Soil and Health, the Herb Federation, CAFCA (Campaign Against Foreign Control of Aotearoa) and the Golden Bay Greens.
GD Star Rating
loading...
GD Star Rating
loading...
Tags: wholefoods