Home » Blog
Happyzine's transitioning into a Pay-What-You-Can-Afford good news service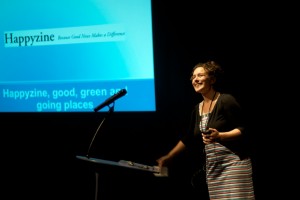 Kia Ora,
I'm Charlotte Squire, founder and Editor of www.happyzine.co.nz – the positive news website of Aotearoa and it's a pleasure to be talking to you today.
I love sharing inspiring, hopebuilding news with you.  I love helping to give voice to people who might otherwise not be heard, I love headlining news that otherwise be lucky to make the back pages of a 'normal news paper', and I love offering information about the environment and our communities that can help people feel, well, good.
Over the last five years I (along with a team of supporters) have experimented with several different models of running Happyzine so that we can bring it to you for free. However, I've come to the conclusion that the best way forward is for hundreds of people to pay just a little to fund Happyzine's operations.  The best model I've discovered is Club Happyzine – it's a win-win-win – it enables us to run, it gives you heaps of lush, green prizes, and it promotes awesome green businesses to thrive.
So the time has come to invite you to give just a little to keep the inspiration flowing, or I can't continue to run Happyzine.  I have a beautiful family to feed and shelter and basically I need some compensation for the energy I put into Happyzine.
I would love it if you could spare as little as $1 per week to receive your weekly good news fix by joining Club Happyzine.  By June this year I would love it if 500 of you had joined up, this would enable me to both continue to run and grow Happyzine, and earn an income for my efforts.
Here's now to sign up:
Pay what you can afford.
Suggested scales: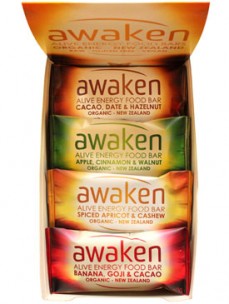 Ro and Joanna Piekarski of Pohara will be loving their pack of the new Awaken all organic raw food energy bars
Students or people on low income: $1 – $2 per week
People in workforce, on low income: $3 per week
Those earning middle range income: $3-$5 per week
People fortunate enough to be on 'high income' (you decide!): $5 – $7 per week
One off donations are also greatly appreciated and providing they're more than $30 will join you up to Club Happyzine.
Kiwi's can start A.P.s immediately to: 38-9006-0747456-00.  Be sure to email charlotte@happyzine.co.nz to sign up.
Living overseas and like to contribute?  Happyzine accepts paypal.  Email charlotte@happyzine.co.nz to set up payments.
Areas of interest Happyzine will focus on this year:
Maori, the voice of youth, green design and change, community development, gentle parenting, social enterprise, music and arts, equality and human rights, food, positive thinking and all the positive news that wonderful people continue to send me.
We're also in the process of planning a major upgrade of the website.
If you would like to enter into a community conversation about this I'm going to post this letter up here, you are most welcome to leave your comments.
With sincere thanks,
Charlotte Squire
charlotte@happyzine.co.nz
GD Star Rating
loading...
GD Star Rating
loading...
Tags: club happyzine