Home » Business
Still need a diary? Check out the AWESOME Kiwi Diary!
Submitted by Charlotte on February 28, 2013 – 1:20 pm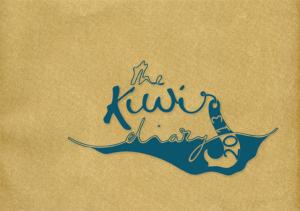 Charlotte Squire here, Ed. of Happyzine.  I just wanted to add my two cents about the Kiwi Diary.  I'm onto my third edition of the Kiwi Diary and I LOVE it!  It's crammed full of Kiwi culture, from ka pai recipes to the stunning art work AND I can plan my life in it as it's an actual diary.  I'm seriously addicted  to mine, and once you see what these diaries are about, you will be too.  Here's the low down:
The Kiwi Diary is a carefully curated window into Aotearoa's cultural soul. Containing all the functional bits you need in a diary like a year planner, key national dates (holidays!), and spacious enough to write about each day, this 250 page, spiral-bound treasure is bursting with your favourite regular features alongside some brand-spanking new talent.
The Kiwi Diary 2013 is adorned with; "the fruit that fell when we shook the trees of kiwi culture" – art, stories, environmental tips, recipes, music, quotes, jokes and mindfood, the inspiration cycle keeps flowing! The Kiwi Diary epitomises Aotearoa-style, plugging you into inspiration, entertainment and info on the good things in life, along with plenty of space for you to diarise 2013, which will be an epic year, with a Kiwi Diary by your side. This year the Mayor even asked if she could contribute, and who were we to say no! View some samples pages here.
The Kiwi Diary is the perfect gift* for friends, family, colleagues and Kiwis all over the world.
* – validated in a series of scientific experiments
http://www.thekiwidiary.co.nz/
* Two lucky members of Club Happyzine will win a copy this Friday (Friday 1st March).
GD Star Rating
loading...
GD Star Rating
loading...
Tags: kiwi diary